Avis Muriel Cone and Malcolm MacFarlane Earl
AVIS MURIEL CONE was born at Amuri. She married MALCOLM MACFARLANE EARL in Christchurch, son of WILLIAM JAMES JULIAN EARL and CATHERINE MACFARLANE, and was born at Waikari.
Avis Muriel was educated first at Waiau Primary School and then the School of Fine Arts, Christchurch. After leaving, she was employed at clerical work and then with a girlfriend, took an extended tour of Australia and on her return accepted a position as a land girl at Hawarden. She married Malcolm Earl, son of Jim Earl, farmer of Hopetoun, Hawarden.
Avis, her husband Malcolm and son Steve farm sheep and deer. In 1982 Steve took over their home farm "The Triangle" at Woodgrove, Hawarden and parents Avis and Malcolm moved ten miles down the road to "Rosslea" a place of 100 acres which had been purchased by Malcolm's grandfather over 100 years ago.
Children born at Waikari of AVIS CONE and MALCOLM EARL are:
i. CHRISTINE JULIET EARL married JOHN DICK – their family are Jonathan Andrew; Christopher James; Stuart Malcolm and Jennifer Susan
ii. STEPHEN JAMES MACFARLANE EARL married ISOBEL GOULD – their daughter is Gemma Louise
iii. PHILLIPA ANN EARL married PAUL A COMAN – their children are Rory James and Hannah Bridget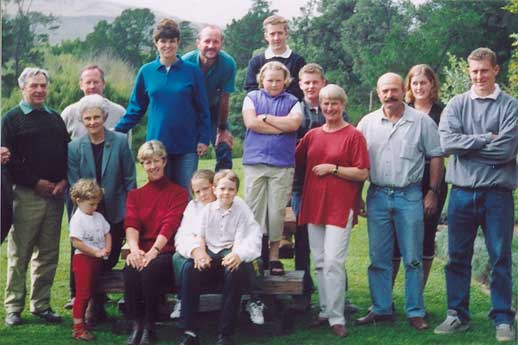 Malcolm Earl, Avis Earl, John Dick (behind Avis), Hannah Coman (in front of Avis), Philippa Coman (in Blue) Paul Coman, Gemma Earl(arms crossed) Jonathan Dick (behind Gemma), Stuart Dick, Isobel Earl, Stephen Earl, Stacey Magee (Isobels' daughter from her 1st marriage), Christopher Dick.
Sitting is Christine Dick (in red) , Jennifer Dick with Rory Coman on her knee.
The photo of the family gathering photo was taken in 2000 at MALCOLM EARL'S 70th birthday.












Images and data used in this site copyright - ©

Descendant input to up-date family pages is very welcome - more detailed information available on request