Alexander Davies and Agnes Leask Watkins
ALEXANDER DAVIE was b: Dec 16, 1907 in Timaru, Occ: Postmaster; and d: Dec 15, 1988 in Wellington; Bur: Makara Cemetery, Wellington. He mar; May 08, 1934 in Dunedin to AGNES LEASK WATKINS , daughter of CHARLES WATKINS and AGNES SLATER. She was b: Sept 24, 1906 in Rossland, B.C., Canada - she d: 2004 aged 97Y..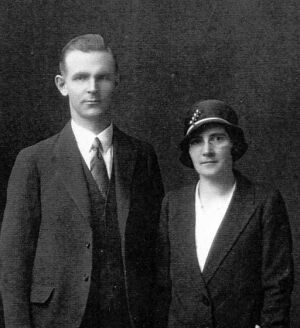 Their family:
(a) GRAHAM ALEXANDER DAVIE, b: Nov 14, 1937, Gore; d: Oct 30, 2001, Gore. He mar: IRENE HELEN GABITES November 29, 1961 in Dunedin, daughter of LESLIE GABITES and MARY SYMONDS and b: at Wyndham. Their children:

(i) RUSSELL ALEXANDER DAVIE, b: Gore He mar: JOANNE RACHEL THOMPSON in Wellington, daughter of JOHN THOMPSON and SONIA MEAKER where she was born. They have 3 children - ELEANOR MAREE; LYNLEY ELLEN; ANDREW ALEXANDER


(ii) STUART LESLIE DAVIE, b. Milton. He mar: SHONA JANE HORNE in Timaru, daughter of RONALD HORNE and JENNIFER MILLER. She was b: in Temuka. Their family are JUSTIN LESLIE; SIMON ANDREW CHARLES; KIERAN JAMES; MELISSA JANE


(iii) FRASER CHARLES DAVIE b: Dec 08, 1968, Milton; d: Aug 24, 1991. Bur: Waikoikoi Cemetery

(b) MALCOLM CHARLES ROBERT DAVIE: b. Gore; He mar: DOROTHY ROBIN SPENCE at Wellington, daughter of JOSEPH SPENCE and ANNIE SNEDDON. She was b: in Timaru. Their children:

i. OLIVER RICHARD CHARLES DAVIE b. Wellington.


ii. CHARLOTTE JACINDA ORANNA DAVIE, b. Wellington.
Link to Watkins website Nathan Watkins, Queensland, Australia












Images and data used in this site copyright - ©

Descendant input to up-date family pages is very welcome - more detailed information available on request