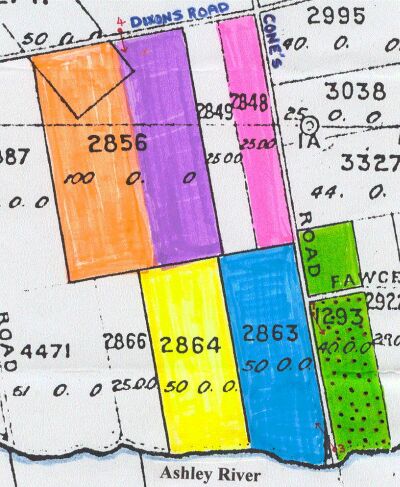 Rural section 1293 : 40 acres - This section was purchased by John McFarlane on 10.6.1858 and the Crown granted to him on 18.6.1862. It was conveyed to William Cone on 12.8.1864 for £130 although it is likely that he had possession prior to this date before the sale was registered. Sarah Ann and Thomas William Pursey lived here first after their marriage 1862 in the house on the corner of the road leading to the Ashley township until moving across the road to RS 2863 and after that, William and Isabell lived there. Mortgaged to C Thurston on 25.9.1865. Re-conveyed to William Cone and mortgaged to Marrah 10.8.1868. Re-conveyed to William Cone and mortgaged to Browne 10.8.1871. Fred and Sarah Cone lived here from abt. 1872 to 1874. Re-conveyed to William Cone 25.7.1874.
Conveyed 27 acres to George Cone 25.7.1874 for £274 who sold it on to McKelveyon on 25.7.1874 (this section had the sod hut)
There is no reference made on the deed to W. Cone leasing to T. W. Pursey, although it is known that he lived here for a period but a private, unregistered lease could have operated.
The North part, after William's death, was deeded to his wife Maria.
Rural Section 2848 : 25 acres XVI Grey S. D. purchased by William Cone on 6.12.1860 for £3.10s an acre. Upon his death, deeded this to second wife Maria Cone. It was leased by W G Whiteside about 1896 and he purchased it from widow Maria Cone in 1908.
Rural Section 2849: On the electoral rolls William Cone is registered as living here 1872/73, Ashley Bank, Mt Grey Downs. Purchase date unknown.

Rural Section 2856 : This was a 100 acre block was divided lengthways in to two 50 acre blocks - The half bounding RS 2849 William Cone deeded to his ife Maria. The half bounding RS 2887 purchased by T W Pursey and later sold to George Cone.

Rural Section 2863 : This 50 acres was leased from L E Natham to E Rossiter 013.12.1860 and Crown granted to Nathan on 10.6.1862. Assigned from Rossiter to T W Pursey on lease for 7 years 30.8.1865. This had a two roomed house to which two more rooms were added and later still, ceiling rooms were built on top. Conveyed to T W Pursey 30.3.1881, price £4 an acre


Rural Section 2864 : 50 acres in area. This section was Crown granted to L ~Nathan on 1.10.1863. The price paid for the original application was £100 It was later conveyed from George Gould to T W Pursey on 31.7.1875 for £350. J F Pursey and G Jackson later conveyed this section with R S 2863 to F Lowe on 27.5.1820.
Rural Section 7907 + 7910 : Joseph A Tuer purchased 253 acres 2 roods 24 perches from Mrs Dixon on 4.1.1893 for £1,500. He died on 3.11.1899 and the trustees (Wm Cone and others) transferred ownership to Mrs E Tuer. She sold to H B Barker on 2.5.1910 for £3,297. 2. 6d












Images and data used in this site copyright - ©

Descendant input to up-date family pages is very welcome - more detailed information available on request