Robert (Bert) and Gwen Davie
ROBERT (BERT) FREDERICK DAVIE was born February 10, 1909 in Timaru, Canterbury and died August 27, 1994 in Timaru, Burial: Timaru Cemetery,South Canterbury. His marriage to GWENDOLINE (GWEN) THERESIA PURDOM took place on a Thursday February 25, 1932 at the Public Trust Office at Timaru. She was the daughter of THOMAS PURDOM and CAROLENE ALVE and was born June 28, 1907 in Rangiotu, and died May 17, 1999 in Timaru. The middle of the depression years, times were tough and it was a 4 1/2 day working week. Bert had a job driving a bread delivery van when he married only to lose it shortly after. The newly weds finally found employment as a married couple at Ben Ohau station for £100 a year plus their keep as cowman gardener and "no passes to Burkes Pass on a Sunday".

Following that there were were a succession of years working at various agricultural jobs in the area - Bert working on the farm and Gwen cooking for shearers before moving to Timaru where Bert got a job working the early morning shifts on the railways.
He spent quite a number of years there, broken only by his service in the Pacific Islands during the second World War serving in the 24th Ambulance Division. Later the couple bought a small farm of 45 acres at Claremont. It began as a dairy farm later ran sheep. While there, Bert was employed at other work and drove the school bus for many years.
They lived at Claremont right up to their 60th wedding anniversary in 1992 and they retired to Timaru where they moved into a new home. Bert said " We have had a good life and we are really grateful for it. We have had hardly a day's illness, either of us, and we have been all over the world, seen lots of different countries and made lots of friends. Gwen also felt that their married life had been a full and rich one with its shares of ups and downs but one where "they kept each other going and always enjoyed each other's company."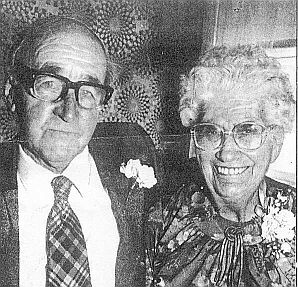 Their children:
(a) MARILYN KATIE DAVIE b. Timaru. She married MICHAEL RAYMOND (RAY) BRIEN son of MICHAEL BRIEN and CATHERINE LYNCH. He was born in Timaru. Their children:
i. BEVERLEY CAROLINE BRIEN b. Timaru married PETER REX JOHNSON They have 2 children : CLAIR NICOLE and DANIEL COLIN
ii. ANTHONY RAYMOND BRIEN b. Fairlie married SANDRA MAY WYLLIE in Timaru, daughter of JOHN WYLLIE and MARION LYNCH. Their children are NATALIE SANDRA; VICKI RACHAEL and SCOTT ANTHONY
iii. DARYL PETER BRIEN b. Fairlie.
iv. ANDREW ROBERT BRIEN b. Timaru; m. HELEN ISABEL QUIN, at Ashburton; b. Timaru.
(b) ROBERT THOMAS*(TOM) DAVIE b. Timaru; m. KAY DESMOND
(c) LIONEL (TERRY) PURDOM DAVIE b. Timaru. He married MARIE ANN BROWN born Jan 22 1946 at Wanganui, and died September 1998 in Christchurch. Their children:
i. KAREN MARIE DAVIE m. ERROL COLLINS at Christchurch.
ii. SARA JANE DAVIE
(d) MAXWELL CHARLES STANLEY DAVIE b. Timaru married MARGARET ALICE FARR in Timaru. Their family:
i. TONI-MAREE DAVIE, m. BRETT CATCHPOLE at Auckland; ii. SHERREE DAVIE, born Timaru; iii. BRENT JOHN DAVIE
Family Notes written by Marilyn Brien
I am fortunate that during my childhood I sampled both town and farm and life was always busy with something to do. My father was a hard-working man, always in employment and worked at delivering milk, bread and coal.
Ray and I began married life in Fairlie in 1955. For many years it was hard physical work, transporting grain, stock and hay and keeping up with the Fairlie Flier rail time. In 1966, Ray began the Ready-Mix Concrete supplies and in 1968, he sold the transport part and retained the concrete business, supplying bridges, swimming pools and farm yards in the Mackenzie County. It was a real busy life until 1980 when he sold out and we moved to Timaru where Ray became manager of the Phar Lap Raceway and was manager for 11 years. While living in Fairlie, Ray served 23 years with the Fairlie volunteer Fire Brigade and was Deputy Chief for 10. I served as a volunteer St John Ambulance worker for 11 years.
Two of our children were born there where they attended Fairlie school and two were born in Timaru . Beverley after working and travelling became a policewoman and later married Pete a plumber - they have 2 children. Tony became a chef and married Sandra - they have three children. Daryl is a wage clerk at a meat works and is interested in genealogy and annual overseas holidays - he has been secretary for the Kia Toa Bowling club for 10 years. Andrew, keen on karate, and wife Helen live in Sydney where he is in a Bank and Helen is receptionist.
Ray is a keen vegetable grower and also does the flower garden. We are both keen competitors in the Easter A and P Show. Here in Timaru, we have a small section but have a collection of different fruit trees. We are pleased that the Show committee is replacing the produce shed at the show and we hope it will be more spacious with improved lighting. It is a great day for all the family.
We live in the unit my parents lived in. We have made alterations and it is nice and comfy. We are handy to the Warehouse, Countdown, near the Public Hospital, have a good bus service, the seashore and the rubbish dump! We put in a diesel stove, which we can use for cooking, heating the room and for water, and in times of power shortages, we are OK.
Brother Tom, served his apprenticeship at Wallace and Cooper, Engineers of Tamara. Later Tom travelled overseas and met Kay. They married in Timaru and after working at the Smithfield Freezing Works, they then returned to live in Charleville, County Cork where Tom was employed at the Golden Vale Cheese and Butter Factory. Since his retirement, he has built a small steam engine.
When Terry (Lionel Purdom Davie) left school, he began employment at Para Rubber Co and then at the Timaru City Abattoirs, followed by the Timaru Milk Co and then to the business of SCMeats.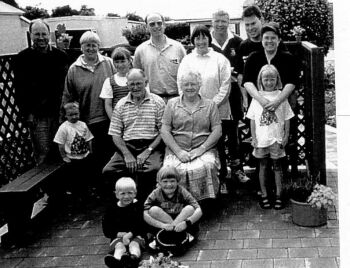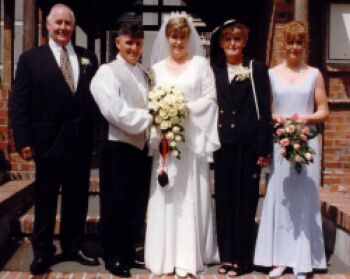 Images and data used in this site copyright - ©

Descendant input to up-date family pages is very welcome - more detailed information available on request