A Tribute to Family - Bruce Guilford, Heather Rotzel and Llew Amon
Bruce John Guilford (1940 - 2001)
Of the 4 surviving children of Henry and Mavis Guilford, Bruce was the only one to remain in Fairlie district. He started his schooling by correspondence and with the family's move to "Te Puke" 4 miles from Fairlie, attended Fairlie Primary and District High School. He enjoyed music and learnt the violin, and completed his schooling in 1956 by gaining School Certficate.
He worked for two years for his father Henry at home then a short spell at the Hodder Concrete Post Factory and 'seagulled' on the wharf in Timaru. Two years at Craigiemore at Maungati employed as tractor driver and mechanic were followed by eighteen months with his cousin Bernie Scarlett's Engineering at Hadlow.
The conflict between town and country was won when Bruce went to work for Frank Morrison at Waratah Station at Albury and enjoyed the full responsibility while Frank was away. Up to 200 acres of wheat was grown so the scale of the operation was a real challenge.
Bruce married Jeanette MacDonald from Timaru in 1962 and they had 3 sons, Stephen, Murray and Royden.
When Henry and Mavis decided on a second overseas trip, Bruce and Jeanette returned to Chasleton and managed it and Te Puke and in 1969 Bruce purchased the Middle Valley property and this became his home.
Like his father before him, Bruce had always been restless with the status quo. Soon after he took over the sheep flock received a shake-up with the introduction of a Texel East Fresian-by-Finnish Landrace cross. This was followed, in 1992, by a Texel Merino Cross. Uncertainty with summer droughts and brutal winters and reduced farming returns, at one time he even considered leaving sheep altogether. Goats were tried for three years, as were German angora rabbits, but both failed to promise a long term income. In the 1980's he converted some areas to deer which was very successful and the expanding herd were given more space to reduce the stress on the animals and improve handling.
In the winter of 1997 Bruce gave himself and his neighbours a fright. As hay was being unloaded from a lorry, a steel pin pulled out of a bale and hit Bruce where he stood, with considerable force, piercing his chest. Ambulance, doctors and a helicopter were called and he was whisked off to Christchurch Hospital where it was some time before doctors were sure he was going to live. Before professional help arrived wonderful neighbours did what they could.
That close brush with death brought about a whole new philosophy for Bruce in his remaining years - "don't put off things that are important and take time to enjoy yourself and your surroundings". He put it more succinctly - 'Take time out to smell the roses!'
His hobbies of radio controlled model aircraft, rifle shooting, the gun club and gardening got more attention. He looked around for alternatives to what he was doing - considered spagnum moss on the coast - no drought there!but came up with a alternative when he leased the farm "Chaselton" and started a glasshouse flower growing business at Rangiora. During his last four years, Bruce relished farming on an intensuive scale in an enviroment where you had some control over the elements - temperature and water.
Bruce passed away June 22nd 2001.
Ref. Interview for ""The Raincliff Story"
Heather Rose Rotzel nee Guilford (1942 - 1992) We each have our own special memories of Heather - images we will retain - hope and shared laughter, modesty, serenity and endeavour and above all, the warmth of her love. Heather was born in Fairlie on the 13th of November, 1942. She was the fourth child of Henry and Mavis Guilford and sister to Bruce, Allison and Winsome. Farming and family life shaped her enjoyment of the outdoors and her love of animals, and she had real ability at team sports.
After attending primary school at Fairlie, Heather boarded in Timaru and her secondary education was received at Timaru Girls High School. Academic success and recognition of her practical capabilities saw Heather accepted into the two year Teacher Training Course at Dunedin and Christchurch, specialising in her chosen field of Home Science.
Her student classmates became lifelong friends with contact being maintained through the years. Heather was one of a small group who celebrated their Teacher graduation by walking the Milford Track from Te Anau. A young tourist, freedom walking from the Milford end - the backpacker of yester-year, met Heather on the Track and accepted her invitation to visit her home in the Mackenzie Country. Jurgen was absorbed into the "Te Puke" farn life and his extended stay culminated in his marriage on the 18th of May, 1963 at Saint Stephen's Parish Church at Fairlie.
The honeymoon took the happy couple to Germany where Jurgen presented his New Zealand bride to his parents Rudolph and Hilde along with other family members. They remained there four years and Heather became proficient in the German language and was fascinated by her new experiences in the European culture.
Their first children Christine and Hans were German born and the family returned to New Zealand and it was in Whangarei that they built their home and lived for the next 25 years and enlarging their family with the addition of two Kiwi kids, Rainer and Dieter.
This area of New Zealand gave Heather and Jurgen the life they loved to share - the streams and beaches for swimming and tramping in the hills and bush. Together they were able to fulfill their other dream when they built their 42 foot ketch "Unbound" in 1980. Heather returned to her teaching and the many children who passed through her classroom gained valuable life skills from her instruction - they were Heather's greatest contribution to the Northland community, gaining respect and high regard by all who knew her. She took advantage of the opportunity to update and extend her specialist subject by attending courses and conferences whenever she could.
She lightly held the reins that bound her to her family, taking such pride in their every step on the way to maturity and allowed each the freedom to expand and shape their young lives - and often expressed delight in their varied achievements and activities.
Heather loved her overseas travel and her New Zealand, and took immense satisfaction with the completion just before her death of her recent house extensions and the enlarged and landscaped section.
To the casual and the uninitiated, Heather could appear quiet and reserved but for those who knew very well, it was never wise to exchange a glance when a particularly pompous speaker was around and infectious mirth followed. Underneath the gentle smile lurked a keen sense of the ridiculous am her non-committed "MmmMmm" hid a devastating ability to sum up personalities and situations. She seldom discussed her conclusions, but showed through her actions caring thoughtfulness, compassion and companionship. Heather shared her enthusiasm for learning new arts and crafts and experimented happily with varying culinary methods. She never forgot a face but names often escaped her, and her open house policy could stretch a meal for two to accommodate ten.

Heather's last sailing, their annual trip to Raoul Island in the Kermadec group from their mooring at Tutukaka in the May school holidays, turned into tragedy. A week on and Heather was scuba diving and about 20 metres down when she indicated she was in difficulty. She was unconscious when they surfaced and all Jurgen efforts to resuscitate her on board were unsuccessful. A helicopter was authorised to bring her back and the six and a half hour flight by the Hamilton based Trust Bank air ambulance was the longest attempted - 1000 km across water. Extra fuel tanks were fitted and on the return flight it landed and refueled at tiny L'Esperance Rock which has an emergency fuel dump. Jurgen returned in the ketch, a difficult trip battling head winds to join his grieving family. Heather is buried at Maunu Park Cemetery.
Llewellyn Edgar Samuel Amon (1945 - 1999)
Llew was born at Hamilton. His parents, Eddie and Edna, lived about 15 miles from Hamilton in the rural community of Whitikahu, where Eddie ran a garage and service station business. Llew grew up there with a younger brother (Charles) in a country routine of tree-huts and trolley-carts, eeling in the creek, feeding out on neighbours' farms, shooting blackbirds with an air-gun and playing childhood make - believe games in the ti-tree gulleys and macrocarpa groves. It was a simple, contented, family-oriented and bucolic upbringing. Llew excelled at the two-roomed primary school at Whitikahu where he found that having several older classes in the same room provided him with a stimulating academic environment. Llew started absorbing information fast and never really stopped. By the time he left primary school to become a foundation pupil at Fairfield College in Hamilton, he had already developed a keen interest in astronomy and was grinding lenses to make his own telescopes.
Llew handled the academic demands of secondary school with consummate ease and developed a wide range of academic, artistic, scientific and technical interests, while his formal schooling became oriented around mathematics and science. In his mid 'teens he became a licensed amateur radio ("ham") operator and became proficient in the transmission and reading of morse code. After gaining his University Entrance Examination, Llew left school to take up a position as technician at the soil research station at Ruakura. After two years there he took a step which he was surely always destined to take and pursued further formal education by attending the University of Otago.
There are three parts to Llew's life - First, the young eager know-it-all. Llew had the ability to absorb knowledge, then put it to practical use. He had an astounding range of hobbies and interests - was a movie operator and a radio ham and by this means he could keep in touch with his father and friends.
A house restorer, Llew loved working with wood. He was a humorist, loved calligraphy, photography and going to the theatre; he was a Goon show enthusiast - a historian and mathematician. He became a linguist and electronics designer; and researched and documented his genealogy and for others. He was addicted to science fiction and an amateur hunter for fungus. Llew collected stamps; was the complete computer nerd and music buff.
Like so many others, Llew tried his hand at the share market. He collected hand woven rugs, designed them and even helped to make them. A cross word addict. He set type; wrote papers and walked with nature. He was always the ardent raconteur. He taught English to Asian students for Llew had a deep interest in the Chinese culture.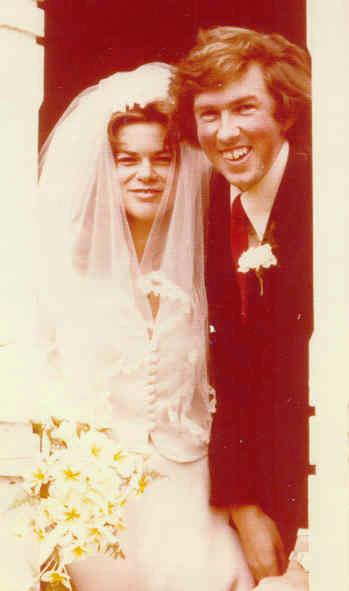 Next part - his profession. Llew was always slightly disorganized yet he managed to create order in the massive archive of tapes held by the University. He found an economic way of accurately couelating the true time relationships of generated signals. He worked towards being a PhD researcher in astrophysics while juggling details of relocating the physics Department, ordering needed stock and he designed and built working recording set-ups in tapes and film.
Then came the relentless growing battle with illness. Llew became a virtual prisoner of his body as it was relentlessly attacked and slowly robbed of feeling and movement. Multiple sclerosis wasn't diagnosed until 1981. And in three years Llew became bound to a wheelchair. Another three years on, faced with the reality of his increasing physical difficulties, Llew decided - He must retire from work.
This last period of his life could only be termed "his dependent period. " Life now for both Llew and Allison became a learning curve. Problems - some minor, some major - occurred. Each problem became a battle needing increasing technology and human skill, just so Llew could stay at home.
There was community help. Good friends rallied around and repeated calls gained professional response. Llew's needs for more advanced technology grew in complexity.
It could only be said that these last seventeen years could be looked at as "THE RED QUEEN'S RACE" in Lewis Carroll's "Through the Looking Glass". Hard work was needed to stay in the same place - not only in economic or physical terms, but simply to maintain body functions at the same level. Llew adopted an increasing pragmatic realism. There was just no use whinging about his growing difficulties. One simply found new ways to cope with them.
The health system could be both terrifically helpful and incredibly obstructive. The newly instituted attendant care scheme, was vital in keeping Llew at home and in as good a physical shape as his illness allowed. Now, a stream of attendants coped with physiotherapy, toileting, showering and dressing Llew over the years.
Gradually essential equipment was acquired - a hoist, adjustable hospital bed, toilet chair and other items - difficult times as the health system, with persuasion, adapted to meet Llew's needs. His doctor cut through red tape, and overcame so many difficulties for Llew. The attendant care co- ordinator, was another invaluable source of help. The skill of physiotherapists managed to retain some flexibility in Llew' s body. The incontinence adviser, frequently got through vital supplies when others failed - at times it felt like conducting a guerrilla war.
Then came relocation of the war zone. A more suitable environment required a period of building and Llew sometimes had to be left for long periods. Wonderful friends didn't mind checking on Llew and live-in lodgers helped so very much over the next two years as Allison and her builder worked to give Llew the enjoyment of better facilities.
The pets, too, settled into the new house quickly. But, although the warzone had shifted, the battles continued. Llew's computer was his life line. Sending messages by packet radio and e-mail kept him in touch with friends from all over the world. But then came problems - Llew developed over-use syndrome with his voice-operated computer and this meant further manoeuvring and health system fall-backs. The occupational therapist, speech therapist and physiotherapist were wonderful. Long-serving attendants and good friends were meticulous and totally professional in what is a grossly underpaid area needing high personal skills and dedication.
In Llew's situation only a little neglect, in any area, could have devastating consequences. Llew coped with his predicament with humour and patience. He was lovable, but both hated and fought his illness. The war was over. The disease won and Llew is at peace.












Images and data used in this site copyright - ©

Descendant input to up-date family pages is very welcome - more detailed information available on request