Ella Phillips Chapman and Thomas Campbell Askin
GILBERT JESSE JOHN CHAPMAN was born 1887 in Hororata, and was the son of Neave Chapman and Jane Prestidge. He died August 29, 1918 in Achiet-le-Grand, Pas de Calais, France WW1 and is buried at Achiet-le Grand German Cemetery, France Grave ref. IV T. 5
Gilbert prior to enlisting, married AMELIA MILLAR PHILLIPS in 1916 in Glenroy, the daughter of JAMES PHILLIPS and AMELIA HENDERSON. Amelia was born July 23, 1893 in Kurow and she and Gilbert had a daughter, Ella. In 1925 Amelia remarried returned serviceman Arnold Pursey Tuer and she died November 16, 1981 in Avonside Drive, Christchurch. She is buried at the Hororata Cemetery.
ELLA PHILLIPS CHAPMAN who was born December 20, 1916 in Glenroy, and died July 26, 2002 in Christchurch Hospital and is buried at Christchurch. She married THOMAS CAMPBELL ASKIN on June 24, 1950 at the Hororata Presbyterian Church. He was the son of THOMAS ASKIN and JANET EARLY and was born December 15, 1910 in Christchurch, and died September 03, 1998 in Christchurch.
Ellen was a Public Health nurse when she went in 1946 to Pipiriki, 40 miles up the Wanganui River. There were few pakahas and it was very isolated. The horse was the main form of transport on the narrow winding roads. She married Tom Askin in 1950. Tom had an Irish father who was 80 when he was born - his Mother was 40. Tom met Ella at Kawhia where he was a teacher at the Te Whaiti Maori Boy's Farm School run by the Presbyterian Maori Mission. There were 24 boy boarders taken from isolated areas and achieved a good basic grounding in education and christianity.
Toma and Ella's four children were born at Te Whaiti, south of Rotorua and later the family moved to Auckland and then in 1963 went to Kawa Kawa in the Bay of Islands with the United Maori Mission. The family retired to Christchurch.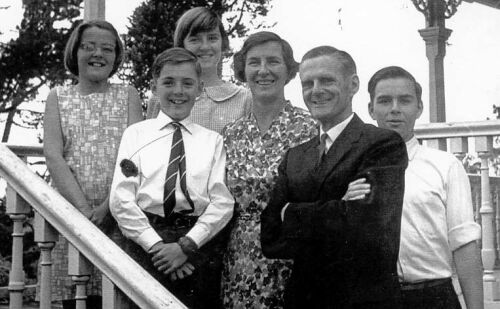 Askin family 1968 - Ruth, David, Margaret, Ella, Tom and Paul
The Askins had five children:
i. PAUL THOMAS ASKIN was born at St Helens, Christchurch and he married LESLEY STEPHANIE MALLINSON who was born in Manchester, England. Their children are Peter George, David Steven, Amelia (Amy) Lesley and Erin Theresa.
ii. JANET AMIRIA ASKIN was born at Whakatane where she dies in 1953.
iii. MARGARET KOA ASKIN was born at Whakatane and married ALLISTAIR MALCOMBE MUIRHEAD at Invercargill where he was born. Their children are Kate Rose Ann; Natham William Thomas and Christen Emma Jane
iv. DAVID CHARLES ASKIN was born at Whakatane and married at Christchurch to VIRGINIA MARY SHEPHERD. Their children are:Sarah Louise; who is married to Phillip; Anna Marie and Karen Theresa
v. RUTH AROHA ASKIN was born at Devonport, Auckland and is married to FRANCIS.












Images and data used in this site copyright - ©

Descendant input to up-date family pages is very welcome - more detailed information available on request