Cunningham Family
William Duncan Cunningham who was b: on May 5, 1835 at Gallatown (now part of Kirkcaldie, Fifeshire, Scotland)
and d: at Dunedin on Dec. 13th, 1924. After William came to New Zealand, his father

Andrew Cunningham (b: 1811; d: 6 Oct 1881 aged 70Y; bur: 8 Oct 1881 Green Island Cem. Block 1. Plot 62) and two of William's brothers James and David came to New Zealand after William immigrated. His 2 brothers did not marry but their father, Andrew mar: in 1872 for a 3rd time in NZ to Mary Nurrie (b: 1811; d: 15 Aug 1882; Bur: 17 Aug at Green island Cem. with her husband)

William mar: July 13, 1860 in Alloa to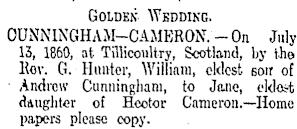 Jane Munro CAMERON. She was b: April 24, 1837 at Henderson Row, Edinburgh to parents Hector Cameron (occ: butler) and mother Janet Paterson. Her siblings were sister Esther (Clarke), Grace and brother William. Jane Munro Cameron was nine when her father died and the family moved to ALLOA. Jane worked in Paton and Baldwins mill.
This was the Silistria's first voyage to New Zealand, 642 tons (a), Captain: J McKay. She sailed from the Clyde, Glasgow on July 25th 1860 and arrived at Port Chalmers Otago 25th October 1860, a run of 91 days, port to port (In all the ship made 4 voyages to Otago - most passngers were from
Scotland)
On arrival Willam and Jane Cunningham went to the Barracks at Caversham built on the hillside (this was above the Caversham Railway Stn and in 1903 a fever Hospital, and then demolished) They next went to Green Island - this took its name from the Green Island bush, uncleared native forest extending from the valley where the town is centred over the hills towards the coast. The name of the nearby offshore island — Green Island (Okaihe) — was used to identify the bush. William found work as a sawyer in the Taieri. They cleared their bush section, procured 2 or 3 cows and carried the butter they made, once a week to Messrs Hogg and Hutton in Walker St.(b), about 4 miles away returning with bread and groceries.
William joined the gold rush in 1863 and walked from Waikouaiti Bay to the Dunstan in seven days. He soon gave up the idea of gold mining and went to Lake Wanaka sawing timber but returned after 3 months as it was expensive to get about and live on the goldfields. He carried on the farm for about 15 years and in 1876 moved to Caversham and built his house at 215 South Road.(c)
Ruby said "In the early days it was isolated between the "Old People's Home then called "Benevolent" and the Chinese gardens on the south side - then between Tulboys Home and the newer Parkside Hospital on one side - the Caversham Primary School was built where the Chinese gardens were. Other houses William built and still standing were 7 Leckhampton Court near the Glen, and another at the corner of Asquith St and South Road."
Below: William and Jane Cunningham's Golden Wedding - July 13, 1910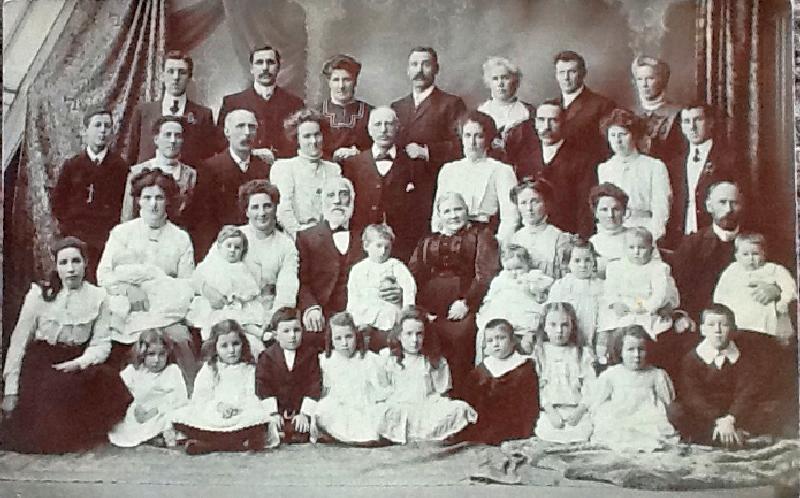 R4: (Back Row) Robert Ferguson; George Cunningham; Janet (Cunningham) Ferguson; David Hunter Cunningham; Ellen Maxwell (Cunningham) Gordon; William McKinlay; Jane (Jean) Cunningham

R3: James Ferguson; Johanna (Cunningham) Shacklock; Andrew Ronaldson Cunningham; Ada Elizabeth (Outram) Cunninham; James Ferguson Snr; Grace (Kane) Cunningham; James Cunningham; Jean and William Ferguson Cunningham

R2: Seated: Cecilia (Hallum) Cunningham with son Gordon; Mary (Cunningham) McKinlay with son Hugh; pioneer William Duncan Cunningham and Ralph Cunningham; pioneer Jane (Munro) Cunningham; Edith (Cone) Cunningham and son Clifford; Edna Ellen Cunningham with Frances (Fomeraker) Cunningham, John Cunningham; William Cunningham and son William

R1; Front; Elsie May Cunningham; Grace McCullough Cunningham; Muriel Cunningham; Norman McKinlay; Myra McKinlay; Ivy Cunningham; Alan Kerr Cunningham; Ella Cunningham; Ruby Cunningham; Hector Cunningham
DIAMOND WEDDING (Otago Daily Times , 19 July 1920, P 2)
An interesting function took place in the Baptist Sunday School Hall, Caversham, a few days ago, the celebration of the sixtieth anniversary of the wedding of Mr and Mrs William Cunningham who arrived in New Zealand in 1860, and have resided in the Main South road for many years. The guests included some of the oldest friends of Mr and Mrs Cunningham's acquaintance dating from the early days in Green Island. After the toast of "The King" had been honoured, Mr John Blair, of Abbotsford, the oldest friend of the family present, proposed the toast of the host and hostess, recalling many incidents of pioneer life in the early sixties. Mr Cunningham thanked the many friends for the honour they had done Mrs Cunningham and himself in being present, and in the course of his remarks referred to many instances of hardship and pleasure that came their way.
The toast of "The Guests" was proposed by Mr W. McKinlay, and responded to by Messrs J. Maxwell and R.Crawford —two very old friends of the host and hostess. Mr Wright proposed the toast of "The Family," which was responded to by Mr A. Cunningham. The Rev. Mr Stewart (Baptist minister) voiced his appreciation of the privilege of being present on such an occasion, and expressed pleasure in having such a worthy couple in his district. After the "wedding breakfast" the remainder of the evening was occupied in musical items, recitations, etc., intervals between the items being spent by the older guests in relating their experiences in bygone days. The singing of "Auld Lang Syne" terminated a very pleasant function. Mr and Mrs Cunningham were married on July 13, 1860, in Scotland, and sailed 12 days later for Now Zealand in the ship "Silistria" (Captain M'Kay). After a fair voyage the ship arrived near Port Chalmers on October 26 of the same year. Mr Cunningham was born in Fifeshire and Mrs Cunningham belonged to Alloa.
After his arrival here Mr Cunningham took up a section at Green Island Bush. He had followed several occupations in Scotland in his youth, among them notably timber sawing, and he soon found work as a sawyer in the Taieri. After some time a part of the bush section was cleared, burned, and sown in grass, and the new settlers procured two or three cows, carrying the butter once a week about four miles to Messrs Hogg and Hutton, in Walker street (b), and carrying bread and groceries back again. In those early days neighbours were very kind to one another, thinking nothing of walking two or three miles to bake bread, wash, or in other ways assist anyone in trouble.
Mr Cunningham in 1863, when the gold rush was in full swing, joined the general movement, and walked with two others from Waikouaiti Bay to the Dunstan, the trip occupying seven days. The men had three weeks' provisions, and Mr Cunningham says they need have taken nothing, so great was the amount left on the roadsides by people returning before completion of the trip, having had enough of the hardships. He soon gave up the idea of gold, and went to Lake Wanaka sawing timber, but the goldfields, he found, were not the place for a married man. It was an expensive business to get about and an expensive business to live, so at the end of three months he returned. Mr and Mrs Cunningham carried on the farm for some 15 years, when they came to town with their family, settling at their present residence, and Mr Cunningham commencing a successful business as a builder, which he pursued till recent years.
It is noteworthy that the whole of the members of the family assembled both for the fiftieth anniversary of the wedding and also for the anniversary just past These are:—Mr Andrew Cunningham (Woolston), Mrs Ferguson (Auckland), Mrs Gordon (Roslyn), Miss Cunningham (Caversham), Mr William Cunningham (Dunedin North), Mr James Cunningham (Woolston), Mrs W. McKinlav (Roslyn), Mrs Shacklock (Caversham), Mr David Cunningham (Portobello), and Mr George Cunningham (Nelson). Thera are 24 grandchildren and one great-grand child. Both Mr and Mrs Cunningham are hale and hearty, enjoying life, and interested in daily events.
The family became associated with the Caversham Baptist Church. After wife Jane's death, William and daughters Jean and Johanna (Mrs Shacklock) moved to 6 Catherine Street where Jean lived until two years before her death at the age of 95.
Jane Munro Cunningham d: 21 Mar 1922 in Dunedin aged 84Y and was bur; in the Cunningham plot at Green Island Cem: Other family members interred in this plot are:
CUNNINGHAM JANE 95 Years, Ashes Burial, Died 6 Apr 1963
CUNNINGHAM W. D. Burial, Died 13 Dec 1924
ELLEN MAXWELL GORDON 59 Years, Burial, Died 16 Oct 1925
SHACKLOCK JOHANNA 59 Years, Burial, Died 31 Mar 1934

Click here for family members of William and Jane Cunningham.
Images and data used in this site copyright - ©

Descendant input to up-date family pages is very welcome - more detailed information available on request - please

If you can help, have comments, alterations, corrections, amendments etc.
[a]

James Flint, 'Journal Kept on Board Ship "Silistria" on the outward passage to New Zealand 1860, July 25 1860-November 2 1860', (October 24 1860), typescript, Misc-MS-0190, Hocken Library

[b] This is now Carroll St, 3 blocks south of the Exchange

[c] This was demolished in 1975 and incorporated into the school grounds

Click this link

to contact Cunningham researcher Grace (Change # to @ in address)