Elsie Amelia Tuer and Edward John Phillips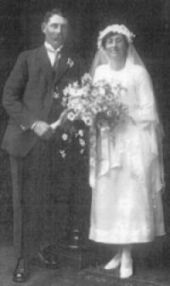 ELSIE AMELIA TUER was born November 10, 1886 in Loburn, and died January 27, 1964 in Christchurch Hospital. Burial: Rangiora Lawn Cemetery. She married EDWARD JOHN PHILLIPS September 25, 1919 in Richmond Methodist Church, son of JAMES PHILLIPS and AMELIA HENDERSON. He was born December 16, 1888 in Oamaru; Occupation: Farmer Glenroy; Retirement: Rangiora He died March 22, 1979 in Nurse Maude Hospital, Christchurch. Burial: Rangiora Lawn Cemetery
Elsie was the eldest of the Tuer children. She attended Loburn School but before she went, is credited with the ability to say her ABC backwards and make all the capital letters. She passed the Sixth standard when she was 10 years old and continued at the same school until she was 12 and then went to the Rangiora High School, staying with her grandparents at Ashley and returning home to her parents at the weekends.
Copy of Letter written by T R Cresswell, MA Headmaster Rangiora High School: "Miss Elsie A Tuer gained an exhibition at this school in 1899 and was awarded two years free tuition, at the end of which term, on account of her satisfactory papers and conduct, she was granted another year's free tuition. She has entered for and will probably pass, the Junior Civil service examination. She is also, I believe, capable of passing the Matriculation examination, although a year under age. She is an exceptionally bright and capable girl, diligent and careful in her work and would, I think, make a first class teacher."
She walked to school and back every day. In those days Civil Service was the great examination and she passed that and she then left school and after working at other places, she worked in Good's Drapers Shop at Rangiora. While employed there, Mr Good went for a trip to England and left the shop in the charge of a manager. Just before he left, he heard that the man he was leaving in charge was not too trustworthy so he gave the keys of the strong room and safe to Elsie Tuer and all the time he was away, she had charge of all the money and even paid the manager. She would have only been about 20 years of age at the time. She received wages of 25/- per week and when cycling home always carried the keys of the strongroom and till etc. on a band on her wrist. After a time she got very thin going home for dinner so her grandma had her go to her place for dinner which was only half the distance. It was not long after Mr Good came back, that the eye trouble started and Elsie had to give up office work and go helping in housework. She next went as a lady help which meant that you got your meals with the family - the wages about 12/6d per week. She worked at a lot of different places - for Oliver Catchpole's father at Woodend. He was a bootmaker and repairer and she, besides working in the house, would attend to people who came for repairs; as a waitress in a tearooms at Rangiora, at Akaroa, at Lyttleton, at Southbrook, a house and fruit shop at Fendleton in Victoria Street, at Culverdon and on the corner of Petrie Street and North Arm Road. It was while working at Glenroy that she met and later married Edward John Phillips on September 25th, 1919. The mayor of Christchurch was a guest at the wedding held at the Methodist Church, Richmond, Christchurch.
Wedding: A very pretty wedding took place at the Richmond Methodist Church yesterday afternoon, the Rev. W. Walker officiating, when Miss Elsie Tuer, Richmond, was married to Mr E. J. Phillips, of Glenroy. Miss L. Straw presided at the organ. The bride, who was given away by her elder brother, Mr George Tuer, looked charming in a dainty white, silk frock trimmed with pearls. She wore the usual wreath and veil in mob-cap style, and carried a bouquet of beautiful white flowers, the gift of the bridegroom. Miss Vera Tuer, only sister of the bride acted as bridesmaid and also wore a white silk frock, hat of shell pink crepe de Chine, and carried a bouquet of pink and white flowers. Miss Jean Tuer, a small niece of the bride, was flower girl and looked sweet in a shell pink crepe de Chine frock, carrying a basket of pink and white hyacinths. The bridegroom was accompanied by his brother, Mr D. R. Phillips. After the ceremony the wedding breakfast was partaken of at the Cadena Tea Rooms. The bride's travelling costume Avas of grey with hat to match.
Elsie and Edward lived first at Station Road, Southbrook in the house next to the one George owned.
Edward was the son of James Phillips (b Orkney Island 1848 to James Phillips and Janet nee Taylor; died 23/3/1913 Hororata) and Amelia nee Henderson (born 2/9/1851 at Forth, Carnworth, Lanarckshire to James Henderson and Amelia nee Millar; d. 15/11/1937 at Hororata. He was born at Kurow, North Otago and his early his life was spent helping on his father's farm at Springhill, Kurow - driving a team of horses and helping to milk 22 cows and working in the family coal mine. He and his brothers Dave and Peter were often in the Hakataramea Valley doing contract work with their father's team of horses. His parents sold their farm at Springhill in 1911 and shifted to Hororata to live. Edward and brother Dave stayed on at the Hakataramea Station with their teams until contracting was finished in mid-March 1912. Then they loaded their wagon with plough, harrows, other implements and tools and their hut across the bows of the wagon. The farm dray was loaded with horse feed and the spring dray with other necessities. They travelled via Burkes Pass, Fairlie, Cattle Valley, Mayfield, Rakaia Gorge to the Lighthouse Te Pirita to a farm with neither trees or house - only rabbits. From there, the brothers shifted to Hororata, Coalgate Road and then to a farm at Glenroy.
Edward and Elsie were to have two children, Ted and Nancy at Glenroy which is a sheep farming and grain growing district about 6 miles south-west of Glen tunnel. Edward carted coal from Glenroy to Coalgate with his team and wagon and went contract ploughing on Terrace Station and other farms in Hororata. When he was 56 years of age, Edward purchased another farm and again with a team of horses, plus a tractor and his brother's help, began turning more gorse out of sight.
At the age of 71 years, Edward and Elsie retired from farming and went to live in Rangiora and Elsie died three years later. Edward did many kindly acts such as digging gardens, trimming hedges and helping to lay the netball courts. At the age of 89 he used to cook a good meal and on Sunday would invite one of his neighbours to join him after attending 10.30 am church service. He died in 1979 and was survived by his only sister, Amelia Tuer, wife of Arnold Tuer and his grandchildren Richard, Juliet and Alison Young.
Children of ELSIE TUER and EDWARD PHILLIPS are:
i. EDWARD (TEDDY) ARNOLD PHILLIPS b. February 11, 1923, Glenroy; d. April 05, 1971. Burial: Rangiora Lawn Cemetery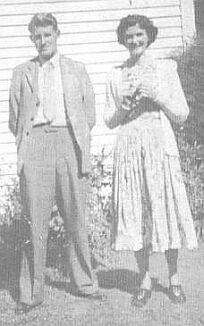 ii.NANCY AMELIA PHILLIPS b. March 01, 1925; d. November 12, 1977. m. Thomas James YOUNG Born: September 15, 1926 in Dunedin Married: May 23, 1953 in St Albans Methodist Church, Christchurch. Their family:

(a) Richard John YOUNG Born: Clyde m. Beverley Anne CAMPBELL Born Dunedin Married: Balclutha . Their four children: Lachlan Paul and Ross William Born: Balclutha and Logan David and Brent Thomas Born: Dunedin

(b) Juliet Elizabeth YOUNG Born: Clyde. m. Graeme Allan HUMPHRIES Born: Gore Married: Dunedin Their Invercargill family: Brendon James and Jared Adam

(c) Allison Barbara YOUNG Born: Clyde m. Mark Anthony BRYANT Born: Mosgiel, Otago Their children were born in Dunedin - Shaun Martin and Zane Anthony

Images and data used in this site copyright - �


Descendant input to up-date family pages is very welcome - more detailed information available on request