Ellen Sarah Cone and Charles Walter Elliott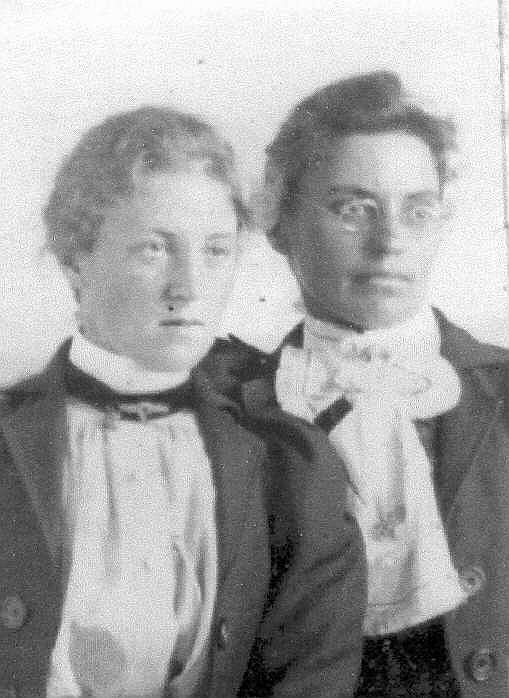 Photo - Sisters: Edie (left) and Ellen Cone (right)
ELLEN (ELLIE) SARAH was born April 09, 1868 in Ashley Bank, Rangiora, and died December 29, 1939 in Christchurch Public Hospital from 56 Ivory Street, Rangiora. She registered her vote 1893 - "living at Rangiora, occ. domestic duties" in the first woman's electoral vote.
She married CHARLES (CHARLIE) WALTER ELLIOTT on December 26, 1896 at the Parish Church, Rangiora. Witnesses to the marriage were Thomas Burt of Rangiora and Ellie's brother George Herbert Cone, butcher.
Charlie was the son of HENRY ELLIOTT and ADELAIDE MARTIN and was born Abt. 1860 in Portsmouth, England, bapt: 20 Jun 1861 St John, Portsea, Hamptshire, England. Other children were Arthur G; Edward J; John F; Emma C; Adelaide M A; Amelia M; and Henry C - in 1871 the family were living at Gladstone Rd, Deal, Kent Charles and Ellen had tearooms in Rangiora then before 1902, they went dairy farming in Taranaki, (Dorset Rd). When he and Ellen retired they returned to Rangiora and bought a house in Ivory Street, Rangiora where they lived until they died. They had no family
Charles actively took an interest in local community affairs and expressed his opinions often to the press.
| | |
| --- | --- |
| | Charlie d: August 03, 1942 in Rangiora Hospital from his No. 56 Ivory Street residence - they are buried in the Rangiora Anglican Cemetery |












Images and data used in this site copyright - ©

Descendant input to up-date family pages is very welcome - more detailed information available on request