Emily Ann Pursey and Moses Thomas Waters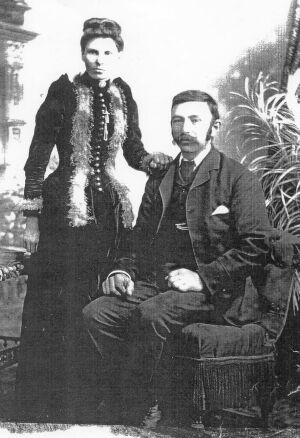 After the death of his wife, Elizabeth nee Court, Thomas Brenchley Waters decided to immigrate from Thannington in Kent with his eight children on the Dutch vessel "STAD HAARLEM" which made a direct voyage from London to NZ in 1879 unassisted by sail.
The "Stad Haarlem" was built in 1875 by Inglis & Co, Glasgow for the Royal Netherlands Steamship Co. She was a 2,729 gross ton iron built, barque rigged, screw steamer with a speed of 12 knots. In Feb.1879, as the result of a proposal by the NZ authorities who had been investigating the possibility of direct steam communication with the UK, The New Zealand Shipping Co, in association with Shaw, Savill & Co, chartered this vessel for a voyage starting from Plymouth 6th February 1879 via St Vincent and the Cape of Good Hope to Port Chalmers, Lyttelton and Wellington.
Despite a full cargo and a full complement of passengers, including 600 emigrants, the venture was a financial failure and the ship only made the one NZ voyage.
The Waters family arrived at Lyttleton 16th April 1879. Thomas was 45 years of age and his family were Kezia 21; Eliza 18; Moses 16;Alfred 14;Marianne 12; Charles 10; Albert 6; Annie 4 - a tremendous undertaking. A number of emmigrants from Chilham area left Kent and joined them on the Stad Haarlem because of the upheavals surrounding the rise of the agricultral workers unions in the 1870s.There is a brief reference to Thomas Waters and his children in "The Farthest Promised Land" by Rollo Arnold (p206).
Marriage Notice: Moses Thomas Waters, aged 29 years, labourer, batchelor born England and resident of Ashley, son of Thomas Brenchley Waters, labourer and Elizabeth Waters nee Court. Witnesses: Thomas William Pursey, Farmer of Ashley and Priscilla Sarah Pursey. The marriage took place on 8th February, 1903 at the residence of T W Pursey, Ashley to Emily Ann Pursey aged 22 years, spinster residing at Ashley, daughter of Thomas William Pursey, Farmer and Sarah Ann Pursey nee Cone.
Obituary: Mrs T Waters
A link with the early days of Canterbury has been severed by the death recently at Rangiora in her 80th year, of Mrs T Waters. Mrs Waters was the third daughter of Mr and Mrs W Pursey of Ashley and a grandaughter of the late Mr and Mrs Cone who arrived in Lyttleton in the ship Bangalore in 1851. She was born at Ashley and after her marriage to Mr Waters lived at Flaxton and then at Ohoka. Several years ago Mr and Mrs Waters retired and lived at Rangiora. She is survived by her husband, Mrs W Macann (Rangiora) Mr L A Waters and Mrs C Orchard (Ohoka); Mr C A Waters (Chch)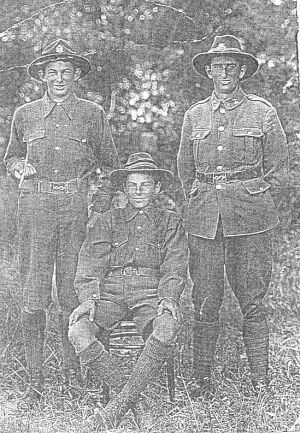 DEDICATED TO RIFLEMAN F V WATERS

Fred, we shall not forget you
who went with the willing men when
a call to the brave came ringing.

Over the hilltop and glen
with courage high, he bade good-bye
To all he held so dear.

No dread he showed in his steadfast eye.
His warm heart held no fear.
His country's call he answered
The dear flag to save.

But now he lies in far off France
And fills a hero's grave.

No mother's care did him attend
Nor over him did a father bend.
No brother by, his words to hear
No sister near to shed a tear.
Children of MOSES WATERS and EMILY PURSEY:
(i)GRACE MAYNIE WATERS was born May 06, 1893 in Flaxton, Rangiora, and died January 11, 1964 in Christchurch Hospital. Burial: Rangiora Lawn Cemetery. She married WILLIAM MACANN in 1923, son of WILLIAM MACANN and ROBINA ROBINSON. He was born July 5 1887 in West Eyreton, and died February 15, 1974 in Christchurch Hospital.Their children:
1.GRACE MARION MACANN was born September 09, 1924 in Rangiora. She married LEONARD READ November 27, 1948 in Rangiora Methodist Church, son of ERNEST READ and ETHEL MOODY. He was born October 22, 1922 in Kaiapoi, and died October 27, 2000. Their children:

i. GRAHAM LESLIE READ, b. January 08, 1951, Rangiora; d. November 01, 1975, Rangiora. Death result of an accident drowning while fishing Lake Coleridge
ii. RUSSELL JOHN READ, b. April 14, 1954, Rangiora; d. November 01, 1975, Rangiora. Died the result of an accidental drowning while fishing Lake Coleridge
iii. MARGARET LINDA READ, b. Rangiora; m. GRAEME WILLIAM TOPP at Kaiapoi; b. Kaiapoi.Their children - Stephen Graham, Joanne Margaret and Phillipa Claire

2. MAVIS ROBINA MACANN was born at Rangiora. She married WILLIAM JOHN KATTERNS at the Rangiora Methodist Church, son of LESLIE KATTERNS and THELMA. He was born in Auckland. Their children:

i. BRETT WILLIAM KATTERNS, m. HELEN BLOXAM at Auckland. They have two children – Anne Marie and Joshua Brett
ii. GRANT DAVID KATTERNS, b. Auckland; m. TANIA KAIHE. They have three children – Harley Dwaine, Tia Max and Hinehapainga
iii. MAX TRACEY KATTERNS
(ii) LILIAN FRANCES WATERS was born July 09, 1894 at Flaxton, and died August 31, 1978. Burial: Rangiora Lawn Cemetery. She married CHARLES EDGAR ORCHARD, son of SAMUEL ORCHARD and MARY CLIST. He was born January 23, 1896 in Ohoka, and died August 21, 1977. Burial: Swannanoa Cemetery. Their children:
(a)VICTOR CHARLES ORCHARD was born February 10, 1920 in Rangiora. He married AUDREY PEARCE in 1944 at Auckland. She was born October 12, 1926 in Thames, and died in Auckland. Their family::

i. KEITH RUSSELL ORCHARD, b. Auckland; m. LORRAINE PINK; they have two children Rachael and Claire.
ii. HELEN MARGARET ORCHARD

(b)MARGARET LILLIAN ORCHARD was born at Rangiora. She married BERNARD ARTHUR FLINTOFT at Ohoka Methodist Church, son of FRANCIS FLINTOFF and SYLVIA WILSON. He was born at Akaroa. Their children:

i. WAYNE FLINTOFT, b. Kaiapoi ; m. (1) LINDA ARPS; They had two children Phillipa m. Steven WATT – they have a son Ross, and Matthew m. Mardia Harman They have a daughter Aleathia b Rangiora
Wayne m. (2) MICHELLE TAYLOR, at Glentui; b. Darfield and they have 2 children – Larissa and Aimee.
ii. CRAIG FLINTOFT, b. Kaiapoi ; m. NICOLA (NICKY) ELLEN DIXON, at Ohoka; b. Christchurch. They have 4 children Ruby Ellen m Tristan Jones – a daughter is called Jasmine; Jessie Rian b 1984; d 1993; Jacob Craig and Lilly Ella
iii. VICKY FLINTOFT, b. Kaiapoi ; m. MERVYN JAMES CLARKE; b. Rangiora – they have 3 children – James, Grace Ellen and Erin Victoria
iv. GRANT FLINTOFT, b. Kaiapoi ; m. APRIL BUCKINGHAM; Their 3 children are Ingrid, Shannon and Benjamin Joseph
v. PENNY FLINTOFT, b. Kaiapoi; m. JODIE MICHAEL BELL, b. Christchurch. They have 2 children Olivia Morgan Flintoft-Bell and Alexandra Hazel Flintoft-Bell
(iv) PURSEY MAFEKING WATERS, b. May 27, 1900, Flaxton, Rangiora;Occupation: Farmer; d. October 08, 1937 and buried at Kaiapoi; m. NANCY ISOBEL BLACKBURN, daughter of W Blackburn and mother M Cattermole.
(v)LEONARD ALBERT WATERS b. February 08, 1903, Rangiora; d. June 11, 1978. married ELLEN EMMA COOKE
vi. CYRIL ASHLEY WATERS was born June 14, 1909 in Ohoka, and died June 14, 1993 in Christchurch. Linwood Avenue Crematorium, Christchurch He married (1) RITA MARY BLACKBURN January 10, 1934 in Methodist Church, Kaiapoi. She was born June 24, 1909 in Kaiapoi, and died May 13, 1956 in Christchurch. Burial: Ruru Lawn Cemetery, Christchurch.They had two children:
(a) BARRY MELVIN THOMAS WATERS was born Christchurch. He married JACQUELINE MAY HENDERSON in Invercargill, daughter of JOHN HENDERSON and MAY MCQUEEN where she was born. Their children - i. JOHN FREDERICK WATERS, b. Christchurch. ii. HOWARD BARRY WATERS, b. Christchurch.
(b) ALISON ANN WATERS was born in Christchurch. She married GEORGE EDWARD MAYLAM at St James Methodist Church, Christchurch, son of EDWARD MAYLAM and MARGARET STEPHENS. He was born Cheltenham, England. Their family: i. PAUL ANDREW MAYLAM, ii. CRAIG EDWARD MAYLAM m. TANYA MARICE HARWOOD Christchurch
Cyril married (2) MARGARET JOYCE (JOY) FORD June 01, 1957 in Christchurch, daughter of HERBERT FORD and MARGARET MCARTHUR. She was born March 20, 1918 in Christchurch and passed away 2 July 2010 aged 92 years. Their children:
(c) CHRISTINE MARGARET WATERS was born in Christchurch. She married DENE WILLIAM CASSIN at Christchurch, son of READ CASSIN and YVONNE MITCHELL. Their family born Christchurch: i. HOLLY MAREE CASSIN ii. ASHLEY THOMAS CASSIN
(d) DIANE FRANCES WATERS was born Christchurch. She married PHILLIP RAYMOND MYERS at Christchurch, son of DONALD MYERS and SUSAN BURTON. Their family born Auckland: i. ALEXANDER DANIEL MYERS ii. LAURA ASHLEY MYERS iii. JAMES THOMAS MYERS
Images and data used in this site copyright - ©
Website address - http://www.geocities.com/winsomegriffin/