Florence May Cone was the third of 8 girls born to parents Fred and Helen Cone. She was b: 19 May 1894 in Kaiapoi where she was baptised on 4th Dec 1894.
The family moved to New Plymouth and Florrie attended the Fitzroy School and was admitted 7 Aug 1899 to the Inglewood School - her education ended 20 Dec 1909. The family returned to Canterbury and lived at 50 Langdon's Road, Papanui, Christchurch.

In 1924, Florence left Papanui to continue her chosen career at the Maori Mission, Waikaremoana
(Src: Florence's photos below were sent courtesy of Mr Mychael Tymons, Photographic Curator, Presbyterian Research Centre Archives, Knox College, Dunedin. The Cone rellies thank you!)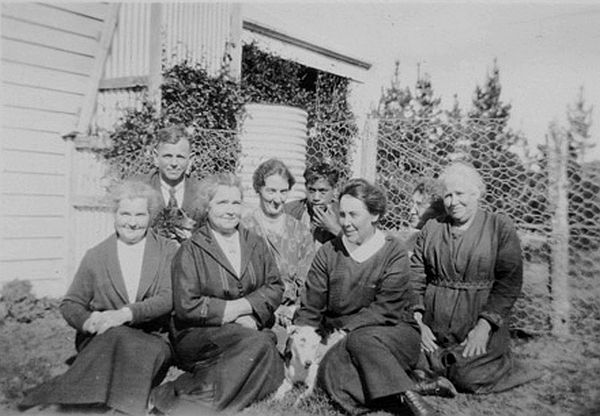 Group Photo taken of Missionaries at Mission House, Waikaremoana; (L toR) Back Row: N/K; Miss Cone ; N/K; N/K; Front Row: Mrs Grieve (Jessie Grieve's Mother) & Her Twin Sister ; Sr May Gardiner ; Mrs Gardiner (May Gardiner's Mother). Dated: Sept 1924
In 1926 Florence is at Waikaremoana, Waiohau assistant and companion to Sister Jessie Grieve.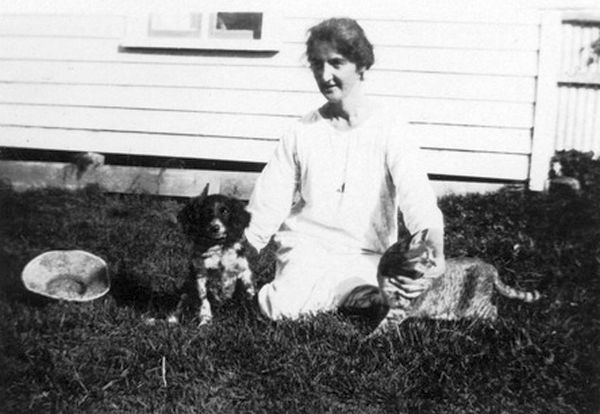 Florence Cone sitting on the lawn with the "Little Pig-Dog & Mouser." 1925
Florence's accommodation - a hut at the Presbyterian mission.
(Sister Jessie Campbell Grieve (1895-1970) was born at Riverton and became a Presbyterian Maori missioner. She was Ordained Deaconess at the Wellington Assembly 18 Nov 1920. Teacher at Maungapohatu 1 Feb 1921, became head teacher at Rangihua 11 Feb 1926. She mar: Albert Ward and lived at Wairoa.)
Florence was next at Te Teko 1927 and resigned 1931 when she returned to Christchurch
8 Nov 1937 NEW BRIGHTON TEMPERANCE UNION: Maori Day was observed by the New Brighton Women's Christian Temperance Union at its monthly meeting held in the Methodist schoolroom. Mrs H. M. Hall presided. Mrs F. M. Mitchell, Dominion secretary, reported on Band of Hope work. Mrs Hall re* ported on mental hospital work. The speaker for the afternoon was Miss F M Cone, who gave an interesting talk 'on the work of the missionaries among the Maoris near Rotorua. The hostesses were Mesdames F. Gardner Brown and F. H. Bailey.
Website address - http://www.winsomegriffin.com//