Francis Charles and Laura Guilford
Frank retired and moved from his home at Cattle Valley for the past 33 years, to be with his brothers and sisters in New Plymouth. Here, at age 75Y, he met and remarried in 1951 to Laura Elizabeth Wood aged 63Y and together, they were to share a happy ten years.
Laura Elizabeth Wood (b: 04 Jan 1887 in Westbury, Wiltshire was the dau: of parents William Rigby Wood b: 1846, dairy farmer of Okaiawa; he d: 12 Feb 1923 Palmerston Nth, retired, aged 77Y; Bur: 14 Feb 1923 Te Henui Cemetery, New Plymouth and her mother, Mary Anne nee Mold (b: 1847; d: 24 Feb 1922 in New Plymouth) Laura Guilford d: 11 Mar 1985 in New Plymouth)
Hawera & Normanby Star, 15 May 1905 A correspondent in these columns some days ago asked "In the midst of a meadow well stored with grass I engaged just one acre to tether my ass; what length must the cord be, that he feeding all round, may not graze less or more than an acre of ground? An answer, 39.26068 yards, is furnished by Laura E. Wood, Okaiawa.
Laura's 1st marriage was to Charles Ernest Oliver (b: 03 Oct 1871 in New Plymouth - his Father: Francis Oliver (1840-1926) and mother: Elizabeth Ann Langman (1841-1916) Service Number: 4283 Rank: Private Roll title: 18 Infantry Battalion - 1 to 13 Reinforcements (May 1915 - June 1916) Conflict / Operation: First World War, 1914-1918 Date of embarkation: 8 March 1916 Left from Sydney on: HMAT Star of England A15; Charles d: 16 Mar 1951 in New Plymouth Bur: 17 Mar 1951 Te Henui Cemetery, New Plymouth
Taranaki Herald, 14 Sept 1908: MARRIAGE: OLIVER— WOOD.— On Sept 9, 1908. at Te Henui, by the Rev. F. -Q. Evans. Charles Ernest, eldest son of Mr F.. Oliver, of Mangorei, to Laura Elizabeth, youngest daughter of Mr W. R. Wood, of Devon Street East and Okaiawa.
Frank met Laura and at age 75Y, they married in 1951 and together, were to share a happy ten years.

*2nd Husband of Laura Elizabeth Wood to

Francis (Frank) Charles Guilford b: 09 Aug 1876 in Pleasant Valley, Geraldine mar: 09 Aug 1951 in Methodist Church, New Plymouth Father: William Harrison Guilford Mother: Ann Benbow
Frank and Laura made several trips together to the South Island: In abt 1955 they were photographed at PineHill, Cattle Valley with Fred and Ruth and all their family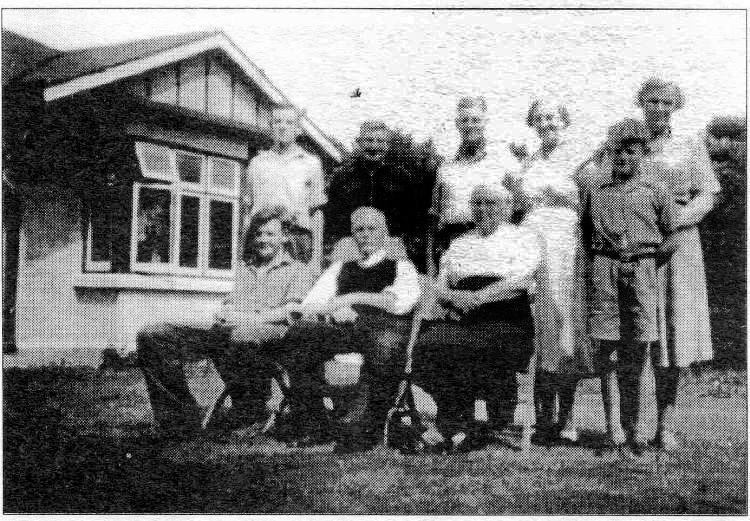 In December 1960 Frank and Laura again enjoyed being surrounded by family at a picnic gathering at Peel Forest.
At New Plymouth: Left to right: Alice Guilford, Ted Golding, Togue Guilford, Edie Guilford, Dot Drummond (occasion - her 70th birthday 26 Feb 1960) with Laura and Frank Guilford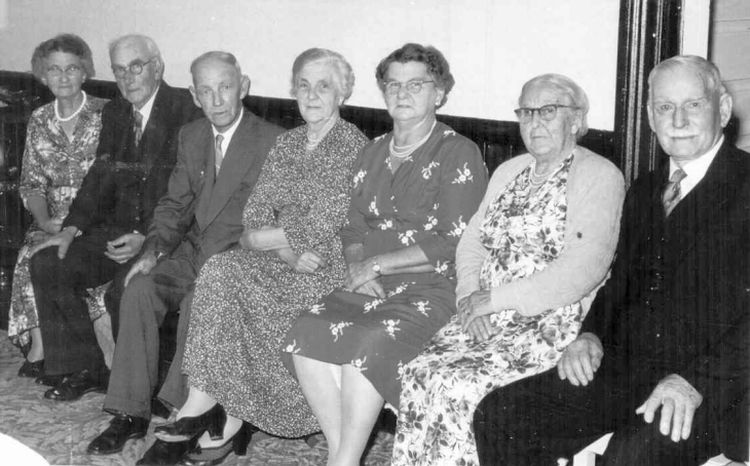 Frank and Laura lived at 23 Mt Edgecombe Street. Frank d: on 27th Oct 1961 at Westown Public Hospital, New Plymouth - he was bur: 10 Oct 1961 Te Henui Cem., Block Row CV - West Plot 10.