John Michell Davie and Edith Esme Lindsay
JOHN MITCHELL DAVIE was born August 11, 1914 in Timaru, South Canterbury, and died November 25, 1994 in Dunedin. Ashes Buried East Taieri. He married EDITH ESME LINDSAY April 24, 1938 in Timaru, daughter of ARCHIBALD LINDSAY and EDITH FRY. She was born April 04, 1914 in Timaru, and died December 13, 1992 in Mosgeil. Their children:
(a) PETER MITCHELL DAVIE, b. Timaru. He married GWYNETH ELIZABETH KIRKNESS in Mosgeil, daughter of JOHN KIRKNESS and ELIZABETH COLLIER born in Duntroon. Their children:
i. MICHAEL PAUL* DAVIE, b. Mosgeil.
ii. MARK JOHN DAVIE, b. Mosgeil married JANETTE MORRISSEY in Auckland, daughter of JOHN MORRISSEY and DIANE. Their son is RHYS MARK
iii. TRACEY JAYNE DAVIE, b. Dunedin; m. MARK ADAM,at East Taieri; b. Mosgeil.
(b) JOHN BRUCE* DAVIE, b. Timaru. He married JANICE FRANCIS MCARA at East Taieri, daughter of DAVID MCARA and FLORENCE LARKINS born in Mosgeil. Their son is ANTON MITCHELL DAVIE
(c) SHARYN JOY DAVIE, b. Mosgeil. She married FRANCIS (FRANK) ROBERT SCURR in Mosgeil, son of THOMAS SCURR and BEATRICE MONSON. He was born in Cromwell. Their children are DAVID ROBERT; PHILLIP JOHN and JULIE MAREE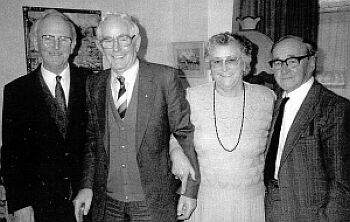 Website address - http://www.winsomegriffin.com//