Joseph Bramwell Cone & Edith Maude Goss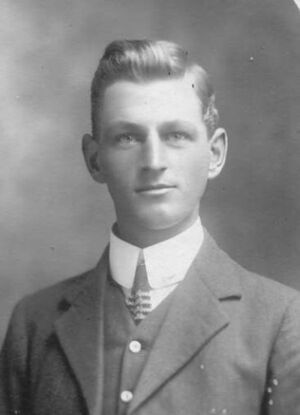 Joseph Bramwell* CONE (b: Jan 27, 1890 in Waitohi; his Occ, farmer; he d: March 22, 1977 in Timaru Hospital; Crem. Timaru); mar. Aug 13, 1915 in Ashburton to Edith Maude GOSS (b: July 31, 1894 in Ilfracombe, Devon to parents Ernest Goss and mother Lucy Sloley; Edith d: June 29, 1985 Timaru.)
1900: School Records Name CONE Joseph Bramwell; School Timaru South Register Number 465/2; Admission Date 2 Apr 1900 Parent / Guardian Mr F Wm Cone; Address West Town Belt; Last School Waitohi Flat; Last Day 10 Sep 1903 Destination Message Boy
1913 Willowby Literary and Debating Society, meeting held fortnightly, Mr B Cone, Vice president
23 Jun 1925: Land Trasnfer: Section 1 Block xi Geraldine 5 acres Ellen Elizabeth Swaney to Joseph Bramwell Cone
1932 Mr J B Cone a married man, residing at Orari, splintered his collar bone in an unusual accident, at the south end of Geraldine on Saturday Morning. He was cycling towards the south road in a driving rain when he collided with the rearr of Mr W T Mole's delivers lorry. The lorry had passed the cyclist only a minute or so before th accident but it is presumed it stopped fairly wide out to pick up or set down some child, when Mr Cone was riding with his head down in order to avaoid the rain and did not see the lorry until it was too late to swerve clear, crashed into it. He was thrown from his cycle, injuring his right collarbone and also receiving severe bruises to his right leg. The front forks of the cycle were smashed off. My Mole conveyed Mr Cone to Dr Mail for medical attention and subsequently to his home in Orari.
1932 J B Cone - on Committee Orari School Committee and at householder meeting advocated a dental clinic room close to the Orari school be procured to save children travelling to Geraldine for treatment.
1931 Edith on Committee Orari Womans Institute
1936 Represented Orari School committee and spoke at the opening ceromony of the remodelled Winchester school
1937 1938 - Competed at Winchester A & P Show - awarded prize fruit (apple varieties)
Their children
1. Gladys Lilian* CONE was born at Ashburton. She married THOMAS PERCY* SCOTT October 24, 1938 in Orari Presbyterian Church, son of SCOTT and CLARA SMITH. He was born December 06, 1911 in Woodbury Guesthouse, and died December 22, 1989 in Timaru Hospital.Burial: December 23, 1989, Geraldine Cemetery
When a school girl, Lil was living at Orari and said she attended High school in Temuka. All the boys and girls commuted by goods train daily, one even coming as far as from Rangitata Island. Two nights a week they returned by express and would get home by 5 and 3 nights by goods reaching home in the dark by 6 and still with homework and chores to be done
Children of GLADYS CONE and THOMAS SCOTT are:
i. NOELINE MARGARET SCOTT who became a Kindergarton Teacher was born April 11, 1946, Temuka; d. September 09, 1976, Wanganui; m. CHRISTOPHER EDWARD KENDRICK, August 02, 1975, St Anthony's Church, Wanganui Burial: Cremated Wanganui and her Ashes returned to Sth Island.
ii. MARION EDITH SCOTT, born at Geraldine. She married MICHAEL GERARD FITZGERALD at Reefton, son of JOHN FITZGERALD and PATRICIA KIELY. Their three children were born in Greymouth:RACHEL ANN; ANDREW JOHN and SARAH LOUISE.
2.Audrey May CONE Born: March 22, 1928 in Temuka; mar. Peter Augustin KEARINS Born: June 23, 1926; Married: April 05, 1958 Taihape; On October 15, 1962 at Gisborne he was killed in an air accident - a topdressing plane crash Burial: Taihape Cemetery;
Children of AUDREY CONE and PETER KEARINS are:
i. NIGEL STEPHEN KEARINS, b. at Taihape.He married JANE PATRICIA (LACEY*) GRAHAM, daughter of ALISTAIR GRAHAM and JANICE. She was born in Auckland. They have a daughter MERLE FRANCES KENNEDY KEARINS, b. Auckland.
ii. WARWICK JOHN KEARINS, b.at Taihape.
iii. GREGORY PATRICK KEARINS, b.at Gisborne.
Audrey's second marriage was to Kelvin Leslie HART who was born in Woombye, Queensland and died at Brisbane.
Their daughter is:
iv. EMMA LESLEY HART, b. Taihape.She is married to KARL DEARDEN who was born in Nelson. They have two Christchurch-born children - KIERAN ASH and RHIANA KATE
Website address - http://www.winsomegriffin.com//