Katie McKinley Davie and Samuel Thomas Rogerson Scott

KATIE MCKINLAY DAVIE was born 19 Jul 1924 at Timaru and died 5 Jun 2007 at Hamilton Hospital. She married SAMUEL THOMAS ROGERSON SCOTT December 21, 1951 in Dunedin, son of JOHN SCOTT and ISABELLA ROGERSON. He was born July 31, 1918 in Milton, and died October 02, 1999 at Hamilton where he is buried.
Katie says: "I was born in Timaru in 1924 being the Nineth child of Robert Mitchell and Emma Kate (nee Cone) Davie. As I remember, I lived in Timaru until I was six years of age when we shifted to Waitohi on a farm called "Stoneycroft" owned by my uncle George Cone of Cone Road.I guess this was because of the difficulty of finding employment in those days.
I remember going eeling at nights over at Cone Road. Then there were days of harvesting, of going off to the fields and lying in the paddocks after the hay was cut and watch the sky larks looking for their nest as they made them on the ground. They were shrewd - they did not land where it was, but would come down and hop to where it was, as they did not want us to find it.
Eventually we moved back to Timaru for a few years and then to Dunedin. In my late teens I went to Palmerston North to work till the late 1940's when I moved back down south and married Sam Scott in 1951.
We farmed at Finegand just three miles from Balclutha and had a family of six - 2 daughters and four sons. We remained there for 12 years and moved to Hamilton where we built the Ascot Lodge Motel and operated it for 7 years. Afterwards Sam had many interests till he passed away in 1999."
Their children were born at Balclutha:
(a)LOIS KATHLEEN SCOTT married RODNEY RONALDS in Sydney, son of RALPH RONALDS and PATRICIA. Their family are: SCOTT RALPH b Sydney; REBECCA KATIE b. Bendigo; and ASHLEY SAMUEL b. Bendigo
(b) ROGER THOMAS SCOTT
(c) BRIAN STANLEY SCOTT
(d) LINDSAY ROBERT SCOTT
(e)JILLIAN ROSEMARIE SCOTT
(f) MURRAY WALTER SCOTT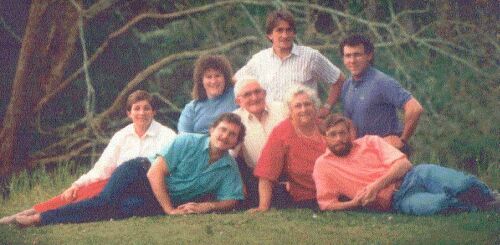 Website address - http://www.winsomegriffin.com//