Lillian Guilford and Jim Scarlett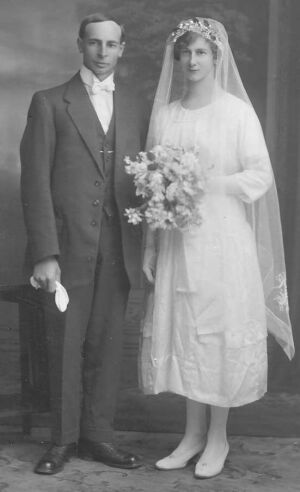 LILLIAN GRACE GUILFORD was born October 13, 1902 in Timaru, and died August 03, 1993 in Timaru. Cremated Timaru. She married JAMES SCARLETT May 17, 1923 in Fairlie, son of RICHARD and EDITH SCARLETT. He was born January 08, 1890 in Oxford, and died October 05, 1970 in Timaru.
James Scarlett's grandparents William and Mary Ann came from Yorkshire and sailing from Plymouth 1859 with their 2 sons. One was Richard born 1853 who became Jimís father. The family landed at Port Chalmers and moved to Christchurch where they settled for a time before buying a farm at Lincoln. It was here that Richard received his grounding in farming working first for his father and in 1873, at the age of twenty he moved to Waddington and took up some Government land which he developed from the native tussock with fencing and cultivation. He built a homestead and outbuildings. He had both stock and crop and owned several teams which carted timber from the Oxford bush. He also had a travelling van which he used to take tourists to the West Coast. He served on the East Malvem Roads Board, Cemetery Board, School Committee and the Canterbury A&P. He married Miss Askey of Waddington and they had a family of 5 sons and 4 daughters. In 1903 they moved to Glenroy and took over the property now known as Shangri-La and owned by the Fowler family.

It was here that their sons and daughters grew up and went to school at Glenroy. Three of the sons were James, Richard and William (Bill). In 1908, when James was eighteen, they came through Cattle Valley with their teams on the way to Tekapo where as wagoners they carted the building materials from Tekapo to the 'new' hermittage site. The material came from Timaru by train to Fairlie, and by traction engine from Fairlie to Tekapo. Cattle Valley must have made an impression because in 1912 James and William were able to buy Matahiwi on McMasters Rd. The name then changed to Glenquoin.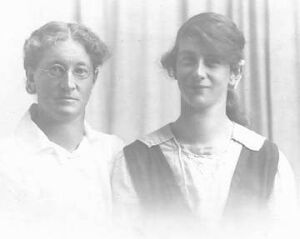 There was no home on the blocks so James moved the Matahiwi cottage from the corner on McMasters road and that had to suffice until they were in a position to build around it in 1935. There were yards and a woolshed of sorts which also had to suffice until 1937 when Percy Stewart was hired to build a new woolshed using some of the material from the Puketohu shed in Middle Valley. In 1914 James went off to WWI and didn't return until 1919 - the extra year being spent with the Camel Corp in the Syrian uprising. During the years he was away his brother Bill, a bachelor, looked after the farm.
In 1923 James married Lillian Guilford the daughter of Frank and Maria Guilford. Their three children went to Skipton School.

James, from earliest years, was a workaholic and except for the Skipton School Committee was never far from work and home. He was fortunate to be a good allrounder and could turn his hand to most things around the farm. Lil who was equally versatile was well known at the Mackenzie A&P show with her baking and cake icing. She kept a good garden in earlier years, played the piano by ear, and enjoyed handcrafts. She was a member of the Allandale Country Women's Institute and the Skipton branch of the WDFF. Over the hill on Gudex Road was Malthus' block which Malthus used in the winter and early spring for his hoggets from Mt Gerald. James leased this during the summer months for some added carrying capacity. During the 1940's he leased the Meikleburn property over the Clayton Saddle. The hoggets were taken out in early spring and brought back as two-tooths. Cattle were also run out there and it was of course a good support for the main ewe block in a drought.

In 1946 he branched out again and bought the Hammond property in Middle Valley installing Les and Edith Trumper in the cottage there to manage it for him. During those years he spent a good deal of time on horseback going from Cattle Valley to Middle Valley. Jim and Lil retired to Timaru in 1952 but James returned to the farm as often as he could. Some years later he handed over the reins to son Des.
A feature of James' life was his desire and enthusiasm to create a quality Romney flock; which he not only achieved but encouraged others to do also. James died in 1970 after a lifetime of achievement that he could be well pleased with. Always well spoken and dressed, he managed to portray a relaxed attitude which belied the intensity of his activities at home. He was a very precise person but had a good sense of humour nevertheless. Lil died in 1993. Ref: Raincliff Story
Children of LILLIAN GUILFORD and JAMES SCARLETT :
(1) BERNARD JAMES SCARLETT (Born: 15 Feb 1924 in Fairlie; Died: 19 Apr 2008 in Timaru; Bur: 22 Apr 2008 Timaru) He Mar: 06 Mar 1948 at Timaru to ALICE JEAN* LINTON (Born: 09 Dec 1926 to parents ALEXANDER LINTON and ROBERTA; Died: 27 Apr 2012 in Timaru)
Their Timaru born Children are:
(a)IAN LINTON SCARLETT, He married ROSEMARY MAY KING in Timaru, daughter of HILDA KING. Their 2 children born at Timaru are ALEXANDER KENNETH; NATALIE ROSE

(b) NANCY JEANETTE SCARLETT, She married WILLIAM GEDDES in Timaru, son of JAMES GEDDES and LILLIAN. Their 5 children were born in Timaru:STEPHEN RAYMOND; RAEWYN FAYE; KAREN MAREE; ANGELA JAYNE and ANTHONY WILLIAM
(c)MARGARET ALICE SCARLETT, b. March 02, 1953, Timaru; d. March 24, 1957, Timaru.
(d) DONALD BRUCE SCARLETT
(e) ALISTER JAMES SCARLETT m. DEBORAH ELIZABETH GRESHAM at Timaru.
(f) PETER MURRAY SCARLETT, m. ???.
(2) VALERIE JEWELLE SCARLETT was born at Pleasant Point and she married JAMES ENRIGHT MULVIHILL on January 26, 1949 in Timaru. Jack was the son of PATRICK MULVIHILL and CAROLINE KENT and was born May 16, 1922 in Pleasant Point; D: 24 Jul 1999. Their 3 children were born in Timaru:
i. VALMAI LORAINE* MULVIHILL She married at Timaru to DAVID JOHN LARNER, son of G LARNER and JEAN SLATER. They had 2 sons JOHN JAMES b. Huntley and SCOTT ANTHONY LARNER, b. May 29, 1976, Huntley; d. September 06, 1976, Green Lane, Auckland
ii. GEOFFREY JOHN MULVIHILL married VANESSA JANE SHORE in Woodbury, daughter of KENNETH SHORE and ADRIANE. Vanessa was born in Geraldine and their son born at Timaru is TYSON JAMES
iii. NEVILLE JAMES MULVIHILL married Waimate-born SANDRA JOY RAINEY, daughter of ALLAN RAINEY and JOY. Their family are LINDA JOY; SUZANNE KAY and PATRICK JAMES
(3) DESMOND WILFRED SCARLETT married at Timaru to MARGARET LENIHAN , daughter of JOE LENIHAN and ANNE and was born at Geraldine. Children of DESMOND SCARLETT and MARGARET LENIHAN are:
i. JENNIFER ANN SCARLETT, b. Christchurch. She married DOUGLAS FEARNLEY SIMPSON in Timaru, son of HUGH LENNA. He was born in Auckland. Their 3 children are: HAMISH DOUGLAS HUGH; TIMOTHY JAMES SCARLETT and GEORGIANNA EMILY SCARLETT SIMPSON
ii. MALCOLM WAYNE SCARLETT, b. Timaru. married ROSEMARY HELEN LITTLE in Cave, daughter of WILLIAM LITTLE and JEAN Their 3 children born at Timaru are SIMON JAMES; JEREMY NIGEL and ANDREW WILLIAM
iii. RICHARD DESMOND SCARLETT, b. Timaru. married HELEN LOUISE STEWART in Pleasant Point, daughter of COLIN STEWART and MAIRA She was born in Timaru as were their 3 children are KATY VICTORIA LOUISE; JAMES STEWART RICHARD and HAMISH GEORGE DICKSON
iv. JANNINE MARGARET SCARLETT, b. Timaru married ALISTER WALTON HOLWORTH BREMNER son of JAMES BREMNER and BEVERLEY, born in Christchurch. Their 2 children are HARRIET CONSTANCE SCARLETT and GEORGE WALTON MCALLISTER




Website address - http://www.winsomegriffin.com//