Myrtle Irene Cone & Edward Claude Steer
MYRTLE IRENE CONE was born on March 14, 1899 at New Plymouth,the daughter of Frederick William Cone and Helen (Nellie) Bowie nee Wilson; . She trained as a Nurse. Her death occured on April 27th, 1990, Christchurch and was cremated Harewood Crematorium.
She married EDWARD CLAUDE* STEER March 31, 1926 at St Andrews Church, Christchurch. He was the son of JAMES STEER and SARAH BEDSON and was born March 19, 1900 He died July 01, 1999 in Christchurch - cremated Harewood Crematorium.
Myrtle was a shop assistant at Beaths before her marriage - Claude was a motor mechanic.
They built their home at 177 Selwyn Street and here they lived for 50 years before retiring to live in a rest home. They were to have 2 children, 5 grandchildren and 9 great-grandchildren in their long married life of 64 years.
Myrtle was a member of the Townswomen's Guild and Claude played bowls, tennis and he was a very keen gardener.
Their family:
i. GORDON RAYMOND STEER, b. Christchurch. He married PATRICIA LOUELLA TURNER at Wellington where she was born, the daughter of FRANCIS TURNER and LOUELLA nee KARRAS. Their Wellington born family are:
i. SARAH JANE STEER m. NEIL KERRY CALLAGHER (son of Stanley Callagher and Noeline nee Ryan) Their son is Mitchell Aaron Steer Callagher


ii. ii. CAMPBELL GORDON STEER m. VANESSA LEONIE CHAPMAN. Their family is Kiarne Louella and Olivier Rose
ii. LEONIE HELEN STEER, b. Christchurch married FREDERICK ALBERT JOSEPH (JOE) GLASSON at Christchurch where he was born, the son of ALBERT GLASSON and MYRTLE HILL. Their family are born in Christchurch:
i. SANDRA ANN GLASSON m GARRY DAVID FERDINAND - their daughter is Lisa Joy


ii. PAMELA JULIE GLASSON m. RODNEY DAVID LAWRENCE (son of R G Lawrence and R P Hasselberg) their family - Claire Julie; Summer Kyn and Jayden David


iii. CHRISTOPHER JOSEPH GLASSON m. NOELINE FAY LANCASTER (daughter of Isaac Lancaster and Phyllis N Payne) Their children - Matthew Joseph and Aleisha Marie

Back: Isabel, Gordon, Leonie, Pat with Campbell, Joe, Myrtle, Phyllis,
Agnes, Freda, Evelyn Carol and Ivan
Front: Claude,Chris,Sarah, Pam, Sandra, Leonie, Margaret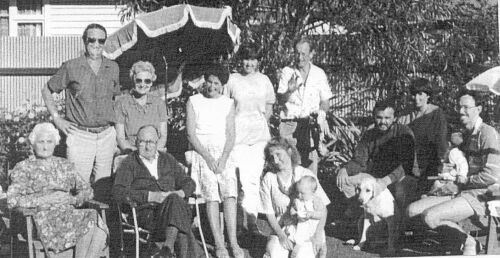 Back row: Gordon, Pat, Leonie, Noeline, Joe, Gary, Sandra, Jayden, Rod
Front: Myrtle, Claude, Pam holding Summer.












Website address - http://www.winsomegriffin.com//