William (Bill) Cone and Charlotte Minnie Smith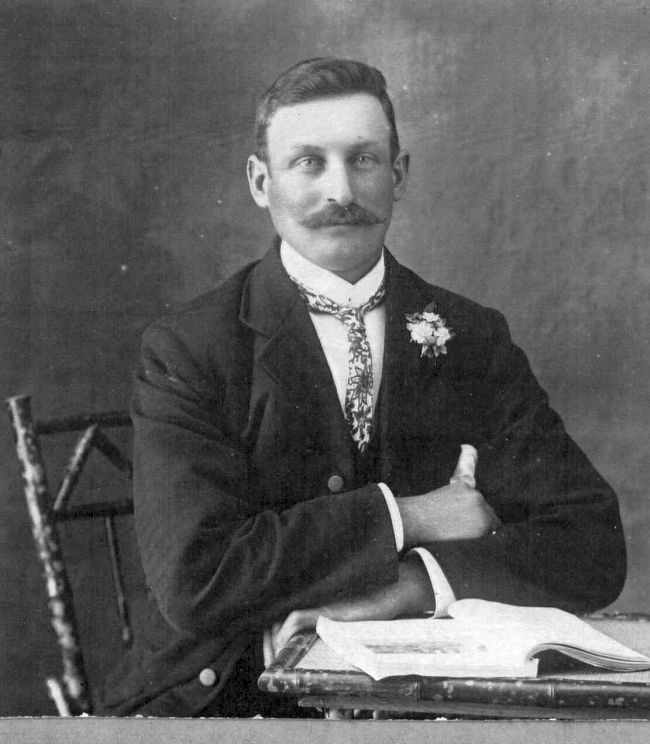 BILL CONE was born 12 Sept 1875 to parents Frederick Cone and morther Sarah nee Barnard at Waitohi. Occ: Farmer, resided Nixon St, Tinwald; he died May 01, 1961 in Ashburton. Bur: May 04, 1961, Ashburton Cemetery.
William (Bill) mar: 17 Dec 1904 to CHARLOTTE MINNIE* SMITH . She was b: 1877 in Christchurch to parents, father - Isaac SMITH and mother Harriet BROGDEN. Charlotte d: 30 Oct 1939 at Dunedin and was bur: 1 Nov 1939 Area 184, Plot 19 at Ashburton Cem. husband William (Bill) was bur: 1st Nov 1939, Ashburton Cem.
Mr ISAAC SMITH: Timaru Herald, 5 Sept 1916 (Adapt): The late Mr Isaac Smith, who d; at Wahrington Rd, Temuka 3rd Sept. 1916 on Sunday morning, was aged 63Y. He was born at Sandown, Isle of Wight in 1853 (son of William SMITH and Elizabeth (Betsy) DRAKE) and came to New Zealand in the Blairgowrie in 1875 and reached Timaru by surf-boat. At Temuka, he lived for a while with his sister, Elizabeth, Mrs Henry Voyce. (Sister Elizabeth Voyce nee Smith came out on the Crusader to Lyttelton in 1874 with 5 children)
Isaac was employed by the railway as a platelayer until three years before his death and while in this employment, helped to form the railway between Temuka and Timaru. He had been connected with the Temuka Presbyterian Sunday School for 38 years, and was superintendent for 35 years before his death. He was a diligent worker for the Sunday School, and his loss will be felt keenly. He was a member also of the School Committee and the Presbyterian Church. He leaves four sons and five daughters to mourn their loss. He was very popular with all with whom he came in contact, and his death is keenly felt by a large number of friends.

Src: "Blairgowrie" (Ship's list) sailed from London May 29th 1875 and arrived Lyttelton August 22nd 1875; Smith, Isaac - age 22 from Hants, Labourer and wife Harriet 22 - they mar: 1870 (Harriet b: 1853; d: 25 Sep 1889 at Temuka aged 36Y). .
Isaac and Harriett Smith's children:
i Rebecca Mary* Smith (b: Feb 1875; admitted Temuka school, left for home 27 Jun 1890; d: 1950) Mar: 1905 to Walter Hobbs

ii Charlotte Minnie* Smith (b: 21 Jan 1877 in Christchurch; admitted to Temuks school Feb 1882; last day 1887; d: 30 Oct 1939 in Dunedin; Bur: 01 Nov 1939 Area 184, Plot 19, Ashburton Cem) mar: William (Bill) Cone

Their daughter: Edith Sarah Cone Born: 23 Nov 1906 Died: 25 May 1987 in Maran-Atha Home, Mosgiel Burial: East Taieri Cemetery, Mosgiel

iii Alice Jessie Smith (b: 1878; d; 1961) mar: 1909 to William James Sinclair Shields (b: 1874 to James and Margaret Shields; d: 1948 aged 73Y) Their dau Mavis McLeod Shields b: 1912

iv Horace John Smith (b: Oct 1883 admitted to Temuka school 29 Oct 1888; passed Std 5 and left Nov 1895; Occ: Government overseer; d: 1959) Mar: 28 Mar 1910 in Presbyterian Church, Temuka to Annie Roulston - her Father: W C Roulston) Family: Courtenay Moyle b: 1911; William Lawrence b: 1913; Nancy Noeline b; 1915; Roulston Rutherford b: 1916;

v Stuart Smith (b: 26 Feb 1887, admitted to Temuka school 6 Feb 1893, left for work 27 Jun 1902, father Isaac, a linesman at Temuka; 1917 Labourer at Temuka; d: 1957)
*2nd Wife of Isaac SMITH mar: 1895 to Sarah CAIN (b: 1872; d: 13 Nov 1954 aged 82Y) Their children were:
i William Smith (b: 8 Nov 1895 Temuka; d: 4 Apr 1972 Temuka)

ii Fashoda Smith (b: 14 Oct 1898, admittd to Temuka school 13 Feb 1905; d: 9 Dec 1973) mar 1917) to Ernest Krause d 1956

iii Samuel Smith (b: 02 Aug 1902 admitted to Temuka school 3 Feb 1908; home address Wallingford St, Temuka;)

iv Modderina Zephina Smith (b: 12 Jun 1906; admitted Temuka school 14 Oct 1912; d: 27 Feb 1996 Temuka) mar: 1928 to Frank Goodeve (b: jan 1892 Temuka - his father H Goodeve, Waitohi; he d: 27 Apr 1966 Temuka) Their dau: Patricia June Goodeve (b: Jun 1929 Temuka; d: 25 Jan 2012 Temuka) mar: 17 Jun 1950 at the presbyterian Church, Temuka to Stanley Wm Davey (b: 22 Jul 1921 Timaru; d: 2009 Timaru)

v Enda Rhodessia Smith (b: 9 Jul 1907; d: 5 Dec 1907 Temuka)
Bill and Minnie's daughter EDITH SARAH CONE was b: 23 Feb 1905; d: May 25, 1987, Maran-Atha Home, Mosgeil; Bur: East Taieri Cem., Mosgiel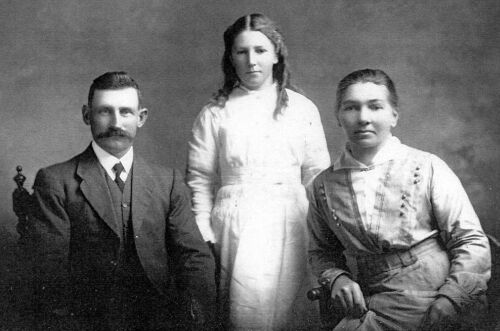 William farmed his land at Tinwald, a garden providing fresh produce for the markets and local buyers
| | |
| --- | --- |
| | Photo on left - titled "Uncle Bill, Aunt Minnie and cousin Edith |












Website address - http://www.winsomegriffin.com//