Hidden Slide Menu on Left
Below, Newsham Page Index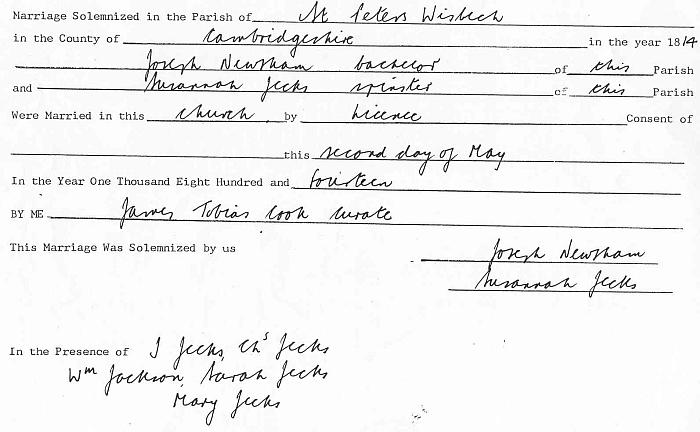 Joseph Newsham was born 1796 in Wisbech, Cambridge and died 12 Jun 1842 in Hackney, London. Coroners' papers: Western district Chelsea: Joseph Newsham: Visitation of God [Natural death]From Diary of J Hursthouse "Monday 13th June 1842 - 'heard that Mr Newsham died in his lodgings in London about the middle of the day - supposed from inflammation of the throat". Joseph was buried on 15th June 1842 Abney Park Cemetery, London. Charts
Joseph married Susannah Jecks on 2 May 1814 at St Peters, Wisbech, Cambridge County. She was born 26 Sept 1790 in Wisbech to parents Isaac Jecks and Mary nee Bloomar and died on 12 Aug 1853 in Framingham Pigot Henstead, Norfolk.
"Lynn Advertiser and West Norfolk Herald" Saturday August 27th, 1853: Lately at Framington aged 62, Susan widow of Mr Jos Newsham and second daughter of the late Mr Isaac Jecks formerly of Wisbeck. Susan Newsham's Will
Their children were were registered in DOCTOR WILLIAMS LIBRARY INDEX Non conformist Ministers began in 1742 to collect together the "General Register of Births" (i.e. Non Conformist Births) and arranged for it to be housed in Dr Williams' Library in London. The original initiative came from the Baptist, Presbyterian and Congregationalist churches.
Registration was open not only to Londoners and to Non-Conformists, but to any parents who were willing to sign the certificate and to pay the 6d fee. It was poorly used until 1769, when it became a repository for Non-Conformist Minister's books. The whole was handed over to the Registrar General in 1837.

The family of Joseph and Susannah Newsham:
1. William Newsham was born 30 Jan 1815 in Wisbech, Cambridge County (Birth registered in the Parish of Wisbech St. Peters in the Isle of Ely on 3rd Jun 1815 by Richard Wright, Protestant Dissenting Minister and at Dr Williams Library Dec 9 1919) and he died 01 Jan 1854 and was bur: at Munyi Bundi, Big River.
William was married to Louisa Singleton on 08 Jul 1850 at Maitland, NSW, Australia. She was born 28 Sep 1827 in Patricks Plains, NSW, Australia - her parents were Benjamin SINGLETON b: 7 Aug 1788 in St Giles, Cripplegate, London, England and mother was Mary Lane SHARLING b: 28 Dec 1796 in Bay Of Biscay. Louisa was bapt. 3 Feb 1828 at Christchurch, Newcastle. Their son Claude was b. 10 Nov. 1851 bp. 11 FEB 1852 West Maitland, NSW and died 28 Oct 1856 at his grandmother's residence, Singleton, on the 28th October, of scarletina, aged three years.
It appears from this William may have returned to England:
The Australian (Sydney : 4 April 1844 - SHIPPING CLEARANCES: The 'General Hewitt' Hart, master, for London, with colonial produce. Among Passengers - William Newsham.
Meeting, 27th May 1852 - "Northumberland Hotel," West Maitland: (Among those present - William Newsham) RESOLUTION PASSED:
(a) To establish a STEAM COMPANY, to be called the "Steam Navigation Company" to consist of 5,000 Shares, of £10 each, to be raised in the following manner, On Shares not exceeding five in number, a deposit of £5 per share, and the re- mainder by a bill at six months date. On Shares exceeding five_in number, by a deposit of £3 per share, and the remainder by equal instalments by bills at four, eight, and twelve months date.
(b) That Three Boats, of proper capacity and power to navigate the River Hunter, be obtained by the Company. That an Act of Council be applied for, limiting the liability of the Shareholders to double the amount of their respective shares.
(c) That as soon as three-fourths of the number of Shares shall be subscribed for, immediate steps be taken for the accomplishment of the objects of B That a PUBLIC MEETING be called for WEDNESDAY, the 16th June, at the " Northumberland Hotel," at Three o'clock precisely.
(d) That Mr. Faircloth be requested to act as Secretary pro tem.
(Signed) BOURN RUSSELL, Chairman.
The Maitland Mercury & Hunter River General Advertiser" 11 January 1854
Deaths: On the 1st January, after a few days' illness at Munyi Bundi, Big River, William Newsham, Esq., aged 38 years.
New South Wales Government Gazette 1848 Page 182 Newsham William, Big River Office, Sydney, 28th January, 1854.
In the Supreme Court of New South Wales. - Ecclesiastical Jurisdiction.
In the Goods of William Newsham, late of Maitland, in the Colony of New South Wales, Grazier, deceased.
NOTICE is hereby given that after the expiration of fourteen days from the publication hereof application will be made to the Honourable the Supreme Court of New South Wales in its Ecclesiastiaal Jurisdiction, that administration of all and singular the goods, chattels, rights, credits, and effects of the above-named William Newsham, deceased, be granted to Louisa Newsham, the widow of the above-named William Newsham, deceased. Dated the twenty-fourth day of January, in the year of our Lord, one thousand eight hundred and fifty-four. ARCHIBALD LITTLE, Proctor for the said Louisa Newsham.
Louisa remarried in 1866 at Patricks Plains, Singleton to Ludwig William SCHULZER who was born 1823 in Germany. He died 15 May 1881 Branxton, Greta, NSW and Louisa died 15 Apr 1908 in Singleton, and was buried at Whittington.
Singleton Argus (NSW : Saturday 18 April 1908: Death of Singleton's Oldest Native.

Mrs. Sclhulzen, a very old resident of Singleton, took place at the residence of her nephew, Mr T.K. Conghlan, George-street, on Wednesday, at the advanced age of 80 years. The deceased had enjoyed good health till within the last twelve months, and the recent summer heat had a serious effect upon a frame naturally debilitated with the weight of years. The late Mrs Schulzen was born in Hunter-street, Singleton, on September 29th, 1827, and was the youngest daughter and last surviving child of the late Mr Benjamin Singleton, who may be termed the founder of this township, and after whom it was named.

In 1850 the deceased married the late Mr William Newsham, the owner of Mungi Bindi station, on the Gwydir, or, as it is sometimes called, the Big River, in the north-western portion of this State. Mr Newsham died on this station about the year 1852??? and his remains were conveyed to the Church of England cemetery in Singleton, for interment, no inconsiderable task when the distance is noted, and also the then unsettled state of the large tract of country intervening.

In 1867 the widow of the late Mr Newsham remarried Dr. Schulzen, who practised at Singleton, and who has pre- deceased his wife for several years. The deceased Mrs Schulzen was deservedly held in esteem by many old friends of a lifetime, and her demise is naturally regretted by her relatives and those who were more intimately acquainted with her many kind and charitable qualities. Her funeral yesterday afternoon was attended by old friends of many years standing.

Interesting facts in connection with the discovery of the Singleton district and the foundation of the present town are recorded, and among these it may be mentioned that, previous to the year 1818, the late Mr Benjamin Singleton crossed the ranges from the Hawkesbury to this district, accompanied by three men in his employ and a native blackfellow.

Upon his first trip, Mr Singleton did not succeed in reaching the River Hunter, but upon his subsequent attempt he struck the river named just above Jerry's Plains. Finding that he had discovered a fine open country, he returned, and urged upon the Government of the day to send out a party with him to make further explorations. In response to his request and advice, a party of explorers was despatched in 1818. the expedition being led by Mr Howe, who then held a position under the Government, with Mr Singleton as guide, to point out the land on which he had previously been. This expedition was accompanied by pioneers whose names are household words, including Messrs G. Loder, A. Loder, T. Dargin, P. Thorley, D.Phillip, S. Marshall and others, who eventually received grants of land for the yeoman service they had done in openingup the country. In 1822 the late Mr Ben. Singleton settled with his family on the plains near Neotsfield property, and at that time grew crops of wheat, which yielded well. In 1824 Mr Singleton removed to where the town of Singleton now stands, and then continued his explorations further north. He was one of the first to cross the Liverpool Ranges, and he formed a station at Yarramanba, now a portion of the famous Warrah run.

Upon the tombstone of this pioneer of Singleton there is the following text inscribed:—"'One man soweth and another reapeth," with also the further inscription that he whose bones have long lain beneath the sod was the pioneer of Singleton. Surely no man could have a better epitaph, and many a once crowned head that moulders in marble vaults could not boast of the bloodless victories for civilisation wrought by this ancient link with the past history of the district. He, with others, has sown the first seeds of Fix this text settlement in this and other districts, and each building erected and tract of land redeemed from the former wilder- ness are lasting monuments to those whose adventurous spirits led the way to Australian settlement. And the old lady whose death is now recorded has seen great changes in her time, and has witnessed the picturesque town of Singleton emerge from the secluded hamlet of long ago ere she passed away.

2 Eliza Newsham was born 08 Apr 1816 in Wisbech, Cambridge County (Birth registered in the Parish of Wisbech St. Peters in the Isle of Ely on 5 Nov 1816 by Richard Wright, Protestant Dissenting Minister and at Dr Williams Library Dec 9 1919) She died 01 Jun 1890 in New Plymouth Burial: 04 Jun 1890 Te Henui Cemetery, New Plymouth Row 29 , Plot 391. Her husband George Curtis Born: 31 May 1816 in Newlington Common, Hackney, London - his parents Joseph Curtis and Elizabeth Southey. They married: 26 Aug 1841 in St Giles Church, Norwich. He died: 09 Jun 1894 in New Plymouth and was buried 12 Jun 1894 Te Henui Cemetery, New Plymouth. They had 8 children.

3. Jecks Newsham was born 06 Aug 1817 in Wisbech, Cambridge County (Birth registered in the Parish of Wisbech St. Peters in the Isle of Ely on 29 Sept 1817 by Richard Wright, Protestant Dissenting Minister and at Dr Williams Library Dec 9 1919)
Jecks married Sarah McMastrie on 06 Mar 1846 in South Australia. his 2nd marriage was to Adelaide Elston on 19 Jan 1887 at St. Bartholomew's, Norwood, South Australia

The Argus (Melbourne, Vic.: Friday 13 February 1874
The Mount Gambier Standard, of February 10, says "that reports are afloat that rich, gold-bearing quartz haa been found on Section 1,154, Hundred of Gambier, within three miles off the town, and to the north-east of it. We have seen, in the hands of Mr. A. Lienau (manager of Mr. J. M. Wendt's business here), some very rich specimens showing not only dust and Haley gold, but unmistakable little 'nuggets.' These specimens, Mr. Lienau informs us, were brought to him lately by Mr. Jecks Newsham, a farmer who stated that he found them in a peculiar red earth or sand, and in reddish veins running through limestone which he was getting out for the purpóse of lime-burning. Mr. Newsham reports that he has frequently found lumps of quartz whilst getting out stone for burning, but he little thought they were so valuable as Mr. Lienau believes them to be.
Mr. G. A. Pritchard, analytical chemist, of Commercial-street, reports that a sample of stone submitted to him by Mr. Lienau proves to be 'very rich in very pure gold.' A lease of some portion of Mr. Newsham's land has been arranged for, with a view to gold mining thereon, and preliminaries are in progress for the formation of a local company to test the ground."

4. Bloomar Newsham was born 12 Dec 1818 in Wisbech, Cambridge County (Birth registered in the Parish of Wisbech St. Peters in the Isle of Ely on 3 Feb 1818 by Neil Walker, Protestant Dissenting Minister)
Port Phillip Gazette, Austrlia; 1839 - One of the dangers of being a magistrate in a frontier town, and one of the qualities to carry out that position, occurred in a confrontation between Police Magistrate Lonsdale and some ruffians on Sat. Feb 1839. Lonsdale had fined two men the previous day for being drunk, riding furiously down a street and over footpaths within the town precincts and assaulting the police when arrested. The following day Lonsdale was riding alone to his Dandenong Eummering run. The very same two defendants and an associate confronted him. The ruffians were John Crew, John Ewart and "Bloomar" Newsham. They approached Lonsdale and threatened him with violence. John Crew had a pistol and when Lonsdale warned off the group and threatened to call his men from the nearby house to thrash them, Crew replied "You damned rascal, how dare you speak to me in this way, I will blow your brains out. you villian" With that, their spleen vented and their insolence demonstrated, the ruffians turned their horses and rode off.

The South Australian Advertiser POLICE COURT-ADELAIDE. MONDAY, JULY 10.
Bloomer Newsham, laborer, was fined 10s. for using indecent language. The defendant intimated that he would not pay the sum, as it was an exorbitant fine. His Worship said he could go to gaol for seven days instead. Newsham expressed himself disinclined to do this, and was then removed. Bloomer lived for 90 years, and the above he only record for his long life - he died 1908 in Adelaide, Australia

5. Caroline Newsham was born 16 Apr 1820 in Wisbech, Cambridge County. At St Leonards, Shoreditch, London on 11 Apr 1846 she married James Skippon, an attorney's clerk of Norwich. The couple separated shortly after the birth of their daughter Kate and she lived with her widowed mother Susannah and after her death continued to live there. In the census of 1881 Kate is household head living at Islip House Stations Shop, which has a school above at Cambridge St Andrew - she has several boarders.
Caroline decided they would join the family in New Zealand and the Wellington Evening Post reported the arrival "On October 10, 1887, the New Zealand Shipping Co.'s RMS Rimutaka; Captain Turpin, from London, was in harbour at 5.16 pm yesterday, and, all being well on board, was berthed at the wharf at 7 the same evening. She left Plymouth at 1.80 pm on the 27th of August. and to Madeira (reached on the morning of the 31st) had strong S.W. winds; left at 5.55 pm same day, and reached Capetown at 6 pm on the 16th September. having had head seas and strong trades. Here she landed several passengers, including the Earl and Countess of Carnarvon, and left again at 7 am on the 17th. Experienced strong S.E. winds till the 21st, when a sudden gale came on from the S.E., succeeded by a hard gale from south, with very high sea and furious squalls, from which date she had very strong winds until 30th September, afterward fine weather to Hobart, where she arrived at 2am on the 5th inst. Moved on at 1.15 pm. and had fine weather across, arriving here as above. The usual amusements were indulged in by the passengers, the Rimutaka Minstrels contributing a very good entertainment. She remains here until Wednesday, when she leaves for Lyttelton. The Rimutaka had two passengers for Madeira, three for the Cape, nine for Hobart, and the following for the various ports of New Zealand:— For New Plymouth— Mrs Skippon and Miss Skippon"

Newspaper reports tell a little of their life in Taranaki - address 69 Fulford St, New Plymouth

On 16 November 1889, Mr W. J. Shaw reports having sold Mr Charles Evetts' property at Te Henui to Miss Skippon

14 March 1901, The Fire Brigade acknowledge a donation of 10s from Miss Skippon, Te Henui

23 October 1901: Advertisement "MUSIC LESSONS. Terms Moderate. MISS SKIPPON, Te Henui."

10 February 1903, Borough Council. LARGER WATER PIPE. Ms K. Skippon wrote asking that a larger water pipe be laid in Brown's Lane.

3 November 1905, FOR SALE -Bar Frame. Bee Boxes, 1/- each.— Miss Skippon, near "The Pines," Te Henui

Te Henui Cemetery: In loving memory of Caroline Skippon who fell asleep 29 Jul 1914 (1913) aged 93 years. Also Kate Skippon, daughter of above who passed away 14 Oct 1932. Aged 85 years Row 29 Plot 392

6 Thomas Newsham was born 24 Dec 1821 South Brick, Wisbech St Peters, Cambridgeshire, the youngest child born to Joseph and Susanah Newsham (nee Jecks.) He was baptised at the Unitarian Baptist Church, Deadman's Lane,Wisbech, Cambridge and his birth registered 1830 by the Protestant Dissenting Minister at Dr Williams Library.

1841 census: St Giles Terrace June 9 1841 Household

Joseph Newsham M 45 120 (Not born in this city) Susanna Newsham F 50 130 (Not born in this city) Caroline Newsham F 20 140 (Not born in this city) Eliza Hill F 11 (niece - daughter of sister Eliza)(Not born in this city) Kate Hill F 10 (niece - daughter of sister Eliza)(Not born in this city) Jane Jackson F 21 Servant (Not born in this city)

After the death of his father, Thomas accompanied cousins John and Charles Hursthouse to Taranaki in 1843 on the "Thomas Sparkes"