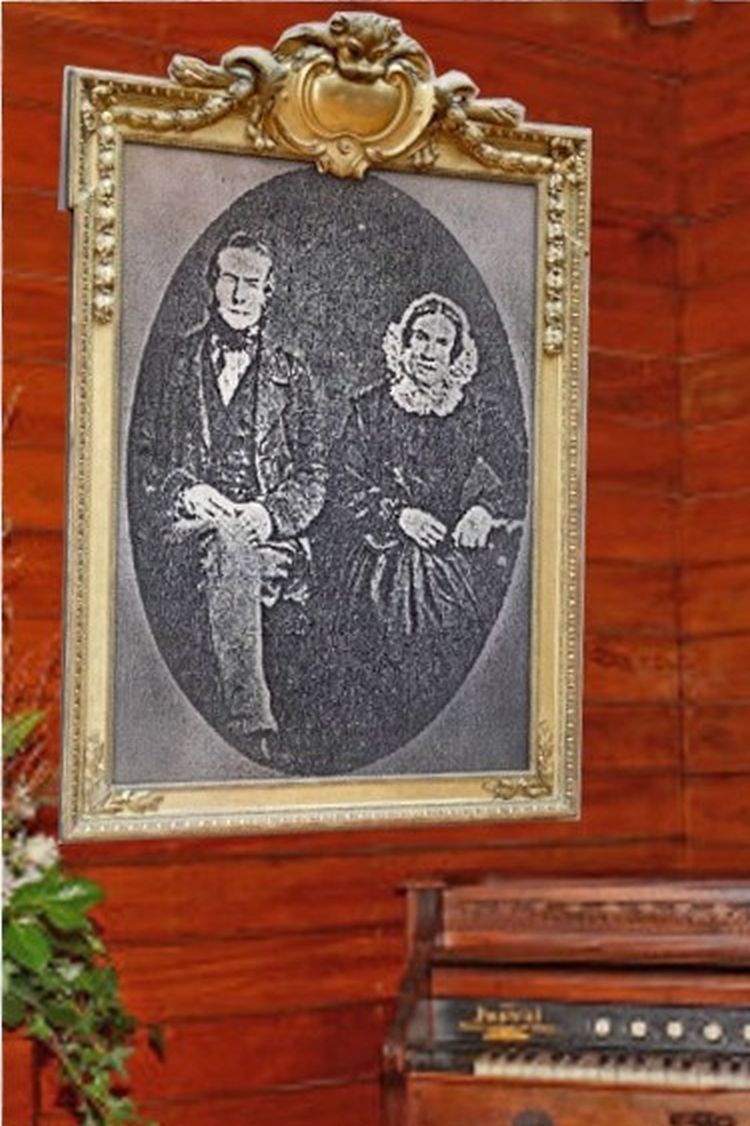 John Jefferis (bapt: Oct 12 1804 Pucklechurch, South Gloucestershire, England, son of parents James Jefferis and mother Elizabeth Leonard; he d: aged 70Y on Feb 16, 1875 at Palmerston where he was bur.)
John mar. 22 Feb 1842 in St Nicholas, Whitchurch, Somerset, England to Ann Hall (b: Abt. 1816 in Whitchurch, Somerset, England; she d: 12 Aug 1895 Wellington, bur. Karori Cem, M/I at Palmerston Cemetery)
Ann and John were farming at Lower Knowle Farm, Whitchurch at the time of the 1851 census. PDF Researh Link.
John Jefferis: 46 farmer 116 acres b: Pucklechurch; Ann wife 35 b: Whitchurch; Lucy daughter 8 b: Whitchurch; Benjamin J son 7 b: Whitchurch; Hester daughter 5 b: Whitchurch; John son 3 b: Whitchurch; Ann daughter 2 b: Whitchurch; Wellington T Jefferis Brother 37 Visitor b: Pucklechurch; servants Ann Tyler 18Y and James Hardwick 15Y
The family immigrated to Dunedin, NZ with their 8 children on the Nourmahall on the 20 May 1858 - a trip of 54 days non-stop from Bristol (Somerset) in England. Ann had been very ill for most of the journey so they decided to stay in Dunedin rather than continue on to Auckland as intended.
Shipping News: Otago Witness May 15 1858. The "Nourmahal" left Plymouth on the 8th February: John Jefferis wife 4 sons and 4 daughters
May 5, Nourmahal, 884 tons, Capt Brayley; She has passengers for three New Zealand ports.
May 8 1858 The "Nourmahal" from London, has arrived, and is now at the Heads. She has 263 passengers, including 26 in the cabin - 164 are for Otago
May 15 1858: The arrival of the "Strathfieldsaye" and the "Nourmahal" has made a very considerable addition to our population. There are: 29 ploughmen, 6 shepherds, 4 blacksmiths, 72 labourers, 15 carpenters, 1 butcher, 1 saddler, 64 domestic servants.
The Jefferis family settled with their eight children to the North Taieri near Dunedin. The 105 acre "Park Farm" was too small to financially support the family while undertaking the breaking in the land. The Jefferis's used bullocks for stumping the trees and for ploughing crops of wheat and oats. The sons gained valuable experience and additional income by contracting their labour and enabled farm stock to be purchased. John extended their home to take advantage of the Central Otago gold rush, opening it as the "Racecourse Hotel". The isolated families without roads and bridges required tuition for their children so daughter Lucy opened a private school the Jefferis Hotel, teaching up to 12 pupils despite having no training in education and despite [oor health. When Lucy married in Aug 1860, her school closed.
Otago Daily Times , 19 Feb 1862: Bush License - Hotel. Situation of Premises. Name of Applicant. John Jefferis North Taieri.
Apr 1862: During the. races two robberies were perpetrated at the West Taieri, near the Racecourse. Two hotelkeepers, named Barr and Jcfferies, were severally robbed of sums of money - in one e instance by the thief abstracting a cash-box from a bedroom during the evening, and escaping by the window, and in the other, by the robber withdrawing the cash-box from under the head of the sleeping Boniface. This second rascal was not so adroit as his fellow, for the publican awoke, and although an old man, succeeded in keeping the intruder until help arrived. The police captured the other robber, and both have been committed for trial.
1865 Name JEFFERIS John; Elect. Rolls: Taieri; Address North Taieri
The Racecourse hotel provided the fascilities for patrons of local events to meet
1870 John Jefferis puts the Racecourse Hotel and farm for sale.
1875 NZ Probates; Name JEFFERIS John; Place Flag Swamp, Hawksbury; Occ. Farmer; Death Date 1875; Court Dunedin; Archives Ref. Will
1895 Otago Witness, 15 Aug : Jefferis: On the 10th August, at Wellington, Ann, relict of John Jefferis, late of Flag Swamp ; in her eightieth year.
Evening Post, 12 Aug 1895; Another old identity has passed away. Mrs. Jefferis, mother of Mrs. Young, of Karori, who died at her grandson's residence, Young's Gardens, Wellington on Saturday afternoon. The deceased, with her late husband and young family, landed at Dunedin on the 24th May, 1858, and settled at North Taieri. In 1870 the family removed to Flag Swamp, near Goodwood, which farm is still carried on by Mrs Jefferis' son Roland. Deceased survived her husband 20 years, and leaves two daughters and four sons. Mrs. Jefferis was much beloved by many sorrowing friends. The funeral took place at Karori Churchyard this morning.
Otago Daily Times: 10 Aug 1896: IN MEMORIAM. JEFFERIS - In loving remembrance of our dear mother, Ann Jefferis, who died on the 10th August, 1895, at Karori, Wellington, in her eightieth year.
Their children:
1 Lucy Jefferis (b: 1843 in Keynsham, Somerset, England Bapt: 01 Jan 1843 St Nicholas, Whitchurch, Somerset, England) She mar. 1860 in Dunedin to William Alfred Young (b: 15 Jun 1831; d: 17 Jan 1885 in Shag Valley)
2 Benjamin James Jefferis
(b: 1844 in Keynsham, Somerset, England Bapt: 24 Apr 1844 St Nicholas, Whitchurch, Somerset, England; d: Jun 1902 in Te Houka) He mar: 31 Dec 1868 in Knox Church, Dunedin to Catherine Lindsay (b: 16 Aug 1849 in Fife Scotland; Bapt: 26 Aug 1849 Beath, Fife, Scotland; d: 1920 in Balcutha)
3 Hester Hall Jefferis (b: 1845 in Keynsham, Somerset, England; d: 09 Dec 1863) Mar: 1862 to
Joseph Culling (b: 1837 d: 18 Feb 1891 in Hillgrove, Moeraki Bur: 20 Feb Hampden Cem.)
4 John Jefferis (b: 19 May 1847 in Whitchurch, Somerset, England; d: 16 Sep 1925 in Buckland, Auckland) Mar: 20 Apr 1880 in St. Andrew's Manse to
Elizabeth Muir (b: 05 Sep 1858 in Auckland d: 04 Jul 1933 in Buckland Auckland)

5 Ann Jefferis (b: 1848 in Keynsham, Somerset, England; d: 14 Feb 1910 in Taieri) Mar: 1873 in East Otago to Arthur Alexander Webb (b: 1842 d: 1888 in Taieri)
6 Elizabeth Jefferis b: 1850 in Keynsham, Somerset, England d: 1876 in Palmerston Bur: Abt. 1870 Palmerston Cemetery .
7 Walter Hall Jefferis (b: 1838 in Keynsham, Somerset, England) He mar: Clara Smith and had 2 daughters, Grace and Norma
8 Roland Jefferis (b: 1857 in Keynsham, Somerset, England d: 08 May 1929 in Oamaru) Mar: 30 Sep 1880 in Cherry Farm to Mary Duncan (b: 30 Sep 1861; d: 1939 in Oamaru)
Images and data used in this site copyright - ©

Please

and replace # with @ in my address. All pages have Sound