Four Benbow Generations



: The descendants of John Benbow (Bapt: 14 Dec 1729 St Dunstan and All Saints, Stepney, Middlesex) He mar: 1 Dec 1754 at Stanford on Teme, Worcester to Anne Prichard (b: 1735) Their children were:
: 1. John Benbow (b: 1755 Rochford; bapt: 8 Jun 1755: WHITBOURNE, HEREFORD, ENGLAND; d: 18 Oct 1820 aged 64; bur: 18 Oct 1820 at Rochford, Tenbury, Rochford, Worcester) He mar: at age 19 years on 10th Oct 1776 in Much Wenlock, Shropshire to Mary Smallman (b: 09 Nov 1751 in Ditton Priors, Shropshire, England; d: Apr 1836 Bur: 08 Apr 1836 Rochford, Tenbury, Worchester aged 84 years) Source Film Number: 918867
Eldest son John was a labourer at Rochford, a tiny hamlet which in 1801 had a total population of 140

Mary's parents were John Smallman and Rebecca nee Holland who mar: 23 Jun 1748 at Burwarton, Shropshire. Their Smallman family were all baptised at Ditton Priors, Shropshire - John b 1748, Richard 1749, Mary on 9 Nov 1751 and Rebecca in 1760.
2. Edward Benbow mar Ann ? - their daughter Mary was b: 1793
3. Thomas Benbow (b: 1788; Rochford Parish Registers Bapt: Thomas, son of John and Mary Benbow 11 Jan 1789)

: John and Mary's

family were baptised at the St Michaels Rochford Parish Church
i John (bapt: 23 Apr 1781 Rochford )
ii Mary (bapt: 9 Jul 1786 Rochford, d: aged 2 and was bur: 15 May 1788)
iii Thomas (bapt: 11 Jan 1789 Rochford)
iv Ann (bapt: 9 Jan 1791 Rochford )
v James ( bapt: 18 June 1794 Rochford)
JAMES BENBOW (John's youngest son) married Sarah Porter - their marriage certificate records: James Benbow of the parish of Rochford, batchelor and Sarah Porter of the parish of Tenbury, spinster were married at this church by Banns with the consent of parents this 11th day of November in the year 1822

SARAH PORTER

was the daughter of THOMAS and Sarah PORTER (she was baptised December 24, 1797 at the Tenbury Parish Church. Sarah required the consent of her parents to marry as the couple were expecting their first child. James was employed as an agricultural labourer,and died about June 1873 at Owersby, Shropshire.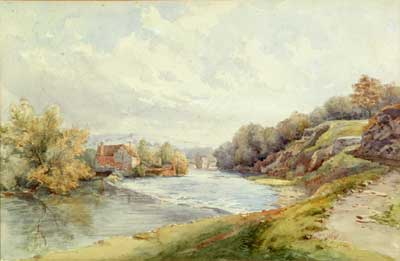 Rochford, Herefordshire
was termed a "Herefords" island in North West Worcestershire, about 4 miles from Tenbury. It was transferred from Herefordshire to Worcestershire in 1844 and from the Diocese of Hereford to the Diocese of Worcestershire in 1919. The River Tene separates Salop and Worcestershire in the north and the Tenbury town is on the northern side of the bridge. For many years family researchers looked for the Benbow line in Shropshire unaware of the boundary change...

Census - 1861 Burford, Whitton, Worcestershire: Weston Cottage
James Benbow; Head; Marriage 68; Labourer; born Rochford, Hereford; Sarah Benbow; wife; Married, age 63; born Tenbury, Worcester. Next-door cottage is son William and his family.

James d: aged 75 yrs Mar Q. 1868 Owestry, Shropshire and Sarah aged 78 Jun Q. 1873 at Tenbury.
:1. JOHN BENBOW - Burford Parish register: bapt: 20 May 1823 son of James and Sarah Benbow, Upper Rochford, Labourer. He mar: Lydia Elizabeth Longmore 1847. She d. Mar Q. 1893 aged 76 yrs and John d: 1905 Sep. Q. 1905 aged 77 yrs

2. JAMES BENBOW was baptised 20 May 1823, Rochford, Worcester. Occupation Drainer. He married LYDIA ELIZABETH* GREENHOUSE July 25, 1852 in Hope Bagot Church, Shropshire. She was born Abt. 1817 in Coynlam, Shropshire, and died 1893 in Tenbury. Children of JAMES BENBOW and LYDIA GREENHOUSE:

i. WILLIAM BENBOW b. Baptism: December 19, 1852, Hope Bagot; Salop County: Occupation: Stone squarer 1881
ii. JAMES BENBOW, b. Abt. 1854, Hope Bagot; Salop County.
iii. JANE BENBOW, b. 1857, Hope Bagot, Shropshire.
iv. ELIZABETH BENBOW, b. Abt. 1859, Burford, Shropshire.
1861 Census Burford, Chapelry of Nash No 38 Knowle Rd,
James Benbow; 1825 Head; Mar; age 36; farm Labourer Born Rochford, Worcester
Elizabeth Benbow; 1817 Wife; Mar; age 44; born Coynham, Salop
James Benbow 1854 age 9 son scholar Hope Bagot Salop
William Benbow; son; age 8; son scholar; Hope Bagot; Salop
Elizabeth Benbow; 1859 dau; age 2; born Burford, Salop

1881 Census Dwelling Tittrells, Nash, Shropshire,
James BENBOW Household Male Head Birth Year 1824, Birthplace Burford, Shropshire, England Age 57 Occupation Drainer Marital Status M Head of Household
Elizabeth b abt 1817 b Cainham, Shropshire wife
Jane b 1857 b Hope Bagot, Shropshire dau
William b 1855 (?) b Hope Bagot, Shropshire son
3. WILLIAM BENBOW our New Zealand pioneer, was baptised on 16th November, 1826 in Burford, Shropshire, and died July 22, 1909 in Waitohi. He married MARY POSTON November 20, 1848 in St Marys Church, Burford, the daughter of John and Ann Postons. She was baptised July 08, 1827 in Stanton Lacy, Shropshire, and died May 16, 1899 in Waitohi. With their 5 children the family emigrated to South Canterbury, New Zealand on the "Huntress"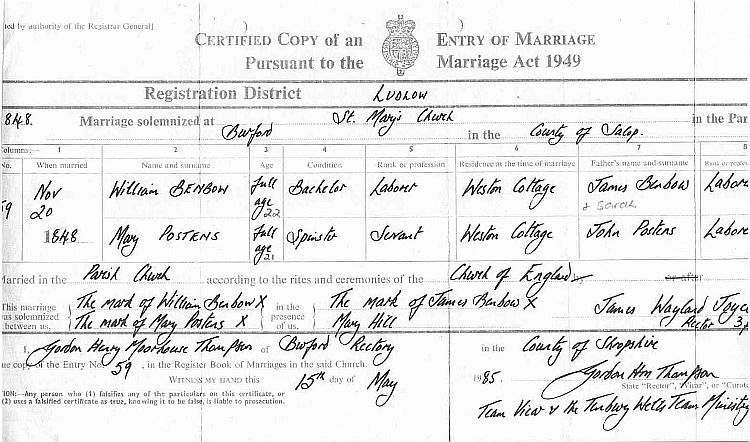 4. ANN BENBOW Baptised September 20, 1828 Burford

was baptised February 15, 1832 in Burford, Shropshire, and died 1921 in Rhonda Valley, South Wales. He married SARAH COLLINS May 04, 1854 in Whitton by Tenbury, Parish of Burford, Shropshire. She was the daughter of WILLIAM COLLINS and JANE JORDON and was baptised December 13, 1831 in Orleton, Hereford. Occupation : gardener and gamekeeper.
6. LUCY BENBOW Baptised October 18. 1835 Burford
7. JONATHON BENBOW was baptised June 21, 1838 in Burford, Shropshire, and d aged 69 years at Ludlow 1909. (Details of first Marriage not yet identified.)He married SARAH GRIFFITHS in 1893 in Atcham. She was born 1861 in Leamingham, and died 1909 in March Quarter, Tenbury.

1861 Census: Jonathan aged 22, b 1839 b Burford Servant was working for James Austin, Miller

1881 Census: Lodger at Kings Head Inn, Docklow, Hereford; Jonathan BENBOW Household; Birth Year 1839 Birthplace Burford, Shropshire, England Age 42 Occupation General Laborer Marital Status Married; Head of Household Edwin RUSSELL

1891 Census: Lincage Cottage
Jonathan age 52 Herefordshire Head Male b. Burford Shropshire ag lab
Sarah 30 Wife
Annie 11 dau scholar b. Hereford Kimbolton
Fannie E 6 dau scholar b Hereford, Kimbolton
George 4 son Salop Whitton
Lucy 1 dau 1 Salop Ludford

1901 Census: 55 Brick Corner, Orleton, Herefordshire
Jonathan 63 b 1838 Little Weston, Worcester head ag farm labourer
Annie 21 b 1880 Kimbolton, Herefordshire dau domestic servant
James W 4 1897 Ashford, Shropshire son
Lucy 12 1889 b Street, Ludlow, Shropshire dau
Rose E 3 wks 1901 Orleton, Herefordshire dau
Sarah 40 1861 Leamington wife
Children of JONATHON BENBOW and SARAH GRIFFITHS are:
i. ANNIE BENBOW, b. 1880, Hereford, Kimbolton.


ii. FANNIE E BENBOW, b. 1885, Hereford, Kimbolton; m. ISAAC JAMES HAZLEHURST, Sep 1899, Ludlow.


iii. GEORGE BENBOW, b. 1887, Salop Whitton.


iv. LUCY BENBOW, b. 1889, Street, Ludlow, Shropshire; m. 1909 at Ludlow JAMES OUSELEY(b. 1885).


v. JAMES WILLIAM BENBOW, b. 1897, Ashford Shropshire; d. 19 Sep 1918, WW1 France

.

Lance Corporal 12520 King's Shropshire Light Infantry Age: 21 II. A. 6. SAVY British Cemetery (Aisne France) Rank: Lance Corporal; Regiment: King's Shropshire Light Infantry; Unit Text: 1st Bn.; Age: 21; Date of Death: 19/09/1918; Service No: 12520. Son of Jonathan and Sarah Benbow, of Richard's Castle, Ludlow, Salop. Casualty Type: Commonwealth War Dead;

vi. JOHN HENRY BENBOW, b. June Q 1898, Atcham; d. 17 Oct 1916, WW1 Belgium. Rank: Private; Regiment: South Lancashire Regiment; Unit Text: 1st/5th Bn.; Age: 18; Date of Death: 17/10/1916; Service No: 5535 Son of Jonathan and Sarah Benbow, of Attingham Home Farm, near Shrewsbury. Casualty Type: Commonwealth War Dead; Cemetery: LIJSSENTHOEK MILITARY CEMETERY
vii. ROSE E BENBOW, b. 1901, Orleton, Herefordshire.