Ruth Mary Benbow & Archie Leach
Ruth Mary Benbow was born: 20 Jun 1885 at Temuka to parents James Benbow and mother Alice Harriet nee Bishop. She was enrolled at the Rangitira Valley School 27 Oct 1890 and after completion of her education worked at home on the farm. She was a very skilled dressmaker, evidenced in the photo above by the intricacy and detail on her wedding dress.

Ruth became engaged in 1904 to Robert John Edgar, a young farm worker of Seadown - he broke off the engagement in October 1908, only to renew it again a fortnight later then finally refused to marry Ruth giving the reason "she was too quiet". Spirited Ruth took him to court and claimed £500 for damages for breach of promise of marriage. The case was widely reported and at the District Court in Timaru in March 1909 the jury hearing the case, awarded her damages of £200. Edgar paid £50 into court, and offered £100 in full settlement stating he was unable to pay any more - his offer was refused so he filed for bankruptcy. At a meeting of his creditors in May, the solicitor represented Ruth to satisfy her claim. Edgar's assets - horses, gig, harness, etc., were consequently sold by public auction.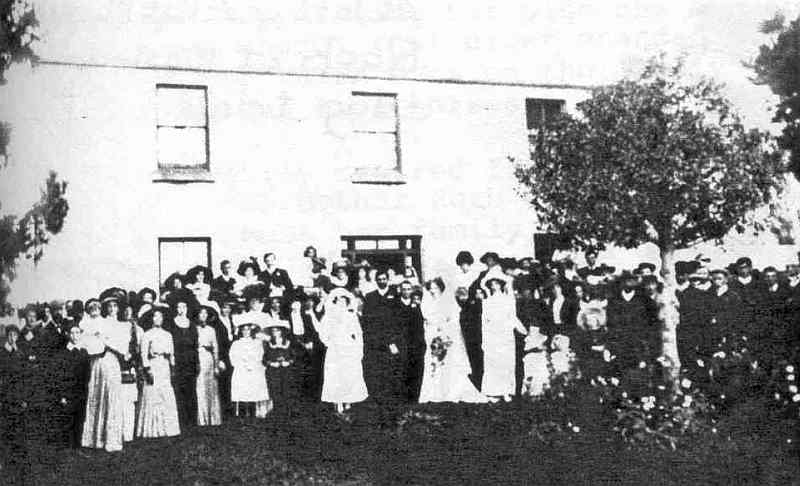 Marriage of Ruth and Archie Leach at "Ladymoor", Waitohi. Briidesmaids: Left Ida and on right, Eva

Ruth mar: 25 Apr 1911 in Temuka to Archibald (Archie) Leach, the second son of David and Margaret Leach nee McCallum. Archie was b: 27 Aug 1881 in Temuka where he attended the Temuka school - his last day there on 17 Dec 1895 when his family moved to the North Island. In 1910described as a contractor of Horotiu and at the time of his marriage he was a gold miner of Waihi;

In 1911 Archie was a bush contractor at Ngaruawahia. Sept. 1913 financial difficulties sawmilling at Glen Murray, saw him filing as bankrupt and WW1 came -Archie was in Category 2nd Reserves; his address Parawai Thames; Occ: Sawmill foreman; In 1921 now living at Waihi, occ: contractor, he purchased Sect. 337A at Waihi from Caroline Stubbs. In April 1925 he is serving on the Waihi School Committee and over the years made several land purchases

On 20 August 1928 he put his name forward to contest the seat for the Waihi Borough Council - a low turnout and was not successful .

1930 Archibald Leach of Waihi Miner purchased Residence Site Section 308 Waihi from Frank Lawrence Groshinski of Waihi Trucker

1933 Archibald Leach of Waihi Miner and Ruth Mary Leach his wife purchased Sections 487 and 488 Waihi from Lucy Lavery of Waihi Married Woman

1946 Archibald Leach of Waihi Farmer sold Residence Site Section 337A Waihi to James Edward Clarke of Waihi Labourer

1958 Frank Lawrence Groshinski of Waihi Trucker sold Residence Site Section 308 at Waihi to Archibald Leach

Ruth Leach was a very much loved person who cared much about her family, church and friends and was missed by all when she d: 28 Dec 1966 at Waihi Beach aged 81Y, She was bur: 30 Dec 1966 at Waihi Public Cem. Sect: Block: G Lot: 334

A keen conservationist Archie retired and lived with daughter Eva at Waihi Beach - he d: aged 92Y on 3 Jun 1972 in Waihi Beach and he was bur: 05 Jun 1972 Waihi Cemetery.

Ruth and Archie had 6 children

i: Eva Clematis Leach b: 28 Jun 1912 in Hamilton, Waikato; She participated in her oral history and described coming to Waihi. Recalls Flu epidemic and explained why Maori were badly affected, talks about Kauaeranga and describes people being taken in dray loads to be buried. She talks about the company, Leach & Party, formed by father, which ran loaded with quartz down to Waikino. Her recollections include: involvement with Anglican Church; Girls' Friendly Society; social life in the early days with reference to the Oddfellows Ball; involvement with Manchester Unity Lodge; work experience with J Cullen & Son for four years and later with J P Gamble. Her nursing experience included 12 years in Australia (1958 lived Randwick, Banks, NSW) 4 years Papua New Guinea and time in Canada and England before returning to New Zealand in 1964. She remembered Kingsford Smith who landed out on the flats at Athenree; discusses miners' disease and how it affected township statistically as there was no Social Welfare in those days. Mentions Mr Tetley who assisted people and recalls the opening of the railway to Tauranga in 1928. in she retiredfrom her position as Matron of the Paeroa Hospital to Waihi, and d: at Matua Life Care, Tauranga 23 Jan 2003 Age 90Y, Bur: 18/02/2003 at Waihi Public Cem. Section: Block: G Lot: 333

ii: Percival (Percy) James Ralph Leach (b: 25 Jan 1914 in Ngaruawahia, Waikato; d: Rtd Farmer, last address O'briens Road, R.D.3. Albany; d; 07 Feb 1972 in Auckland Purewa Cem.; Ashes Interment 01 Apr 1972) he mar: 1936 to Beryl Daphne Harvey (b: 22 Jul 1917 in Waihi; d: 2000 in Tauranga) They were div: 1956 at Hamilton. Their family;
a Betty Raewyn Leach mar; David Eagles - Their children

1 Anna Catherine Eagles b: Tidworth, Hampshire, England

2 Simon Richard Eagles b: Frimley, Surrey, England mar Jacqueline Margaret McKenzie - their dau: Rosemary Annabelle Eagles

b Anthony Albert Leach b: Waihi mar: Eleanor Gay* Ashworth Their children:

1 Carmen Therese Leach b: Tauranga mar: Andrew Kevin Turmaine - their children: Nicholas Andrew; Brent Anthonyand Michael Ian Bach

*2nd mar; of Carmen Therese Leach: to Peter Raymond Bond

2 Donna Katreen Leach b: Tauranga mar; regory John Davidson - Their sons Nigel Mark and Jared Anthony Davidson

*Partner of [3] Donna Katreen Leach: is Shane Grant Their son Zayne Taylor Grant

3 Joanne Ruth Leach b: Tauranga mar: Keith Rawlinson - their dau Lateisha Janice Gay Rawlinson

4 Rick Anthony Leach b:Tauranga mar: Jane Marie Hooker

c Kenneth Jack Leach mar: Sheryl Dodds - their family are Kenneth, Caroline, Sandra and Michael Leach

d Wendy Leach mar William Andrew - their family are Karl, Corey and Jason Andrew

e Dianne Leach mar: Larry Souter - their family are Eddie, Dion and Kelly Souter

f Cushla Leach
... Percy's partner was Cecily Smith
iii Gladys May Leach (b: 31 Mar 1916 in Waikato; d: 03 Jun 2014 in Tauranga, Bay of Plenty) mar: 1937 to James Frederick Robertson (b: 30 Jul 1896 at Stewart Island to parents Charles Robertson and mother Catherine Bruce; he d: 08 Oct 2009 in Tauranga, Bay of Plenty; Last Residence Ranfurly War Veterans Home, Three Kings, Auckland; Crem. 29 Jan 1979) Their childen:
a Maxine Robertson mar: Andrew Charles Taylor Their children:

1 Jennifer Caroline Taylor mar: Kevin Gunn - their son is Strong Robertson- Gunn ;

2 Linda Taylor;

3 Kim Taylor

4 Grant Taylor

b Ian Douglas Robertson mar: Sarah Elizabeth Rice - their family: Karen Elizabeth and Mark Douglas Robertson

c David Neil Robertson mar: Vivienne Faire Their family;

1Christine Yvette Robertson mar; Keith Lowe - their children: Danielle Amiee; Jason Adam and Hayden James Lowe

2 Janette Elizabeth Robertson mar: Keith Marshall - their children are Kaydee Jane and Bailey Frances Marshall

3 Gillian Michelle Robertson

4 Andrea Kay Robertson
iv: Rona Alice Leach (b: 26 Jan 1918 in Waikato; d: 10 Aug 2011 in Tauranga, Bay of Plenty) mar: 1941 in Waihi, Coromandel to John Alan Nichol (b: 25 Dec 1909 in Waitekauri, Waikato to parents John Smith Nicol and mother: Eva May;) d: 12 Jul 1988 in Tauranga) Their children:
a Jeanette Margaret Nichol (b: 11 Nov 1947; d: 02 Mar 1951

b Gwenda Joy Nichol mar: M Crofton Umbers - Their children: Bridget Kate and Patrick James Umbers

c Heather Ruth Nichol mar: Blane Anderson - their daughters: Hanna and Andrea Anderson
v: Ida Margaret Leach (b: Abt. 16 Nov 1921; d: 06 Dec 1921 in Waihi; Bur: 07 Dec 1921 Waihi Public Cem.)
vi Maureen Claire* Leach mar:to Raymond Reeve Their family;
a Sandra Annette Reeve mar: ? Gillingham

... *2nd Husband of Sandra Annette Reeve: mar: Anthony French - their 2 children are Cathleen and Nicolas French

b Lynette Helen Reeve mar: Rodney Comer - their 2 children are Rebecca and Ryan Comer

c Gavin Wayne Reeve