1880 Benjamin Trumper Residence - Geraldine 1881 Electoral Roll Geraldine; No 1358; Surname TRUMPER; Given Names Benjamin; Nature Of Qualification - Residential; Place Of Residence - Pleasant Valley; Occ: Farmer. Benjamin supplemented his income by doing contracting
1883 Timaru Herald, 26 Jan: PLEASANT VALLEY. The annual meeting of householders in the Pleasant Valley educational district was held on Monday last in the schoolroom. Mr W. Guilford was voted to the chair. The annual report of the Committee was received and adopted, together with the balance-sheet, which showed a credit balance of £5 Os 6d. The election of a Committee for the ensuing year resulted in Messrs W. Guilford (Ben's brother-in-law), B. Trumper, A. Kennedy, A. Lysaght, B Brophy, J. Gregan and G. Gale being chosen.
1883 Timaru Herald, 20 Jun: GERALDINE ROAD BOARD TENDERS. The following tenders were opened and considered: No. 60, willow stakes Joseph Lewis, £9 17s 6d per l00; Benjamin Trumper, £5 (accepted).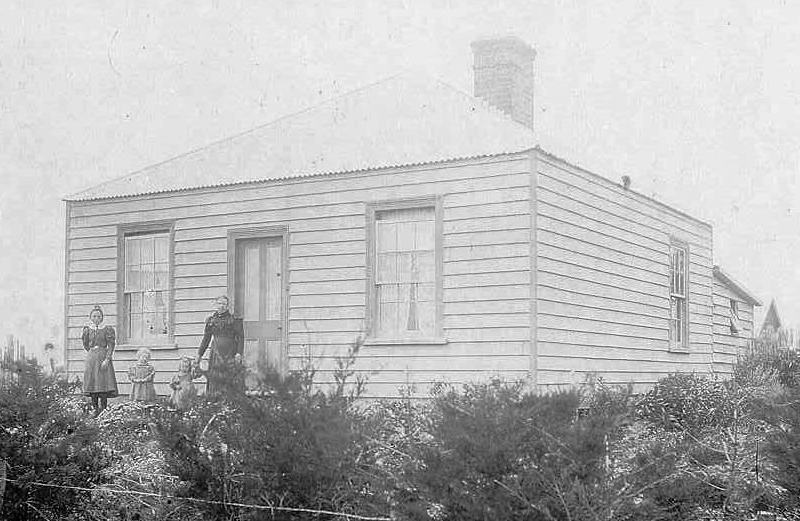 Milford, 1900/1901c; Mary, Adelaide, Lucy and mother Elizabeth Trumper (Click here to enlarge)(/center>

1883 Timaru Herald, 17 Aug: GERALDINE ROAD BOARD TENDERS No. 73, planting— M. Fitzgerald, £15 per 1000 trees (accepted). No. 74, Shaw's road Thomas Corkery, £17, D. Gulden, £18 Benjamin Trumper, £13 10s (accepted).

1884 Timaru Herald, 4 Oct: GERALDINE TOWN BOARD. Tenders No 5: Gravelling Jollie and other streets. - The tenders being too high, the Overseer was instructed to make arrangements with Mr B. Trumper, if possible, as the work is urgent.

1886 Timaru Herald, 22 Jan: THE CROPS: On the flat to the left, and partly behind Woodbury are hundreds of acres, all of which are laid down in oats. Messrs Clarke and Trumper are this year cropping on Mr Barker's land, but return from it will not be an extra large one.
1886 Timaru Herald, 13 Sept: TENDERS are invited for PLOUGHING etc., about 300 ACRES LAND AT Riverslea. For particulars apply to MANAGER ON THE ESTATE, Or A. M. CLARK, 9-13 2174 Temuka. In 1871 owned by Alfred Cox and run by Euphemia and John Alexander Gamack

24 Feb. 1888 A new reaper and binder was on Wednesday introduced to the notice of farmers in the Temuka district by Messrs Friedlander Bros, of Ashburton. It is manufactured by the Massey Company of Toronto, Canada, and is called the "Massey two-h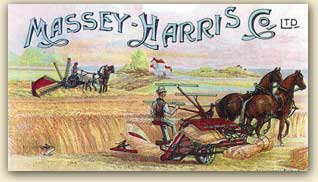 orse light steel binder". By permission of Mr A. M. Clark it was tried in a very heavy crop of wheat at Riverslea. The advantages claimed are: That by the construction of the framework of steel, and in one piece, the maximum strength is attained, while, by adjustments of the driving gear and improvements in the packing and tying machinery, lightness of draught and economy of space are fully secured. The trial on Wednesday thoroughly tested these qualities. The machine did its work in a crop which might be fairly considered one of the heaviest in the district regularly, with ease to the two horses employed. The delivery can be adjusted to a sheaf of any size, and with perfect uniformity. Another point is the toughness of the material of which the castings are made. Mr McLeod, the Canadian agent, tested these repeatedly with a hammer and a force that would have speedily disposed of ordinary castings. A last and interesting contrivance was shown when the reaper and binder was placed sideways on a travelling truck by the moderate effort of one man, and the pole being transferred to the front of the truck, the machine was enabled to pass through an ordinary gateway. The trial gave the greatest satisfaction to all present, and a testimonial was numerously signed to the effect that the work was in every way satisfactory, and that it could not be excelled by any other machine. Visitors to the ground were most hospitality entertained by Mr A. M. Clark

1886 Timaru Herald, 4 Nov: Contract No. 202— Reducing grades, Pleasant Valley cuttings. D. Gregan, £40; J. Beckley, £34 28s; A. Reid, £31 10s; B. Trumper, £29 10s (accepted).

1887 Timaru Herald, 12 Jan: TEMUKA ROAD BOARD Tenders were received as follows Contract 76 Forming road, North Orari - Jonas Field, £20 (accepted) Benjamin Trumper, £28 153.

1887 Timaru Herald, 10 Mar: Trumper B. Geraldine grain cutter

1888 Timaru Herald, 8 Nov 1888: Temuka Road Board: The following tenders were received: Contract No. 34, picking stones and road forming, Rangitata — Mulvihill, £34; Flaherty, £29 12s; Trumper, £28 10s (accepted).

1888 - Timaru Herald, 12 December 1888, Page 4

TOWN BOARD. The following tenders were received — Contract No. 82— Culvert on Rolleston road, R. B. Sibley, £29 11 (accepted). No. 35— Formation Canal road by Wareinga, Davis and Molvin, £18 15s ; Trumper, £17 10s ; Malarky, £14 (accepted). No. 36—Formation and earthwork, Toner's road, Malarky, £21 1 2s; Trumper, £19 17s 6d ; Davis and Melvin, £19 7s (accepted).

29 March 1892: It is highly satisfactory to find that the Bank of New Zealand Estates Company are beginning to put their South Island properties into the market. The Riverslea and Arowhenua estates will be submitted to auction on the 26th of April, and the full announcement appears in another column of this morning's issue. The two estates comprise 9310 acres, and much of the land is as rich as any to be found in the colony. To meet the wants of small farmers the estates have been judiciously sub-divided, and it is to be hoped that the result of the sale will be a complete and permanent breaking up of the properties. The inducements offered to intending purchasers are very substantial, the purchase-money being payable—1s per cent, cash, 10 per cent.' in one' year, and 75 per cent, in five years, or sooner if the purchaser prefers it. The interest on the unpaid balances is to be 6 per cent. When it is considered that the lands are of high quality and improved, and that a return can be immediately earned, the terms of payment must be regarded as extremely liberal.

Timaru Herald, 16 April 1892: Sale of land: Riverslea: A start was made with the Riverslea estate at lot 23, 112a 2r 10p. The first bid— and the last was £10, and after a two-minute pause for other bids, at that figure the lot was knocked down to Mr Austin. Lot 22—60 acres— started at £10, and by 10a bids quickly ran up to £16. and then a dead stop came at this bid of Mr Austin. Lot 21 *98J acres shingle land— started at £1. 2s 6d bids were taken in this case. Only one more bid was given, and at 22a 6d this lot was passed in. Lot 20—20 acres in its natural state, started at £2 and was passed in at £3. Lot 19—226 acres, next the sea started at £4, ran up quickly to £8, more slowly another £1 was got, and at £9 Mr Robert Taylor became the buyer. Lot 18 -131a. 1r. 26p about half in turnips waited some time for an offer. £6 was presently offered, and no more coming the lot was passed. Lot 17 349 acres, more than half in turnips, the rest in tussock, fronting on the Orari. No offer. Lot 16 -67a 1r 20p, between Orari and the sea, in English grass. After a time £2 was offered, and the lot was passed. Lot 1-~Stockyard paddock, 203a Or 16p. Offers came in very slowly. A start was made at £7, and a sale at £9. this being Mr Bissett's bid.' Lot 5—148 acres— This was at once started at £15 and soon run up to £20 (a lump from £17). Ten shilling bids came in steady succession till £25 10s closed the competition, and Mr Jas Guild became owner of the lot. Lot 4— 104a Or 38p— started at £20, and was sold at £25 to Mr Guild. Lots 3 and 6— 98a 3r and 5a 2r 12p, the latter a plantation. The offers came slowly, but £12 was offered, soon £20 was reached, and at £20 10s the lot was knocked down to Mr Guild. Lots 1 and 8 -39a 2r 38p, and 99a 2r 28p, fronting Ohape Creek— started at £10 £12 and £13 came rapidly. Then bids came slowly to £15, at which price the lots were passed in. Lots 0 and 10— 186a 2r 28p— started at £15 Bidding dragged a little, but £18 10a was reached, and at this figure the lots were sold to Mr Wareing. Lots 11 and 12— 109a lr 30p, half stubble and half grass were started at £15. Bids came freely, and at £? 10s Messrs Matthews and Tresize were declared the buyers. Lot 15— 168a 3r 16p, the homestead, 60 acres m turnips, the rest in Cape barley. The first bid was £18, the second £20. Ten shilling bids chased each other up to £23 10s and then came more slowly to £25, when Mr Ackroyd was declared the buyer. Lots 13 and 14— 75a 2r 25p, adjoinicg the homestead started at £15, and were quickly run up to £20. Another 10s bid gave the lots to Messrs Matthews and Tresize. Lot 2— 27la lr 19p, with woolshed. This hung fire altogether for some time, and it was about to be passed when £10 was offered. More bids then came and at £15 10s the lot was sold to Mr McLeod. The lease of the Hill School reserve— 399 acres— was next put up. £60 the first offer for the goodwill, and by £1 bids it was run up to £90, and then £10 bids were given to £190. Tha bids then dropped to £5 and £1. and at £204 Mr W. McCully was declared the buyer.

1892 Timaru Herald, 3 June a boy named Trumper died suddenly at Geraldine, on Wednesday, with symptoms of arsenical poisoning. An inquest is being arranged for to-day.
1895 Timaru Herald, 25 Apr: MILFORD. At the annual meeting of householders there were thirteen nominations for. the Committee. The poll resulted in the election of Messrs W. Holwell, D. Mc Leod', J. Macauley, J. Christmas, It. Macauley, C. Pye, and B. Trumper. At the subsequent meeting of Committee Mr W. Holwell was elected chairman for the ensuing year
1900 Timaru Herald, 5 Sept: Contract No. 12—50 chains reforming Badham's road, J. Coulihan, 12s per chain J. Sugrue, 9s per chain; T. Sugrue, 8s per chain B. Trumper, 6s 7d per chain, accepted.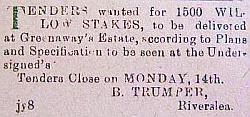 1900 - Timaru Herald, 5 Dec: TEMUKA ROAD BOARD: Tenders were received as follows :—Contract No. 19, 30 chains of forming at Rangitata (alternate widths, 30ft and 45ft) B. Trumper, 10s and 14s ; John Sugrue, 10s and 14s ; 'T Sugrue, 8s and 12s (accepted).
Benjamin's farm at Clandeboye was called "Riverslea". It was a little north-east of Temuka, a dairy farm with pigs. Today, at Clandeboye, the dairy factory is among New Zealand's largest, employing 750 people and processes milk from farms from North Canterbury to Otago producing specialist cheeses and milk powder. As family members married, their home was divided into two flats, so that Lizzie and Benjamin had their retirement privacy yet had help nearby.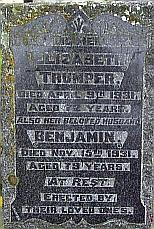 House built 1908 ???
1911-1914 Benjamin Trumper Residence: Temuka, Canterbury Occ: farmer
1916-1917 Benjamin Trumper jnr New Zealand Army WWI Reserve Rolls,
1919-1928 Benjamin Trumper Residence: Temuka, Canterbury
Evening Post, 16 January 1930: Golden Wedding. Gold and mauve were the decorations at the golden wedding of Mr. and Mrs. Ben Trumper, which was recently celebrated at their residence, Riverslea, Temuka. There was a gathering of fifty guests at the wedding breakfast. In the evening, a dance and games were held in the granary, when, the large gathering of relations and friends thoroughly enjoyed themselves. Mr. and Mrs. Trumper, who were born in Ludlow, Shropshire, arrived at Lyttelton by the sailing ship Huntress, in 1863. Mrs. Trumper's family went on to Timaru, eventually taking up their residence in the Temuka district. Mr. Trumper went to Temuka in. 1874, and after his marriage resided in the Geraldine and Temuka districts, 'where he has successfully, followed tho farming industry, retiring some twelve years ago. (Golden Wedding)
Death: TRUMPER BENJAMIN 15 Nov 1931 Address RIVERSLEA TEMUKA Obituary Age 79 Years
Children of BENJAMIN TRUMPER and ELIZABETH BENBOW (Photo at top of page):
1. Mary Louisa Benbow (b. 1878, Kakahu, Geraldine; d. 20 Oct 1931 Winchester, Temuka) mar: 21 Jan 1902 Ohape, Temuka to ROBERT CALLARD (b. 1865, Coombe in Teignhead, Devon, England - Father Samuel Callard and Mother Charlotte Callard; d: 01 Sep 1946 Temuka)
2 Samuel William Trumper (b: 06 Nov 1880 in Geraldine d: 24 Jun 1960 in Temuka Bur: 26 Jun 1960 Temuka Cem) Mar: 03 Jun 1912 in Anglican Church, Temuka to Bertha Davey (b: 19 Jul 1888 in Temuka d: 16 Aug 1956 in Temuka Bur: 19 Aug 1956 Temuka Cem St Peter Anglican)
3 James Charles Trumper (b: 16 Mar 1882 in Geraldine d: 16 Jun 1939 in Christchurch Bur: 17 Jun 1939 Bromley Cemetery, Christchurch)
4 Violet Trumper (b: 10 Apr 1884 in Geraldine d: 13 Sep 1970 in Timaru Bur: 15 Sep 1970 Timaru Cem) Mar: 12 Jan 1910 in Temuka to Samuel Jacob King (b: 06 Jan 1890 in Timaru d: 13 Jun 1970 in Timaru Bur: 16 Jun 1970 Timaru Cemetery)
5 Benjamin Trumper (b: 19 Sep 1885 in Geraldine d: 03 Jun 1892 in Rauhuka Downs, Geraldine Bur: 05 Jun 1892 Geraldine Cemetery)
6 Henry Richard Trumper (b: 10 Oct 1888 in Geraldine d: 28 Jan 1891 in Geraldine Bur: 29 Jan 1891 Geraldine Cemetery)
7 Mary Elizabeth Trumper (b: 25 Aug 1891 in Raukapuka Downs d: 28 Mar 1971 in Timaru Bur: 30 Mar 1971 Timaru Cem) Mar: 08 Oct 1913 in Ohape, Milford, Temuka to Andrew Lawrence Armit (b: 27 Jul 1891 in Falside Carnbee, Scotland d: 09 Feb 1974 in Timaru Bur: 11 Apr 1974 Timaru Cemetery)
8 Benjamin Trumper Jnr (b: 17 Jul 1893 in Geraldine d: 27 Aug 1957 in Temuka Bur: 29 Aug 1957 Temuka Cem St Peter Anglican) Mar: 25 Nov 1915 in Church of St Peter, Temuka to Annie Frances Harris (b: 29 Jun 1894 in Saratoga, California d: 13 Jun 1973 in Timaru Bur: 15 Jun 1973 Temuka Cemetery)
9 Leslie Henry Trumper (b: 23 Feb 1895 in Temuka d: 09 Sep 1952 in Fairlie Bur: 11 Sep 1952 Temuka Cem) Mar: 12 Sep 1917 d: 01 Feb 1989 in Temuka to Hazel Alpine Dougherty (b: 17 Dec 1896 in Temuka Bur: 04 Feb 1989 Temuka)
10 Adelaide Galleta Trumper (b: 26 Jun 1896 in Temuka d: 09 Aug 1979 in Winchester, Temuka Bur: 11 Aug 1979 Temuka Cemetery) Mar: 01 Jun 1921 in Temuka to Christopher Gordon McClelland (b: 06 Aug 1899 in Temuka d: 09 Nov 1963 in Winchester Temuka Bur: 11 Nov 1963 Temuka Cemetery)
11 Lucy Victoria Trumper (b: 15 Jun 1897 in Temuka d: 16 Apr 1964 in Auckland Bur: Waikumete Cem) Mar: 01 Dec 1920 to William Henry* Donnithorne (b: 28 Mar 1879 in South Rakaia d: 1953 in Auckland Bur: Waikumete Cem)
12 Hilda Maria Trumper (b: 23 Mar 1899 in Milford, Temuka d: 04 May 1899 in Timaru)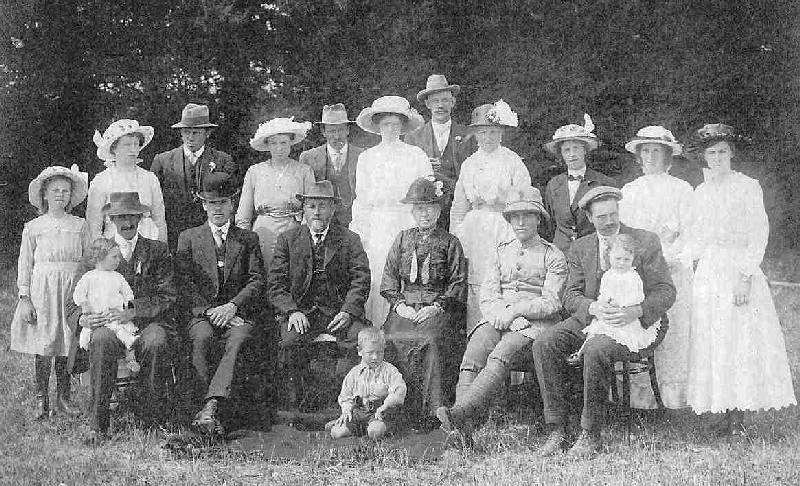 The family gathered to farewell Lesley who was leaving 1915 for service overseas WW1. Place cursor on members to see their names - click for a link to their information page. This photo and that of sisters Lucy and Adelaide Trumper kindly sent by descendant Charlie Fulton.
To conform to the Data Protection Act all pages have been altered to exclude details for living people other than the name. Images and data used in this site copyright - ©

If you can help, have comments, alterations, corrections, amendments etc. please