Birth 16 Feb 1783 Exeter, Devon, England


Christening 4 Feb 1783 Bath Abbey, Bath, Somerset

Marriage: 1814 St. Michaels Bath, Somerset, England


Spouse: Sarah Stothert (1794-1862),/div>

Job: Upholsterer 1816 Sion Hill, Somerset, England


Job: Auctioneer 1824 Sion Hill, Somerset, England


Death 25 Aug 1846 at 5 Norfolk Crescent, Bath (of Apoplexy)


Census 1841: (Ages were round up)

Benjamin Bartrum 55 Head Occ Auctioneer; Sarah 45 wife
Benjamin 20, William 15, Joseph 15, George 13, Edward 8,

Arthur 5, Sarah 20, Elizabeth 20, Charlotte 11, Matilda 2;
Ann Moore 25 F servant, Louisa Harris F Servant, Leah Harris F Servant,
All at Sion Hill, Bath, Walcot, Somerset
DEATH: BARTRUM - August 25, 1946; very suddenly, at his residence, Benjamin Thomas of 18 Milsom Street, and Newland House, Lansdown, Bath. Deeply regretted. His many friends will kindly accept this intimation.

Funeral Description - Unsourced and undated newspaper cutting pasted in the G S B bible:

FUNERAL of Mr. B. Bartrum - The remains of this deceased gentleman were interred in Charlcombe Cemetery on Thursday after. The funeral procession started from Newland House, Lansdown, the residence of Mr. Bartrum, at half-past one oclock. The procession comprised six mourning coaches, in which, besides members of the family were the following members of the Town Council and other friends of the deceased:- Captain Lysaght, R. N.Aldermen Marshall and Gill, Messrs C. W. Oliver, C. Milsom, C. Milsom,jun., J. E. Sturges, J. J. Wilkinson, T. D. Archard, R. King, E. T.Payne, Dillon.
In a private carriage which followed immediately after the coach containing the relatives of the deceased, were three of the members for St. Michaels Ward - Messrs. Robert Carey, J. H. Walker, and Thomas Gibbons. The service was a full choral one, and the officiating minister was the Rev. E. Markby (St. Stephens.) The interior of the church was thronged with spectators. During the whole of the service over the grave the rain was descending in torrents. The hearse and mourning coaches were supplied by Mr. Stukey, of the York House Mews
Sarah and Benjamin Bartrum's 14 Children: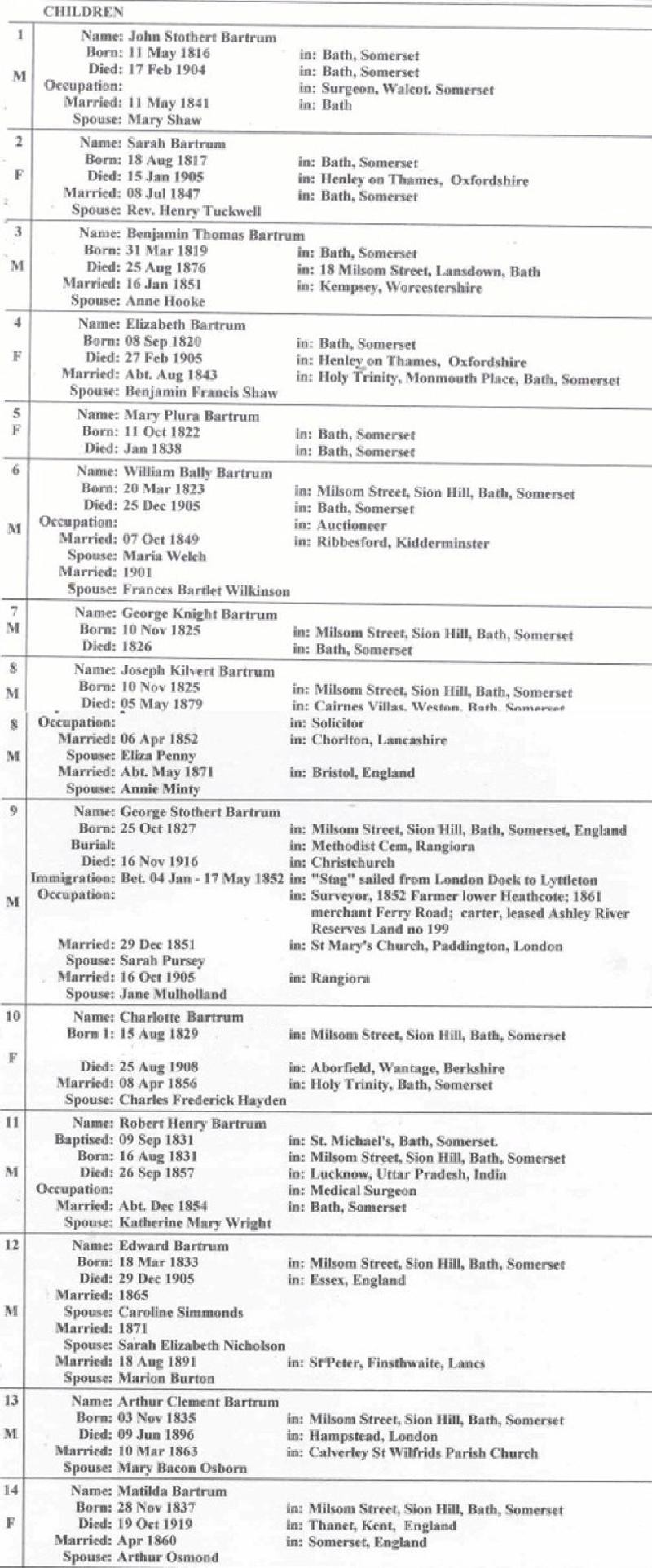 .