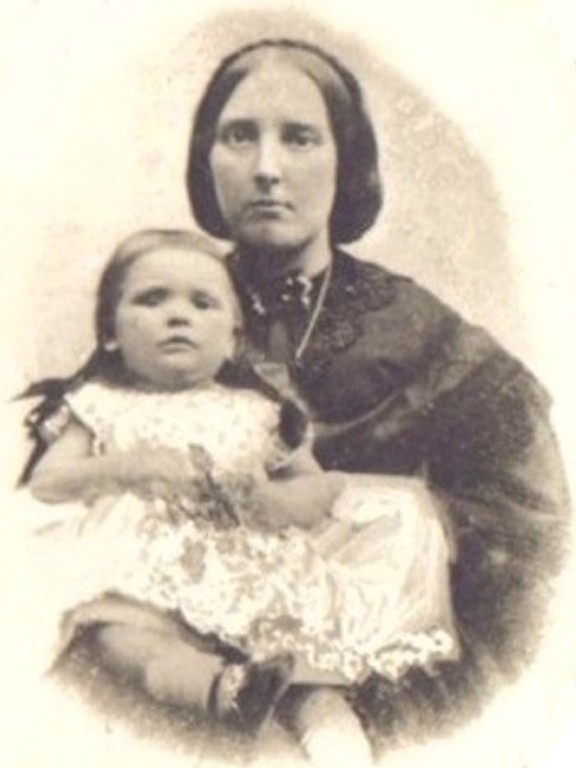 The baby is Charlotte Amy Hayden with her mother Charlotte Hayden nee Bartrum.
BENJAMIN PACKER BARTRUM b: Oct 9, 1853 at Ferry Road, Christchurch to parents George and Sarah Bartrum; Bapt: Dec 4, 1853 He d; August 14, 1910 after an accident at Wanganui

23 March 1882: Benjamin announced to his farming customers he would be visiting England. While he was there, on Aug. 24, 1882 at Helmdon Berks Church, England, Ben mar: his cousin CHARLOTTE AMY* HAYDEN. Amy was the daughter of a minister, Frederick Hayden who had married George Stothert Bartrum's sister, Charlotte Bartrum. Amy had been born 08 Mar 1857 at the Heldom Rectory. Amy was a hard-working mother dedicated to her church work - she did not enjoy country living and was homesick for England.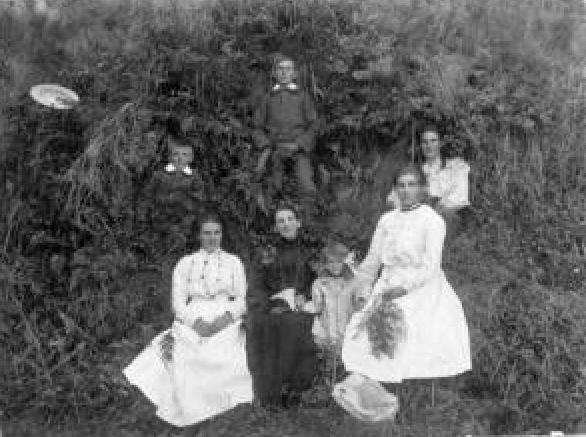 Group Photograph Taken by Fairlie Photographer J.E. Pigott

Left to right: Front Row: Charlotte Amy Dorothy Bartrum (became Mrs Dorothy Stocker); Amy Bartrum (née Hayden); Gertrude Beatrice Bartrum (now Mrs. Malcolm Carter) Agnes Mary Bartrum (married John Brownlie). Top Row: Cyril Frederick Bartrum; Oswald Benjamin Bartrum; Irene Scott Bartrum. [A note above the hat, top left hand corner states, "Arthur missing, at college"

Ben and Amy's 9 children were born at Coopers Creek, Orari Geraldine. Click their name to go to their page

TIME LINE:

11 May 1865: LIST OF SCHOLARS TO WHOM PRIZES HAVE BEEN AWARDED BY THE BOARD, Benjamin Bartrum, Ashley Bank district school

24 April 1874: Onward Lodge:

Waikuku,

1.0.G.T.— The fortnightly session of this Lodge was held in the schoolroom, Waikuku, on Wednesday last. The election of officers took place for the ensuing three months, when the following were elected
- W.C. Bro Benjamin Bartrum

1878/1879: The Peel Forest station was licenced to Francis Jollie in 1853 - it's area was from the Rangitata and Orari rivers right up to Peel Forest itself and in 1854 it carried 1382 sheep. In 1861 the run was split. (Src:) In 1878, 25 yr old Benjamin Bartrum found ready work as a wool classer and the following year, he was able to lease Creek Station with a few acres about it. On the eastern boundary where the Geraldine road crossed Coopers Creek, (To use: Place your cursor on icons on map to find Coopers Creek near the Orari Bridge) Ben established a wool scouring business beside the creek and was a lay reader at St Mary's Anglican church at Geraldine.

1882 - Return of the Freeholders: Benjamin P Bartrum; Woolclasser, Geraldine; Area 4 acres; Value £180
Timaru Herald, 7 January 1880

Timaru Herald, 17 October 1879

Timaru Herald, 15 November 1888

Timaru Herald, 20 March 1882

Timaru Herald, 29 November 1882
29 April 1887: SCHOOL ELECTIONS: Orari Bridge - Elected to committee: B P Bartrum

9 June 1887: TENDERS are Invited for BUILDING ADDITIONS, ROOFING, and RE- PAIRING OLD BUILDINGS, Creek Station, Geraldine. Specifications on Premises.B P Bartrum, Geraldino.

4 Oct 1888: The Springfield farm was put up in lots. Lot 1, consisting of 61 acres of maiden swamp land, was started at £l2 per acre and the price rose rapidly to £16. A third bidder then chimed in, and at £1910s, the lot fell to Mr B.P. Bartrum.

13 Nov 1888: FIRE: Mr B. P. Bartrum's woolshed at Cooper's Creek, Orari was totally destroyed by fire on Wednesday evening last, between seven and eight o'clock. The origin of the fire is a complete mystery, as Mr Bartrum left everything apparently quite safe at 6.15 D.m. between seven and eight, however, the servant gave the alarm, and in spite of every effort that could be made the build- j ing was destroyed. Unfortunately, beside the building, Mr Bartrum had about fifteen bales of scoured wool, £350 worth of sheeting, about 1000 full-woolled skins, and a large patent wool press destroyed. The building was 60ft x 30ft, two-storied one part, and had only been erected some nine months. There was an insurance upon it of only £200 in the South British olfice. The loss is estimated at between £400 and £600. The accident happening just now is particularly unfortunate for Mir Bartrum, as it is just the commencement of the busy season in the wool trade,Evening Post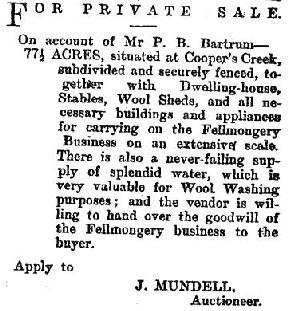 12 Nov 1888: B P BARTRUM BEGS TO NOTIFY to his Clients and Wool Growers generally that though his Most Convenient and Roomy Premises have been burned down HE STILL SUVIVES the fire and wilI have Temporary Premises and be in working order within a month. All Wool will be Insured if not Insured by Ownera. Wool taken delivery of at Rangitata or Winchester ami returned thither free of transit charges. B P BARTRUM

1890 Served on the vestry of St Mary's Anglican Church, Geraldine and acted as lay reader.

Amy competes in the Geraldine flower show, supporting geraldine and Orari funding of benefits with her singing, and organisation.

1893: Charlotte Amy Bartrum - on the first electoral roll for women 1893 address was Creek Station, Geraldine Rangitata electorate

8 Sep 1900 (Advertisement) WANTED- TENDERS for GORSE CUTTING and GRUBBING at Monument Hill, Raincliff. Apply B. P. BARTRUM, Monument Hill, Raincliff

10 July 1901 Mr A Brown took over Ben Bartrum's Coopers Creek property and he bought at Gudex Rd, Raincliff, Cattle Valley The Puketohu Home was built 1902 and a woolshed and yards were added in 1904.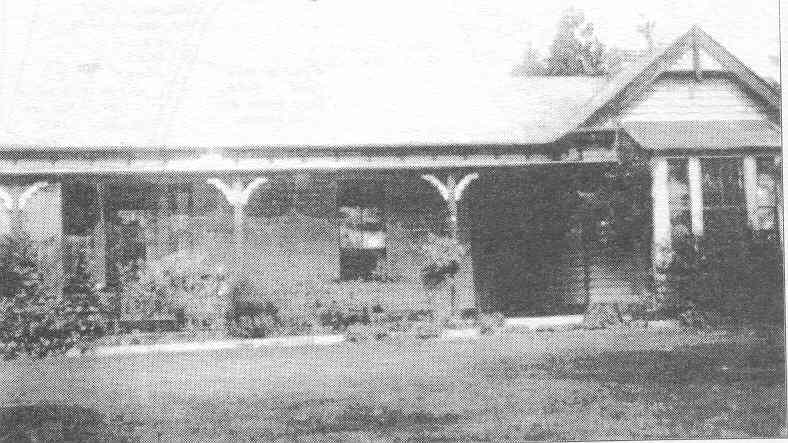 5 May 1904: FARMERS' UNION; The annual meeting of the' Fairiie branch of the New Zealand' Farmer's' Union was held at the Social Club's premises: Mr James Wilson occupied the chair, Committee elected: Messrs J.Wilson, Bray, Gillies, Wheeler, Herbert, Isitt, Trotter, Talbot, Bartrum, and Boucher; Mr Bartrum's moved; "that in view of increased settlement in. the district requiring increased facilities for getting stock; to market in good condition, the Minister of Public Works be asked to give a grant in aid of erecting a traffic bridge at the Allandale Crossing.

24 Mar 1907: Death of wife Charlotte Amy Bartum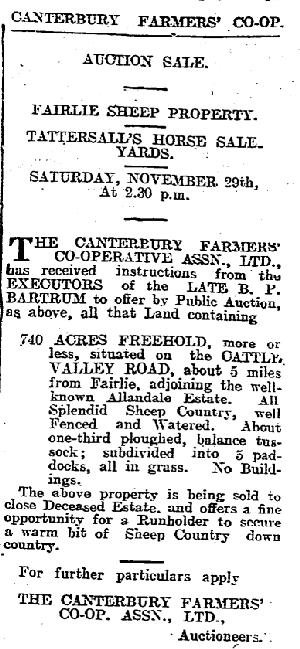 17 Dec1907: AOTEA LAND BOARD. The Aotea District Maori Land Board met at Wanganui on Tuesday, 10th ' The following transfer was agreed to: —Section 1 Block VII. (Ohotu Block), 1644 acres, Wm. Scott, jnr. to Benjamin P. Bartrum;

1910 Death: Notice reads: "BARTRUM---On August 14th at Wanganui Hospital Benjamin Packer, of Pleasant Point, eldest son of G. S. Bartrum, Rangiora. Died in his 56th year as the result of an accident."

"IN MEMORIAM. Benjamin Packer Bartrum.
Recently there passed into the ranks of the Church Expectant in Paradise one who for many years worked strenuously for the Church as a vestryman,warden and lay reader. Mr B. P. Bartrum was a layman who was willing to do work, not only when it was quite convenient and easy, but also when it involved considerable trouble. It was as a lay reader especially that he worked strenuously. In the parish of Geraldine, and more lately in the parish of Te Ngawai, he filled that office with honour to himself and benefit to others. Long rides or drives, in bad weather and in good,sometimes of considerably over thirty miles to his destination and back, undertaken in order to read Divine Service, show that a man is in earnest in doing work for our Lord.

Mr Bartrum could make a firm stand for the right when occasion required, in the face of opposition. He died in the North Island, but his body was brought back to his own parish for burial. It rests in the Church cemetery which surrounds St. David's church. Raincliff. R.I.P."

This from the MacDonald dictionary held at the Canterbury Museum: Bartrum, Benjamin Packer (1854 - 1910) Eldest son of George Stothard [sic] Bartrum. He was educ. at Merton's School Rangiora He farmed at Tuke Tohu in the Pleasant Point dist. He went to Matahiwi to superintend some bush felling in a bush section taken up by brother George. A tree fell on his leg which was so badly injured that amputation was necessary. This was done at Wanganui Hospital. He died three weeks later. Source: Stuart Bartrum

This obituary (Aug 16 1910) is also pasted into the bible: MR. B. BARTRUM.
The death of Mr. B. Bartrum, of Tuke Tohu, in the Pleasant Point district, occurred in the Wanganui Hospital on Sunday as the result of an accident. A few weeks ago Mr Bartrum went to Matahiwi on the Wanganui River to superintend the work being carried out on some bush land taken up adjoining a selection owned by his brother Mr George Bartrum. Bushfelling was in progress, and a tree fell on one of Mr Bartrum's legs, smashing it so badly that amputation was considered necessary, The operation was performed at the Wanganui Hospital. This was about three weeks ago, and the information received by his family was to the effect that Mr Bartrum was doing well. On Sunday his son at Lincoln College, received a telegram announcing his death. Mr. Bartrum was about fifty-six years of age, and was the eldest son of Mr G. S. Bartrum of Rangiora. He was a widower and has left a family of three sons and four daughters."

5 Jun 1911: A Cheap Property, DALGETY AND COMPANY, LTD., have been instructed by the; Executors of the late Mr B P Bartrum to offer for private sale his property, comprising 1644 Acres Aotea Lease, 700 acres felled, of which 600 is in grass and 300 just sown. The country consists of bold hills of strong papa formation. Carrying capacity 20 sheep per acre. Situated at Matahiwi, 4 miles, from a good landing on the Wanganui River. PRICE £4 10s per, acre for the felled country, the bush given in. Further particular's from— DALGETY & COMPANY, WANGANUI.
Monumental Inscriptions: St David's Anglican Church, Raincliff; In Memory of C. AMY BARTRUM; born Helmdon Rectory, Northamp, Eng, Fell asleep March 24th 1907 Aged 50 "Her children rise up and call her blessed" Also of BENJAMIN P. BARTRUM Who died August 14th 1910 Aged 55 years also CHARLOTTE AMY DOROTHY STOCKER Eldest daughter of BENJAMIN PACKER BARTRUM and CHARLOTTE AMY STOCKER born 28th November 1883 died 11th July 1971.

The carved mahogany hymn board In the church was donated by Mrs D Stocker of Surrey, England in 1957 in memory of her parents who were original parishioners. Ben (he helped in the establishment of St. David's at Raincliff and served on the vestry and Amy Bartrum played the organ.

5 April 1911; DECEASED PERSONS' ESTATES Benjamin Bartrum £12,783

Please contact Brian Bartrum if you can help with his Bartrum research.