Edith Amelia Cone and James Alexander Cunningham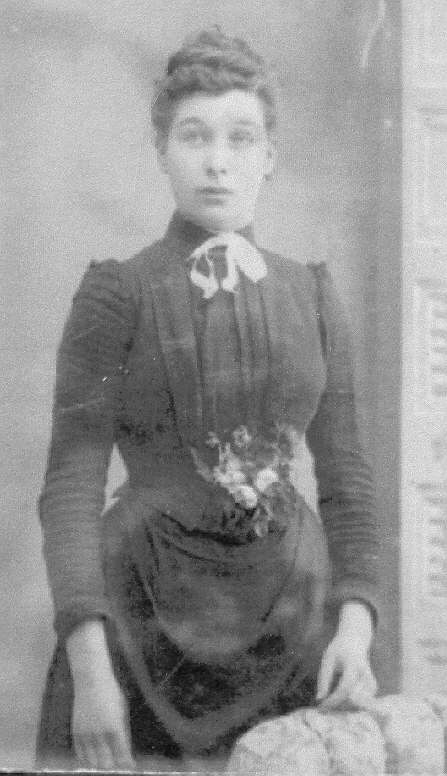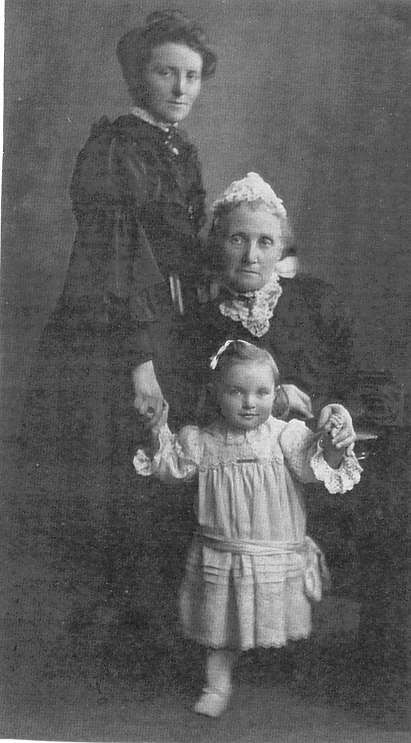 The marriage of James Cunningham aged 31, coal merchant born at Dunedin and Edith Amelia Cone aged 30 domestic, took place at the residence of Mr George Cone, Cone Street on 11th June, 1903. The groom's parents are William Duncan Cunningham, carpenter and Jane Munro nee Cameron. Witnesses to the marriage were Albert Thomas Burt, Rangiora and Jane Cunningham of Caversham
James and Edith had two children, Edna and Clifford and the family lived at Woolston where James had his coal and firewood business at 650 Ferry Road. It is thought that this site might possibly be the same that had the kit-set pre-cut house erected by William Bullock Cone that he bought off a ship's captain.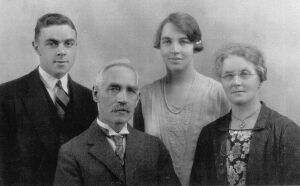 Children of JAMES CUNNINGHAM and EDITH CONE are:
1. EDNA ELLEN CUNNINGHAM, b. October 31, 1904, Christchurch; d. February, 23, 1991, Allendale Home, Auckland. and was cremated at Waikumete Cemetery. She married RAYMOND (RAY) ROBERT MELTON BRIEN August 04, 1933 in Christchurch, son of ROBERT BRIEN and ELLEN MELTON. He was born July 17, 1905 in Winton, Occupation: Soil Scientist, Mt Albert, and died January 04, 1963 in Auckland.Their Children:
1. ALISON ANNE BRIEN, b. August 24, 1934 at Palmerston North; d. August 10, 1945, Auckland. Burial: Waikumete Cemetery
2. DAVID ROBERT BRIEN, b. Palmerston North. He married ANNIE MARGARET* ELLIOTT at Te Aroha, daughter of ARTHUR ELLIOTT and LOLA WRIGHT. She was born in Te Aroha. Their family:

i.RAYMOND DAVID BRIEN, b. Morrinsville; m. DANIE-MAREE THOMLINSON, at Cambridge; b.Perth,Australia. Div.
ii.SUSAN LOLA BRIEN, b. Auckland; m. SIMON WINSHIP at Cambridge; b. Brentwood, Essex. Theyn have two children George David and Ellen Maree
iii.MICHAEL WILLIAM BRIEN, b. Thames. Partner is MAREE BRIEN: Their two children are Jade Margaret and Braiden David
iv.MAREE EDNA BRIEN, b. Auckland; m. MICHAEL JOHN MEYER, b. Alexandra, Otago.

3.GORDON RAYMOND BRIEN, b. Auckland. He married LOWETA JULIE FRANCES GALEY NEE BRACEFIELD at Auckland, daughter of FRANK BRACEFIELD and VIOLET KILMORE. She was born in Auckland.Their family:

i. TROY DARREN GALEY BRIEN, b. Auckland.
ii. KYLIE TANIA BRIEN, b. Auckland; m. CHRISTOPHER MATHEW GREHAN at Auckland; b. Brisbane, Queensland.
2.CLIFFORD GEORGE CUNNINGHAM, b. July 06, 1909, Christchurch; d. September 15, 1990, Christchurch. Harewood Crematorium He married ALMA NEVILLE INNES CHAMBERLAIN October 10, 1936 in St Barnabus Church, Fendlalton, Christchurch, daughter of ROBERT CHAMBERLAIN and ELLEN WALTER. She was born April 25, 1910 in Christchurch, and died October 13, 1989 in Christchurch.Their daughter:
i. ROWAN INNES CUNNINGHAM, b. St Georges Hospital, Christchurch to Father: Clifford George Cunningham and Mother: Alma Neville Innes Chamberlain; she mar: GRAHAM JOHN BILLING at St James Church, Christchurch (b: 12 Jan 1936 in Dunedin; Occ: Former seaman and journalist, he was best known for his novel `Forbush and the penguins', set in Antarctica (1965). Novelist, poet and journalist (Oxford companion to NZ literature; he d: 11 Dec 2001 in Berhampore, Wellington)




Images and data used in this site copyright - ©


Descendant input to up-date family pages is very welcome - more detailed information available on request