George Herbert Cone & Agnes Emma Palmer
George Herbert Cone eldest son of George and Ellen Burt, was born Nov. 18 1864 at Ashley and baptised 13 Feb 1965. His parents were living and farming at Mt Grey Downs and then land was purchased from uncle William Cone and a sod home was built there. George was educated at a private school and received singing lessons and was a member of the choir of the Church of England. October 2nd 1882, George was riding in High Street and when near the railway crossing, his horse became restive and plunged about, when the saddle girths gave way and he fell to the ground with considerable violence. He was taken home and on being examined by Dr Williams was found to have sustained several severe bruises and an injury to his right side. When a young man, George also made a trip to Sydney on holiday, but this was spoilt by ending up in Sydney Hospital with appendicitus. On his return to Rangiora he helped his father in the butcher shop.
George was 27 years when he married Agnes Emma Palmer of Linwood, the daughter of William and Ellen Eliza Palmer (nee Bennet).
Agnes had been working as a nurse for several years to Professor Bickerton of Wainoni Park, a private amusement Park which was a popular place for school excursions. Her father Wiliam Palmer was a happy character and very fond of of the Races. He had a home in Britton Street in Linwood.
After the death of his father, George Cone snr; George the eldest son and his mother Ellen kept the butchery until 1909 when it was sold Jack McGibbon who had started working there as a boy to learn the trade.
George was very interested in farming and had always hoped one day to own one. While still in the butchery, he gained experience by leasing small farms short term. The first was at Fernside, not good as footrot was common. His next was at Flaxton which had good heavy land very suitable for fattening cattle. One of the bullocks was judged champion of the Rangiora A and P show and weighed out when in the shop at 1600 lbs. He was able to keep the shop supplied with beef fattened there. He planted a paddock of 40 acres in potatoes - not a profitable venture. It was an excellent crop but with the low price of potatoes that year, it would not have paid him to bag them for sale so they were fed to the pigs. He had a pig run with his slaughterhouse. After the expiry of this land lease he had another at Southbrook from a man called Dummy Becker - both he and his wife were deaf and dumb. George did well on this farm which he had until the shop was sold.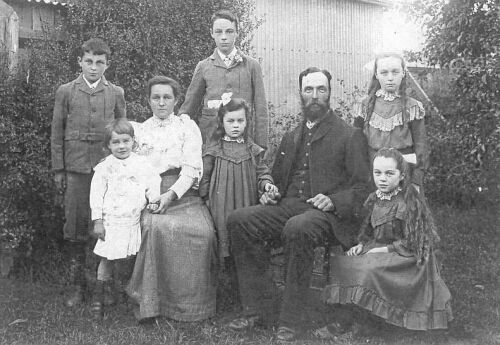 While farming here that George unfortunately lost his best sheep dog with poison which he had laid out himself. It was strychnine which was sprinkled on a dead sheep to kill off the seagulls which were causing trouble the the newborn lambs. He also lost a couple more dags after this as Les and Charlie used to take the dogs out chasing rabbits in the Ashley river bed. The dogs enjoyed this so much that they started going by themselves whenever they were left loose. One day instead of chasing rabbits they chased lambs. They were followed home by Mr Ram Kinley, the owner of the lambs, who rightly insisted that the dogs be destroyed or got rid of to prevent this happening again. Tom Wyley of Ashley asked for Don, the best one - the other named Rain was given to our slaughterman to destroy but he hid the dog and gave in his notice, taking the dog when he left and probably selling it for a good price in some other district.dogs be destroyed or got rid of to prevent this happening again. Tom Wyley of Ashley asked for "Don" the best one - the other named "Rain" was given to the he slaughterman to destroy but he hid the dog, gave in his notice, and took the dog when he left.
George Herbert continued to look for a suitable farm and in 1910 bought a property of 600 acres at £10 an acre at a place called Kamahi near Edendale in Southland. It was on the edge of native bush, and though the farm was run down, he could see it had potential when put in order. Unfortunately the place did not bring in any money while this was happening. The first paddock was soon ploughed up and sown down in oats and grass. But bad luck dogged him - all the oat stacks which were built Canterbury style would not keep out the Southland rain and got wet through. So the first crop was lost just at a time when a profit would have made all the difference. Next year another paddock was ploughed up and limed and sown down in turnips and grass, again a good crop. Store lambs were brought in and fattened on this but when they went through the works, a big percentage of them were found to be diseased, were rejected and thrown out. Money by now was scarce, though he managed to hang on a while by milking cows but the farm had to be eventually sold. The only bid for it was £6.10.0. an acre by the mortgagee, the same amount of the mortgage - a disaster.
George worked about Edendale for a few months and then bought a butchery in Edendale township with money supplied by friends but he wanted to get back to Canterbury. He sold and a better shop was on offer at Waiau. With the help of the other butcher in Rangiora, Dave Sutherland who was once his competitor, George again started in business at Waiau, in North Canterbury. Here, he was able to build up a good business. He had a contract to supply the Queen Mary Hospital in Hamner Springs and delivered there three times a week and supplying the boarding houses there at the same time. He retired in 1926 and bought a house in Chelsea Street, Linwood, Christchurch.
He was a member of the Plymouth Brethren and for some years was secretary of the Christchurch branch and only gave this up when the work became too much for him. After his wife died, he lived with his daughter Ina and her husband Charles Hamilton until his death in 1944.
Children of George Herbert and Agnes Emma Cone
i.LESLEY WILLIAM GEORGE CONE, b. August 08, 1893, Rangiora; d. January 28, 1956, Christchurch.
ii.CLARENCE (CLARRIE) FREDERICK CONE, b. September 20, 1895, Rangiora; d. December 26, 1981, Christchurch.
iii.INA ELLEN CONE, b. November 10, 1897, Rangiora; d. 1997;
iv. ELSIE AGNES CONE, b. November 10, 1899, Rangiora; d. June 18, 1973, Public Hospital, Christchurch.

v.DORIS MELVA CONE, b. May 13, 1902, Rangiora; d. May 15, 1920, Amuri.
vi.GEORGE EDWARD CONE, b. January 05, 1904, Rangiora; d. 1989, Christchurch;












Images and data used in this site copyright - ©


Descendant input to up-date family pages is very welcome - more detailed information available on request