The Taranaki Bayly Clan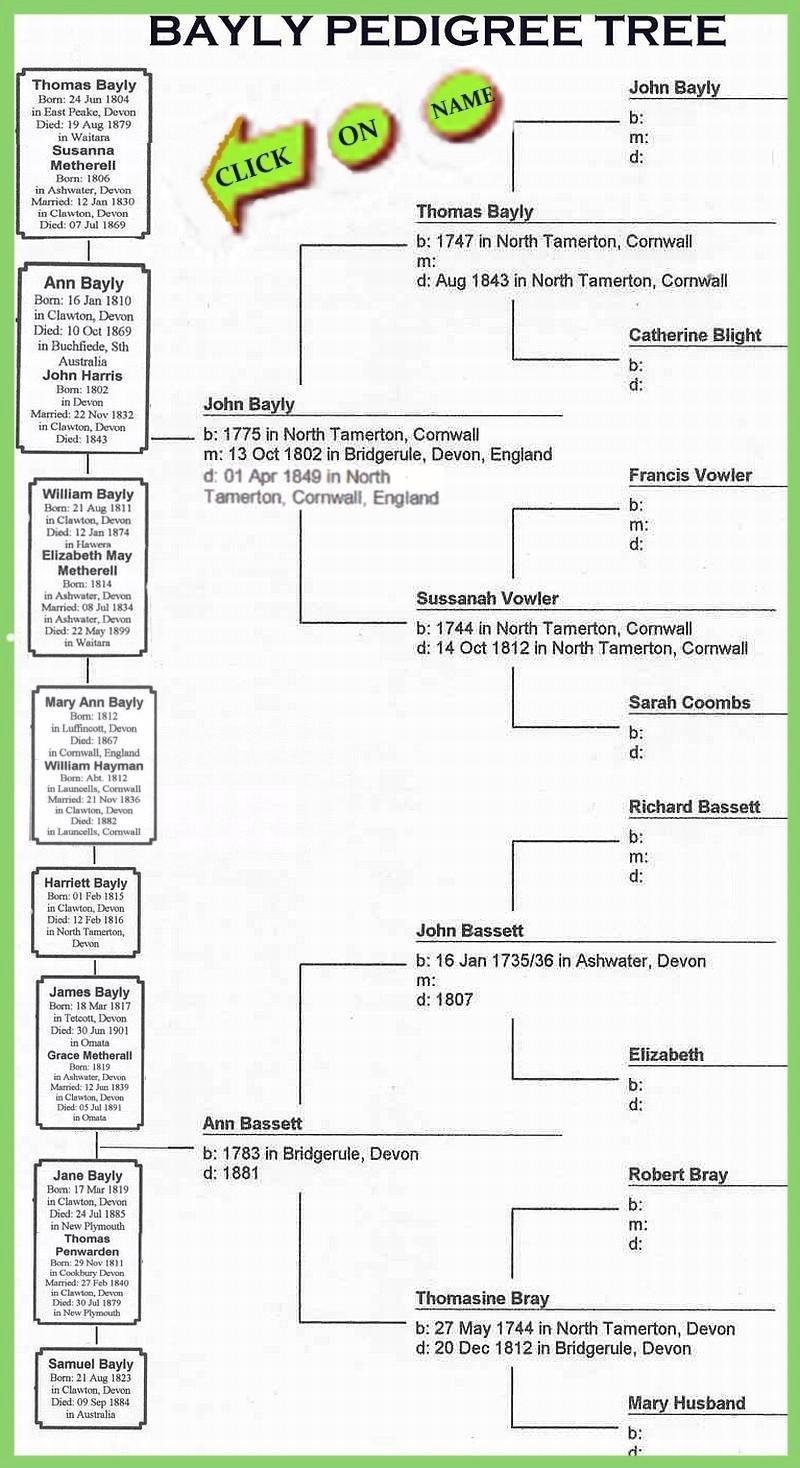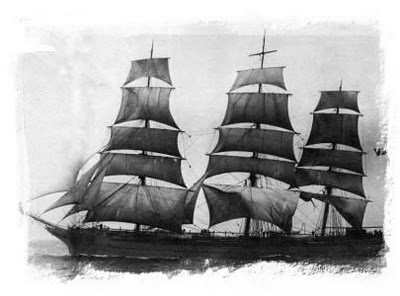 The barque "Amelia Thompson", 477 Tons. sailed from Plymouth on 25th March 1841 and reached NZ on 3rd Sept,1841 captained by William Dawson. James Evans was Surgeon - Superintendent and William Brydges, Secretary, John Watson first Mate, Murray second mate, William Black in charge of stores. Wm. Thompson was the owner - the vessel was named after his wife and Osberth Forsyth, the broker. The Amelia Thompson was the second of the 6 ships chartered by the Plymouth Company for the transport of goods and colonists to the newly founded settlement of New Plymouth in Taranaki and crossed the equator on 23 April 1841 but the prevailing south winds carried them far to the west. The decision was made to break the monotony of the voyage due to lack of progress so they made for Bahia (Salvador), Brazil. After 4 days of replenishing the ship they sailed east around the Cape of Good Hope and passing through Bass Straight, Australia on July 15 finally reaching the New Zealand coast 28th July. 5 days were spent between being becalmed and stormy weather would not allow them into either the sheltered harbour of Port Underwood (Marlborough Sounds) or Port Nicholson (Wellington). Eventually they reached Wellington and two weeks later, on 13 August they sailed for New Plymouth but experienced similar conditions, having to shelter in tempestuous weather or were becalmed, reaching their destination 3 Sept. It took 13 days to unload passengers and goods as the ship lay many miles off shore as because of danger from currents, surf and reefs. Some of the longboats arrived in darkness and some were overturned but no lives were lost.
There were 7 births and 7 deaths on the voyage and after discharging passengers and cargo, the ship returned to London via Batavia and Madras
The Amelia Thompson carried the largest contingent of farmers and agricultural labourers - 23 families all recruited by the Plymouth Company from an area straddling the northern border of Devon and Cornwall dominated by two market towns about ten miles apart, where inhabitants were mainly employed as farm workers or as tenant farmers. The Plymouth Company policy of recruiting immigrants from a small number of villages meant that instead of being torn from their friends and relations on leaving their homeland, they shared the experience of improving their circumstances among their own friends and relations
Families left for economic reasons but also there was a specific connection between the villagers of this area and the Plymouth Company. One of the largest local land owners was the Molesworth family, the head of which, Sir William Molesworth, was a principal promoter and share-holder of the Company. The vicar of Ashwater, who also served at Clawton, was the Reverend Paul Molesworth. Whether Molesworth personally encouraged the migration of his own tenant farmers and their workers, and if so for what reasons, is not known, but certainly this is an area where he had influence and where knowledge of his connection with the New Plymouth enterprise would have been significant.
The Bayly family had farmed for years around Tetcott and Clawton. Three Bayly brothers Thomas, William and James, sons of John and Ann Bayly nee Bassett married sisters Susanna, Elizabeth and Grace (daughters of Roger and Priscilla Metherell who farmed at Ashwater) These three families migrated together. Their marriages took place between 1830 and 1839 and with their nine children, the three families sailed on the Amelia Thompson. The Baylys were later joined by their sister Jane, married to Thomas Penwarden, a member of another old Clawton family.
Also on board, John Veale, a farm worker had lived in and around Clawton all their lives and wife Hannah, both in their mid-fifties. They had married in Clawton in 1807 and had nine children, the last born in 1826. Six of these children accompanied them to New Plymouth. The oldest girls, Ann and Elizabeth, were married to Richard Rundle and Thomas Oxenham. Between them they had ten children. Three children remained in Devon although one, John, came to New Plymouth with his family in 1854. Also on board with the Veales were Hannah's nephew, William Paynter, with his wife and child, and Richard Rundle's sister, her husband and their five children. This extended family group of 30 people constituted 19% of the Amelia Thompson's steerage passengers.
Source: Emigration and Kinship - MIGRANTS TO NEW PLYMOUTH 1840-1843; Researcher - RAEWYN DALZIEL

Bayly Researcher:

Sarah Knowles, gt-gt-grandaughter of Emma Eliza (nee Newsham) and Albert George Bayly. If you can add information, please contact Sarah - she would love to hear from you. Email.

Contents of this website may only be used for private personal research. © 2011
Some content has been kindly provided to me by other researchers, to whom my thanks go, and whom I hope to have acknowledged.
I would be delighted to hear from other researchers, and would appreciate being told of errors, omissions and broken links.