Ellen Matilda Pursey & Joseph Alfred Tuer
Marriage: Joseph Tuer, aged 25, batchelor born America, resident of Ashley, son of John Tuer and Frances Tuer (nee Richardson) Witnesses to the marriage were Thomas William Pursey, Ashley Bank, Farmer and Emily Ann Pursey. The marriage which took place at the house of the bride's father, Thomas William Pursey was to Ellen Matilda Pursey, aged 22, spinster born at Ashley, NZ and resident of Ashley daughter of William and Sarah Ann Pursey (nee Cone) Minister R Tout, Presbyterian minister
Ellen Pursey rode on the first train that went over the Ashley railway bridge. It was built before the traffic bridge and numerous folk in those early days struck trouble crossing the Ashley near the Pursey farm and had to go to them for help. Ellen and her sisters used to chase flounders in the shallow parts of the river, and in her teens, Ellen worked at housekeeping at Linwood.
Joseph's father was John Tuer of Brougham and he married Francis Richardson in 1854 in the Parish Church of Crosby, Ravensworth, Westmoreland. They moved to America where their son Joseph Alfred was born. When Joseph was about two, Francis returned to England and lived near Moreland, Westmoreland. As a boy, Joseph as the result of winning a scholarship was educated at a special school, Penrith Grammar School, Appleby. While there, he said a boy wearing clogs to school later became the Mayor of London. Joseph decided to immigrate to and a relative said he sold his bike and watch to get his fare, arriving about 1881. He went to work at Ashley for a family named Dixon. He now 25 was to meet and marry the 22 year old Nellie Pursey.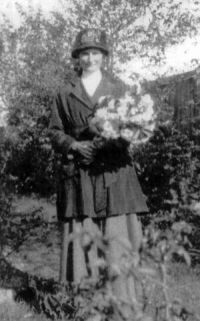 The Tuers farmed at Loburn on 253 acres, bought for £6.10/- per acre and except for the deposit of £50, the rest was borrowed. They were to have five children - three sons, George Alfred Tuer; Arnold Pursey Tuer and Victor Albert Tuer. Their two daughters were Elsie Amelia Tuer and Vera Josephine Tuer.
After the George's birth, Joseph Tuer decided he would never drink intoxinating liquors again. In those days it was the custom that if you wore a blue ribbon on your coat lapel it was a sign that you had signed a pledge. At sale day he wore his ribbon and was surprised that no one asked him to come and have a drink. He never drank again and told someone that he hoped his boys did not smoke or drink. Always interested in education, at the time of his death, Joseph was Chairman of the Loburn School Committee.
Joseph was only 38 years of age when he died in 1899 leaving Ellen with four children and expecting her fifth child, Vera.
The farm property was passed to Ellen and she leased it to her two single brothers Fred and Bert Pursey. Elsie and George attended Lowburn school but probably for support, Ellen eventually moved back to Southbrook where she bought 7 acres of land for £125 and kept five cows. In 1905 she moved to naother smaller property ar Station Road, Southbrook. After many years, she let the place and lived in a house which George had built for her by the Southbrook Railway Station. Later she returned to the 7 acres and then went to live in two different rented houses in Christchurch - Strickland Street at Spreydon and Sydenham, later returning to the house near the Southbrook railway station. During the War years she bought a house in Petrie Street and later was at Southbrook again before moving to Percival Street, Rangiora then back to Petrie Street, Richmond where she passed away in 1936. She is buried with her husband in the Rangiora cemetery.









Images and data used in this site copyright - ©

Descendant input to up-date family pages is very welcome - more detailed information available on request