Cones of Aldham, Suffolk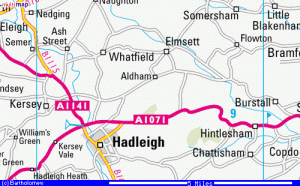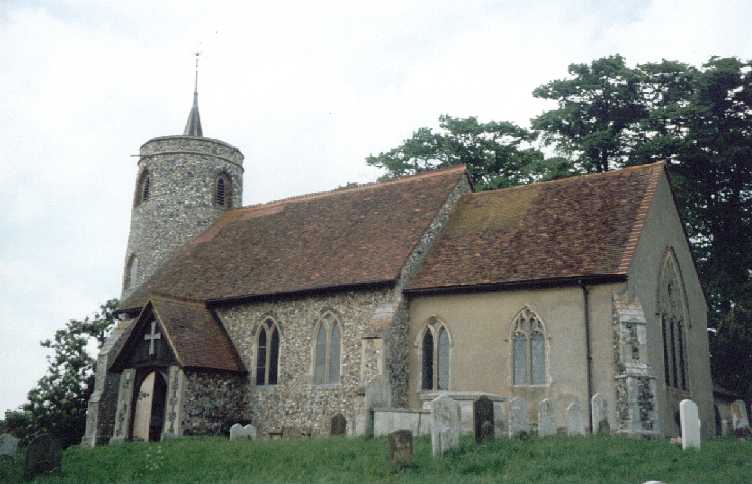 James Cone was baptised August 03, 1788 at Rendham (the 7th child of JOHN CONE and Rebecca, grandson of JOHN CONE and Hannah Nursey)and was a labourer from Laxfield when he married Harriet Bullock who had been born June 28, 1796 at Cratfield Suffolk
(Map)
Their son William, our Canterbury pioneer, was born at Laxfield where the family lived but was baptised at Harriet's home parish church of
Cratfield.
These three villages are within 40 miles of each other.
Daughters Matilda and Sussanah were born at Laxfield but next child, Mary Ann was born following their move to Dennington. About 1823, James leased a farm at Aldham. He is now described as a farmer and their youngest child George was born there early 1825. Harriet had inherited £100 from her father Edmund Bullock who was only 48 when he died. This was a substantial sum in those days, and this no doubt assisted James in purchasing his farm. When marrying, James signed the register with a cross - he was unable to write. He learnt later because his signature is on church papers at Whatfield supporting motions at vestry meetings, first in 1844 and again in 1845 for the electon of church wardens. From this it is realised that he had become a leading citizen.

James and Harriet Cone lived at the Aldham parsonage and his 70 acre farm was nearby. He later went to live at Whatfield, between 1835 and 1840, a few miles away where he leased a farm of 156 acres. He later increased this to total 244 acres and he employed 7 men and three boys. He died at Whatfield and was buried at the Aldham Churchyard cemetery on 26 May 1848. The inscription on the tombstone reads -

Sacred to the memory of James Cone, late of Whatfield and formally of this parish who departed this life May 20th, 1848, aged 60 years.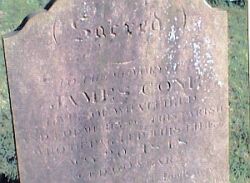 "Farewell my dear old friend I must away
Death calls me hence. I would no longer stay.
Farewell all earthly joys. I go to prove
The endless pleasures of the saints above.
Farewell my pains, disorders, doubts and fears
All I possess below, I now resign.
Vain world farewell but welcome joys divine."
Harriet Cone, now a widow at age 55, took over the management of the farm of the 244 acres employing 7 labourers and 3 boys, and was later assisted by daughter Susannah and her husband Lemon Juby. Harriet died and was buried at Aldham Churchyard on the 1st April 1875 aged 79 years. Children of James and Harriet Cone
1. WILLIAM BULLOCK CONE was born 1815 at Laxfield, Suffolk, England, and died June 02, 1852 in Bridle Path, Christchurch. New Zealand. He married (1)SARAH ANN STRAND January 11, 1838 in Aldham Parish Church, daughter of SAMUEL STRAND and SARAH RALPH. She was born 1812 at Yew Tree Farm.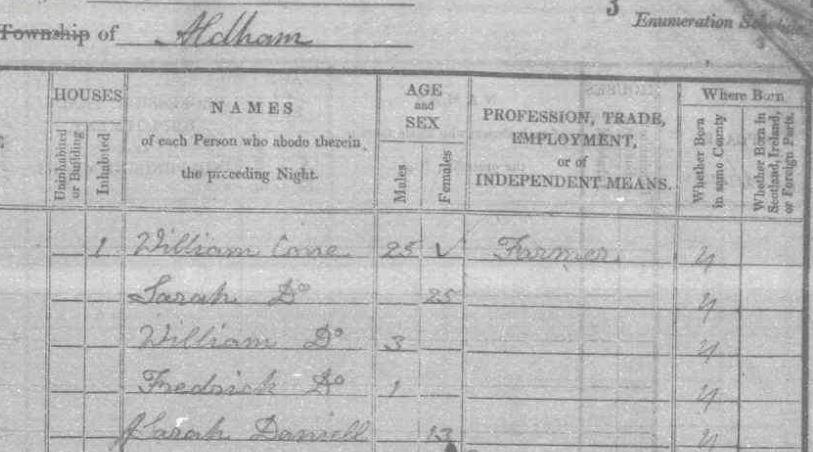 She died April 14, 1848 at Aldham and was bur: at St Mary's Church, Aldham, Suffolk.
Their Children:
Widower William Cone, married (2) CAROLINE ADAMS August 09, 1850 in Aldham. She was born 1815 in Baylam, Suffolk. William, Caroline and the four children immigrated 1851 to Canterbury, New Zealand.
ii. MATILDA CONE b. April 27, 1819, Laxfield. Burial: May 02, 1840, Aldham
3. SUSANNAH CONE Baptism: March 13, 1821, Dennington Parish Church, Suffolk She married LEMON JUBY in St Peters Church, Ipswich, son of JAMES JUBY and LYDIA TURNER. He was born 29 December 1822 and baptised January 12, 1823 at Bedfield, Suffolk. Occupation: Miller of Corn.Their children
4. GEORGE CONE was baptised on 6th March 1825 at the Parish Church, Aldham, Suffolk, and died April 1893 at Whatfield, Suffolk where he was buried April 29, 1893 aged 68 He married (1) ELIZABETH BAKER May 24 1850 at the Parish church in Dedham, Essex, daughter of WILLIAM BAKER (brickmaker) and FRANCES JAMES. She was born Abt. 1827 in Higham,Suffolk, and her burial was on January 25, 1878 at Whatfield Cemetery, aged 51 years.

George was said to be very fond of horses and had a fine horse for hunting.He came from Aldham to Whatfield where he married and settled at "Hill Farm" - about 70 acres. At the time of his death, his eldest married son George who was living at an adjoining farm known as the "Crouch" moved to live at "Hill Farm". George was deaf apparently as a result of rheumatic fever in his youth.
Their children:
i. ELIZABETH (BESSIE) CONE Baptism: March 05, 1851, Whatfield Parish Church ; Burial: July 06, 1872, Whatfield Cemetery

ii. MARGARET (MARY) MARIA CONE, Baptised: September 26, 1852, Elmsett m. JOHN RICHARDSON, December 23, 1875, Whatfield Parish Church; b. Abt. 1853, Semer, Suffolk. Occupation: farmer of Whatfield Their children

a. John RICHARDSON Born 1876 at Whatfield, Suffolk, England
b. Bernard RICHARDSON Born 1879 at Hitcham, Suffolk, England
c. Mabel RICHARDSON Born 1880 at Hitcham, Suffolk, England

iii. JAMES CONE, b. 1853; d. 1881. Burial: Whatfield

iv. ELLEN JULIA CONE, Baptism: September 24, 1854, Whatfield Parish Church m. BENJAMIN JAMES VINCE, son of John Vince, November 05, 1879, Whatfield Parish Church. Occupation butcher,Farmer & Dealer Their daughter

May E. VINCE; b 1881 Whatfield, Suffolk, England

v. GEORGE HARCOURT* CONE, Baptism: August 19, 1855, Whatfield Parish Church m. (1) EMILY FARTHING, (daughter of William Farthing) April 19, 1882, Whatfield Parish Church;Occupation: farmer Whatfield; d. 1891;

Their children

(a) Maud Maria CONE; Bap. 5 April 1885
(b) Bessie CONE; Bap.11 October 1885 - a teacher at 13 years
(c) William John CONE; Bap. 19 November 1888
(d) Harcourt George CONE; Bap. 19 Nov 1888 - died 15 Feb 1889 aged 2 years
(e) Ethel Emily CONE; Bap. bet Nov 1889 and Apr 1890
(f) Clara May CONE; Bap. 2 Aug 1891

George Harcourt Cone married (2) JANE GLADDEN, of Chelsworth, daughter of John Gladden; on May 18, 1892, Whatfield.

vi. FREDERICK CONE, Baptism: July 12, 1857, Whatfield Parish Church , Whatfield; Occupation Farm Bailiff in 1891/92 in Lavenham m. EMILY JANE GOWING, daughter of Robert Gowing; on December 24, 1879, Whatfield; b. 1858, Uxbridge, Middlesex, England; d. March 17, 1892, Lavenham, Suffolk.Ther son:

(a) Frederick G. CONE b 1881 Semer, Suffolk, England
(b) Elizabeth Emily E CONE b 1883 Cosford, Suffolk

vii. ANNE (ANNIE) AGNES CONE, Baptism: May 24, 1859, Whatfield (Private Bapt. rec. church 30 Oct 1863 ; m. SAMUEL JOHN GREEN, , son of Jacob Green) occupation farmer of Somersham on June 26, 1879, Whatfield Parish Church; b. 1848, Hadleigh, Suffolk.

(a) Arthur Samuel GREEN b 1880c Somersham, Suffolk
(b) Ethel Annie GREEN b 1892c Elmsett

viii. HENRY WILLIAM CONE, Baptism: May 01, 1861, Whatfield Parish Church Private bap. received church 30 Oct 1863 Mar Elizabeth bef. 1881 1881 - Millers apprentice

ix. KATE HARRIETT CONE, Baptism: October 30, 1863, Whatfield Parish Church , Whatfield; m. EDMUND COCKSEDGE, , son of Natham Cocksedge;on November 17, 1886, Whatfield; b. 1858, Ipswich, Suffolk. Occupation: Miller, engineer

x. CLARA EVA CONE Baptism: April 14, 1865, Whatfield Parish Church Burial: September 30, 1889, Whatfield Cemetery.

xi. ALBERT JAMES CONE, b. March 18, 1867, Whatfield;Occupation: Horseman on farm, Farm bailiff d. August 07, 1940, Rushmere, St Andrew, Ipswich; m. ALICE FENN, August 23, 1888, Whatfield Parish Church, daughter of Samuel Fenn; b. Abt. 1863, Chedeston. Children

(a) Henrietta Alice CONE b October3, 1888 Semer Baptism: November 18, Whatfield Parish Church.d July 6, 1967 in Ipswich; m (1) Arthur FENN b 1882c East Bergholt; married November 25, 1914 Stoke by Nayland; m (2) Brice Herman BIRD on December 22, 1917 East Bergholt
(b) Lilian Christine CONE b bet. Nov 1889 - Apr 1990 in Semer, Suffolk; Baptised Whatfield
(c) Reginald CONE b 1891 Hadleigh Baptism August 2, 1891 Whatfield Parish Church
(d) Herbert Leonard CONE b Holton; Baptised August 2, 1891 Whatfield Parish Church
(e) Daisy Grace CONE b 1894; Baptism; June 17, 1894 Whatfield Parish Church; d November 1990
(f) Elsie May CONE b 1896 Whatfield; Baptism: August 16, 1896 Whatfield Parish Church
(g) George Stegoll CONE b January 12, 1899 in Whatfield; Baptism; April 2, 1899 Whatfield Parish Church

xii. EMMA CONE, b. 1868, Whatfield; d. 1868, Whatfield.

xiii. LOUISE CONE, b. 1868, Whatfield; d. 1868, Whatfield.

xiv. FLORA EDITH CONE, Baptism: September 14, 1869, Whatfield Parish Church m. THOMAS BANTOCK, son of Thomas Bantock and Elizabeth nee Stribling; Baptism: November 04, 1860, Lavenham, Suffolk; married on March 19, 1896, Whatfield Parish Church; Occupation: Wheelwright.
Thomas was a widower who had married (1) Emma Jane ARMSTRONG on 28 Nov 1882 in Cockfield, Suffolk, England. Emma was born about 1854 in Shelland, (Shilling) Suffolk, England. She died in Aug 1892 in Cockfield, Suffolk, England and was buried on 11 Aug 1892 in Cockfield, Suffolk, England. Emma in 1881 Cockfield, Suffolk, England. Their children:

(a) Thomas BANTOCK christened on 25 Feb 1897 in Cockfield, Suffolk, England
(b) Bertha BANTOCK born on 15 Aug 1898 in Cockfield, Suffolk, England and was christened on 17 Aug 1898 in Cockfield, Suffolk, England.

xv. HENRIETTA LOUISA CONE, Baptism: December 01, 1871, Whatfield Parish Church Burial: March 21, 1873, Whatfield Cemetery

xvi. FLORENCE JANE CONE b. 1876, Whatfield; d. Whatfield, Suffolk; m. ALBERT EDWARD CLARK, son of Charles Clark; on March 13, 1896, Whatfield Parish Church; b. January 12, 1876, Whatfield, Suffolk; d. Abt. 1959, Whatfield, Suffolk. Burial: Whatfield Church Cemetery Their children

xvii. ARCHIBALD HARCOURT CONE, b. 1878. Burial: August 16, 1879, Whatfield

George Cone married (2) JANE ANNA ....... She was born Abt. 1853 in Ashfield or Semer, Suffolk.
Children of GEORGE CONE and his second wife JANE Anna were:

xviii. WILFRED LEONARD CONE.Baptism: June 10, 1883, Whatfield Parish Church. Wilfred went to Alberta, Canada in 1906 where he was farming. His wife died abt. 1960 and 1968 Wilfred had three married daughters.

xix. HILDA BEATRICE CONE; Baptism: October 09, 1887, Whatfield Parish Church

xx. CECIL REGINALD CONE, Baptism: August 17, 1890, Whatfield Parish Church




Images and data used in this site copyright - ©
Website Address - GENUKI:SUFFOLK

Descendant input to up-date family pages is very welcome - more detailed information available on request