Joseph Bramwell Cone and Edith Maude Goss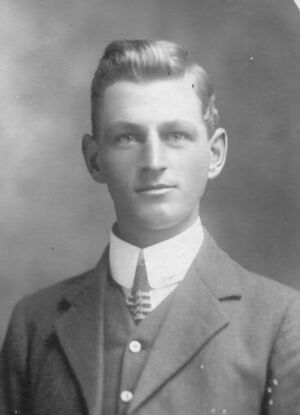 Joseph Bramwell* CONE Born: January 27, 1890 in Waitohi; Occupation farmer; Died: March 22, 1977 in Timaru Hospital; Cremated Timaru; m. Edith Maude GOSS Born: July 31, 1894 in Ilfracombe, Devon; Married: August 13, 1915 in Ashburton; Died: June 29, 1985 Timaru. Their children
1. Gladys Lilian* CONE was born at Ashburton. She married THOMAS PERCY* SCOTT October 24, 1938 in Orari Presbyterian Church, son of SCOTT and CLARA SMITH. He was born December 06, 1911 in Woodbury Guesthouse, and died December 22, 1989 in Timaru Hospital.Burial: December 23, 1989, Geraldine Cemetery
When a school girl, Lil was living at Orari and said she attended High school in Temuka. All the boys and girls commuted by goods train daily, one even coming as far as from Rangitata Island. Two nights a week they returned by express and would get home by 5 and 3 nights by goods reaching home in the dark by 6 and still with homework and chores to be done
Children of GLADYS CONE and THOMAS SCOTT are:
i. NOELINE MARGARET SCOTT who became a Kindergarton Teacher was born April 11, 1946, Temuka; d. September 09, 1976, Wanganui; m. CHRISTOPHER EDWARD KENDRICK, August 02, 1975, St Anthony's Church, Wanganui Burial: Cremated Wanganui and her Ashes returned to Sth Island.
ii. MARION EDITH SCOTT, born at Geraldine. She married MICHAEL GERARD FITZGERALD at Reefton, son of JOHN FITZGERALD and PATRICIA KIELY. Their three children were born in Greymouth:RACHEL ANN; ANDREW JOHN and SARAH LOUISE.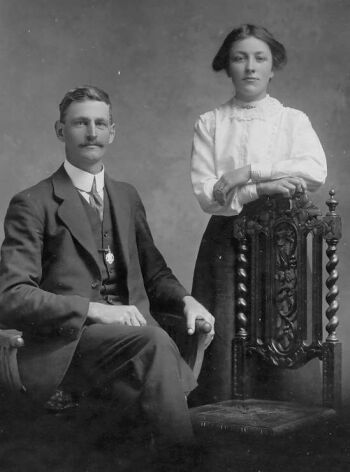 2.Audrey May CONE Born: March 22, 1928 in Temuka; m. Peter Augustin KEARINS Born: June 23, 1926; Married: April 05, 1958 Taihape; On October 15, 1962 at Gisborne he was killed in an air accident - a topdressing plane crash Burial: Taihape Cemetery;
Children of AUDREY CONE and PETER KEARINS are:
i. NIGEL STEPHEN KEARINS, b. at Taihape.He married JANE PATRICIA (LACEY*) GRAHAM, daughter of ALISTAIR GRAHAM and JANICE. She was born in Auckland. They have a daughter MERLE FRANCES KENNEDY KEARINS, b. Auckland.
ii. WARWICK JOHN KEARINS, b.at Taihape.
iii. GREGORY PATRICK KEARINS, b.at Gisborne.
Audrey's second marriage was to Kelvin Leslie HART who was born in Woombye, Queensland and died at Brisbane. Their daughter is:
iv. EMMA LESLEY HART, b. Taihape.She is married to KARL DEARDEN who was born in Nelson. They have two Christchurch-born children - KIERAN ASH and RHIANA KATE









Website address - http://www.winsomegriffin.com//