Press F11 to limit top toolbar
Press again for toolbar to return
Thomas Charles Barnard, oldest son born to parents Thomas Barnard and mother Mary Ann Axten, was born 8 Feb 1819 at Great Hormead, and baptised June 13, 1819 at Little Hadham Hertfordshire, England.
Thomas Charles Barnard marriage to MARIA COOPER at St James Church, Bermondsey took place on May 5th. 1844 in Bermondsey, London. Maria was the daughter of WILLIAM COOPER and ANN LUFT
and was born September 21, 1825 in Beddington, Kent England.
Marriage -
Thomas Barnard, full age (25), batchelor, Watchmaker of
Prospect Row
, Father Thomas Barnard (deceased) to Maria Cooper, full age (19), spinster of
Grange Road,
Father William Cooper, gardener; Witnesses - James Morgan and Elisabeth Cooper (Maria's sister

1846 - living at Corrugated Row

1851 Census - the family are living at No 19 Alfred Terrace, Christchurch and St James: Thomas head of household, mar, 32 yrs, born Hormead, Hertfordshire; occ: watch / clockmaker with Maria, his wife aged 24 yrs b: Beddington, Kent; and their children, Charles (5) William (3) Mary Ann (1) and Sarah (4 mth) born at Bermondsey, London.

1852 to 1854 London Post Office Directories list Thomas Barnard, Watch and Clockmaker living at 19 Queens Road in Bermondsey

1855 - Alfred Terrace, Bermondsey
The
London cholera epidemics
caused not only deaths of Thomas's brothers and sisters in infancy but was the reason these children of Thomas and Maria were lost:
JANE MARIA - b: Mar Q 1845 St. Olives, Southwark, London; Bap: 12 Apr. 1846

St Mary Magdalene, Bermondsey d: 24 Oct 1847; Queens Rd, Bermondsey

MARY ANN - b: Sep Q 1849, Bapt. 23 Dec 1849 at St Mary Magdalene Bermondsey d: Bef. 1856;

Thomas and Maria decided to take their five surviving children and immigrate to New Zealand and start a new life.

CHARLES THOMAS - b. Mar Qtr 1846 Bermondsey; Bapt. 12 Apr 1846 St Mary Magdalene

WILLIAM - b. 1847 Bermondsey; Bapt 12 Jan 1851 St Mary Magdalene

SARAH - b 12 Nov 1850, Bermondsey; Bapt 12 Jan 1851 St Mary Magdalene; at Queens Rd
EDWARD - b. Dec Qtr 1852 Bermondsey; Bapt. 8 May 1853 St Mary Magdalene

EMMA - b. 10 Dec 1853 Bermondsey; Bapt. 26 Aug 1855 St Mary Magdalene; Living at Alfred Terrace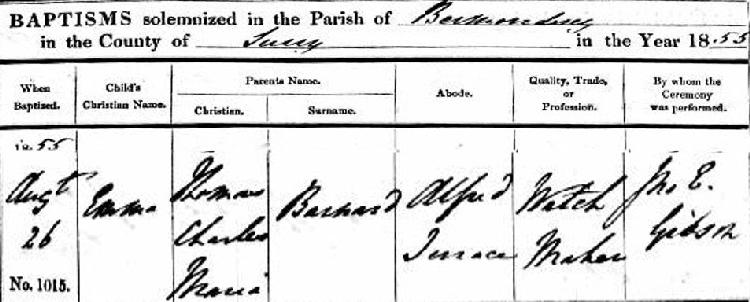 The family left on the ship "Surge", 543 tons commanded by Captain Jarvis and sailed August 31st from London and arrived at Wellington December 16th 1855, with 89 passengers

Please write if you would like to know more about the Barnard family or if you can assist with the documentation.

Images and data used in this site copyright - ©
Descendant input to up-date family pages is very welcome - more detailed information available on request.