Annie Rooke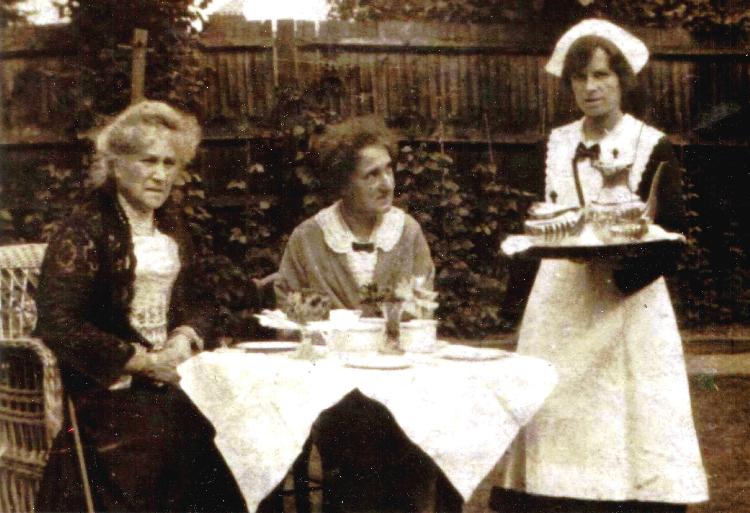 Nan serving refreshments in the garden to Mrs Annie Richardson and Annie's daughter Amy Florence Pelvin

Annie Rooke b: 1848 in Ware Hertford England

mar James Pelvin on 1 Aug 1870 in Camberwell, Surrey, England - he d: Abt. Jun 1876 in Stepney

Their 3 children were Amy Elizabeth; James and Annie Florence Pelvin. Annie lived at 241 Hollydale Rd, Camberwell (Src. 1881 census) aged 31, and to support her family, worked as a barmaid.

Her 2nd husband was FREDERICK WILLIAM BAYLES (Boyles) (b: 1843 in Camberwell, Surrey ;


Fred's Time Line:

Lightermen bindings: 960. BOYLES FREDERICK WILLIAM Started 09/06/1859 Place POPLAR; Master RICHARD POWELL Date finished. 13/11/1866

1861 Frederick with Mother at 15 Albion Street, Rotherhithe a Lighterman


Marriage: 30 June 1877 at St George, Camberwell to Annie PREVIN (Pelvin) Widow, full age, of Commercial Road (Father Edward ROAKE a Barman) to Frederick William Boyles, full age, of Commercial Road. (His Father; Charles Boyles)
Annie and Fred had 2 daughters:
1 Clara E Boyles b: Abt. Sep 1877 in Peckham, London (1901 census , she is a Visitor 24 Laundry Packer living with the Bryant family - she mar: 1902 in Wandsworth a son, Thomas William Bryant.
On the 1911 census, she lives at 14 Grasmere Road, Woodside, Norwood, Croydon with husband and 2 children.

2 Lily Maud Boyles b: 1881 in Peckham, London mar: Abt. Dec 1902 in Croydon to James Henry Curtis

Their children - Kathleen Lily Curtis b: 1904; James Richard Curtis b: 1906; John Curtis b: 1908 and Edward Henry Curtis b: 1911
Husband Frederick William Boyles, the lighterman; occ. Metal worker; d: Dec 1880 in St. Saviour aged 37 yrs) and Annie is again a widow
Annie met HENRY RICHARDSON, a widower with 2 daughters
i. M

ILLICENT RICHARDSON, b. 1875, St Lukes, London.

ii. A

LICE RICHARDSON, b. 1872, Hoxton, London.
HENRY DELANE RICHARDSON was b: 1847 in Truro, Cornwall. and he mar: Annie Abt. Dec 1893 in the Isle of Wight, Hampshire.
1891 Henry 42, Leather importer; Annie 40 wife; Alice Richardson, daughter, Merchants clerk; b Hoxton London; Amy Florence Richardson 16, step daughter, Apprentice portmanteau maker, b London; James Richardson, 18, stepson, machine operator, b Marylebone, London; Lily Maud Richardson, stepdaughter, age 9, b: Peckham, London; Millicent Richardson, 16, daughter, Apprentice dressmaker, b: St Lukes London

1901 Managing Dir Public Co; age 52 , Wife Annie 51, dau Lily M 18 yrs, Annie Florence 26
1911 Henry Delane Richardson, age 62 yrs, Farmer, Formerly managing director of a public company now retired, married 18 years, wife Annie 62, dau Annie Florence 35 yrs;
I am grateful to Rosemary who researched Annie's marriage to Henry and sharing the wonderful photo of her grandmother Nan who was brought up in an orphanage in London. She was employed as a maid in the Richardson home in the 1920's and told Rosemary's father she was particularly fond of Mrs Richardson.
Images and data used in this site copyright - ©

Please

and replace # with @ in my address. All pages have Sound