Alf was a baby in arms when his family sailed - 420 immigrants on the Lancashire Witch from London on 4th July 1863.
Shortly after the ship's departure, scarlet fever broke out, and three adults and 23 children died and were buried at sea before reaching Lyttelton. The commander Captain West, called at Capetown for fresh provisions but disease on board prevented any passengers being permitted to land. Despite the diversion, the ship made the passage to Timaru in 93 days arriving at Timaru 10/10/1863 where the Pelvins and some other passengers were landed. The ship then proceeded to Lyttelton where, on arrival, it was immediately placed in quarantine.

The family lived first at the Immigration Barracks where his father Richard was appointed in charge as Barrack master before settling on his farm at Claremont and their house was built. The Pelvin children received initial private schooling and later at the newly built Claremont school.

Sections were sold in close proximity on Redcliff Road, either side of Thorntons Road. Here Richard farmed 595 acres known as "Sabroan Farm". (16 miles from Waimate and 10 miles from Glenavy.)

In 1881 Wright's Australian and American Commercial Directory and Gazetteer Notes: Makikihi, Canterbury, 18 miles S. from Timaru, Waimate county. The population is 320. Blacksmiths - Gleich W., Pelvin Alfred, Vale George.

Alfred mar: 8th Dec 1886 to MARY ROBERTSON BRUCE at the home of her parents at Mill Road, Waimate The Officiating minister , J H Gray, in the presence of brother Richard Charles Pelvin of Waitaki North and Margaret Werges of Waimate.

Mary was the daughter of JAMES BRUCE

and ANN CALDER She was b: 29 Nov 1863 in Springburn, Glasgow, Lanark, Scotland, arrived in New Zealand on the "Wellington" in 1878 and d: 24 May 1926 in Waimate Hospital Age 62. Bur: 26 May 1926, Waimate Old Cemetery Plot 329

Click here for Alfred and Mary's children.

Time Line: 1889 - Blacksmith Studholme Junction

1892 - Oamaru OTAGO AND SOUTHLAND DIRECTORY Eden street. Left hand side from Humber st. Residence: Alfred Pelvin

1893 Mary was on the womans first electoral roll for the Oamaru Electorate, living at Esk Street, wife. Alf worked with Mr T Drennan, Steward St, Oamaru.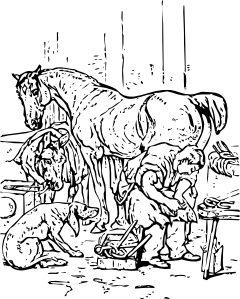 1892 NEW ZEALAND DIRECTORY: Pelvin Alfred, blacksmith, Thames St. Oamaru; Pelvin Alfred, Exe street, Oamaru
1896 to 1902; Residence Glenavy Electorate: Oamaru; Surname: Pelvin Given Name: Alfred Residence: Exe Street Oamaru; Occupation: blacksmith
1897 - North Otago Times, 12 Jan. 1897, P 2; Messrs Fdward Butt; Alfred Pelvin, and John Henderson have been appointed trustees for the Waitaki North Cemetery and the Waitaki Domain Board.
1897 - Timaru Herald, 12 Nov. 1897, P 2; At an auction sale of sections in the Glenavy township, Waimate survey district, which took place on Wednesday at the Board-room of the District Land and Survey Office, Christchurch, sections were sold:ó Section 27, one rood, Alfred Pelvin, £10 ;
Alfred was a popular MC for the many social events held in the area.
1899 Timaru Herald, 29 Sept; "WE, the Undersigned Blacksmiths, have agreed, owing to the large increase m the Price of Bar-iron, to RAISE the Price of SHOEING from the present rate, 5s, 6s, and 7s, to 6s, 7s, and 8s per set. Steeling Toes is extra per set, and also strictly adhere to catalogue prices for all parts and fittings. Freight added as enumerated in the respective Catalogues, to take effect from Oct. 2nd, 1899 : A. Pelvin and J. Thompson, Glenavy"
Waimate Daily Advertiser, 22 May 1900 Ths usual fortnightly meeting of the Mutual Trnpiovment Society took place on Friday night, and węs well attended, Mr A. Pelvin occupying the chair. The reported relief of
Mafeking
being the chief topic of conversation in the district, the members and visitors rose en masse as soon as the meeting opened, and the well-known strains of that hackneyed yet appropriate, on occasions song, reverberated through the schoolhouse,
"The Soldiers of the Queen"
, followed by three ringing cheers for "The Gentlemen In khaki ordered South". This being over, the programme for tha evening was attended to, the following ladies and gentlemen contributing songs and items: among them a violin solo, Mr Arthur Pelvin and the meeting closed with the singiug of the National Anthem.
Waimate Daily Advertiser, 6 Sept. 1900: The usual fortnightly meeting of the local Mutual Improvement Society was held on Friday night, Mr A. Pelvin presiding over a well-attended meeting. Songs were contributed by Miss J S. Slodden, and Mr Harold Berry, and recitations by Messrs A. Pelvin "The English Flag"
and Harold Berry. Miss Maud Butt played the accompaniments. It was decided to hold a social at the end of the month to wind up the Society's season.
1900 - GLENAVY. Waimate Daily Advertiser, 20 Sept 1900: The Glenavy Mutual Improvement Society closed their 1900 session last Friday night, a large audience facing the President, Mr Alf Pelvin. The gentleman, in the course of his remarks, said that seeing this session had concluded so successfully it was to be hoped that the same state of affairs would occur next time. (applause). The following contributed items during the evening -Overture, organ. Miss Maud Butt and violin Mr Arthur Pelvin. Misses L. Butt, M. Porter and B. Slodden sings respectively. Miss Harper and Mr H, Berry, recitations. Messrs Butt, Pelvin, Sherwin, Slodden, McKenzie and Whaitiri, songs etc. Mr Robertson contributed a couple of stump creations. A committee was organised, to arrange for a social which will take place in about two weeks' time. The weather has been rather cold for some weeks past, but there are signs of a change at last. However, its really good growing weather as the young crops are coming forward splendidly
1901 - Canterbury Cyclopedia: Glenavy, formerly known as Waitaki, is situated in the Waihao riding of the Waimate county, about a mile to the northward of the fine bridge over the Waitaki river. This bridge is three-quarters of a mile in length. It is used for road traffic, and has a gate at each end, under the control of a caretaker. The township consists of a fine hotel, two stores, a blacksmith's shop, saddler's shop, a railway station and post office combined, a church and hall combined, a public school, and a police station. A monthly sale of stock is held at the sale-yards attached to the Glencoe Hotel, and is largely attended by settlers from the surrounding districts. The railway station, stands at an elevation of seventy-four feet above sea level, and is ninety-three miles from Dunedin and 138 from Christchurch. At the census of 1901 the population of the village was set down at ninety-eight. The flat land in the neighbourhood yields excellent pasturage, though it is covered somewhat thickly with large water-worn pebbles. Glenavy is a convenient resort for anglers, who visit the Waitaki river, which abounds in fine trout.
1903 Mr A Pelvin appointed a trustee for the new Glenavy Library
Oamaru Mail 8 Jun 1903: SOCIAL AT GLENAVY. A farewell social was tendered to Mr Alf Pelvin. and family on Thursday night, and schoolhouse was crowded to the doors. Mr E. Butt began the business of the evening presenting Mr Pelvin with a splenid watch and chain, while Mrs Pelvin was the recipient of a silver teapot and cream jug suitably inscribed. Mr Butt, course of his remarks, referred to Mr Pelvin's many good qualities, and wished Mrs Pelvin, and himself and family every happiness in the future. Mr Pelvin thanked on behalf of Mrs Pelvin, and he thanked them for the handsome present they had made to himself. He would treasure the articles, not so much on account of their intrinsic value, but on account of monetary value but the spirit in which the gifts had been tendered. Mr M'Cowan then proposed the healths of Mr and Mrs Pelvin, being drunk with musical honors.
The hall then having been cleared, dancing commenced,'and was sustained till "the wee sma' hours ayont the twal" with spirit and vigor. Refreshments were handed round during the evening, the whole committee doing their very best to make the social a happy time, in which endeavor I must say they acquitted themselves with success. Songs, rccitatons, and step dances were contributcid by various visitors, and evidently enjoyed by the audience. During a lull in the dance programme, Mr Pelvin was presented with a handsome framed group of the Glenavy contingent of the North Otago Mounted Rifles. The picture, which was much admired, has a body of rich khaki, surmounted by the inscription, " Pro focis et patria. Glenavy contingent, B, squadron, North Otago Mounted Rides. A handsome Nelson shield in the centre of the picture bears a short address in gold letters, referring to Mr Pelvin's cooperation in the contingent's working generals. The picture was procured from the studio of Major Mahan, Oamaru, and is a splendid example of what can be done by this artistic firm. The contingent's commander, in presenting the group, said they would miss Mr Pelvin. He had times out of number been of valuable assistance to the contingent, having voluntarily and without fee or reward performed marker's duties, and rendered other services involving hard work. It was only right and fitting now that they should show their appreciation of his labor, and with that object in view had much pleasure in handing Mr Pelvin this token of the contingent's esteem, wishing at the same time, on behalf of the contingent, that the days of Mrs Pelvin, himself and family would be long in the. land, and that health and prosperity, would be their constant attendants through life. Mr Pelvin, in reply, said that he was taken by surprise. He had always taken a big interest in the men's work and delighted in it, and if occasion offered in the future he would still try and identify himself in their projects and work. He thanked them heartily for their splendid gift. (Applause.) Mr E. Butt then addressed the young fellows present, urging upon them the necessity of keeping the ranks of our citizen soldiers full and efficient. He pointed out the great advantages to be derived from military training, and hinted at the possibility, of their services being required at some perhaps not very distant date. The ability to shoot straight was only to bo acquired by constant attention and practice. Mr Butt concluded, amid applause, by urging the young fellows to join the local section of Mounted Rifles.
The music for the dance was supplied by Messrs Teague and M'Kenzie, and gave every satisfaction, while Mr Alf Pelvin appeared in his old role as M.C., and needless to say, was as successful as of yore. Refreshments were handed round during the evening and appreciated by those present. Songs, recitations, and step dances were interspersed through the dance programme, and received due recognition from the. audience. The social terminated with the singing of " Auld Lang Syne," those present joining hands. With which a move was made, for home, all being satisfied that a happy time had been spent.
1903 - Otago Witness, 16 Sept. 1903, Page 32: WEEKLY LIVE STOCK AND PRODUCE REPORT. Wednesday, Sept 9. Mr A. Pelvin bought a three-year-old gelding for £17
June 1914 The Oamaru Mail reports an exceedingly painful accident which occurred to Mr Alfred Pelvin, employed in a coachbuilder's shop in that town. He was motor cycling to Glenavy, and had just remounted his machine after crossing a creek when the petrol tank became ignited on the Waitaki Road/rail bridge He does not know how the accident happened, but in a second his trousers were saturated with the blazing petrol. Fortunately he had not got up speed, and was able to fall off instantly, but before he could extinguish the flames he was badly burned about the thighs. Although in great pain he managed to walk to the house of Mr David Williams, J.P.. a distance of about, a mile and a-half. where lie was treated with every kindness until the arrival of the Ambulance brougham. Iti addition to the burns, Mr Pelvin's face was considerably cut bv the fall He was an inmate of the Oamaru Hospital for a year and needed follow-up treatments.
1915 - Mr A Pelvin was badly burned when his mororcycle exploded and caught fire and he spent nearly 12 months in the Timaru Hospital.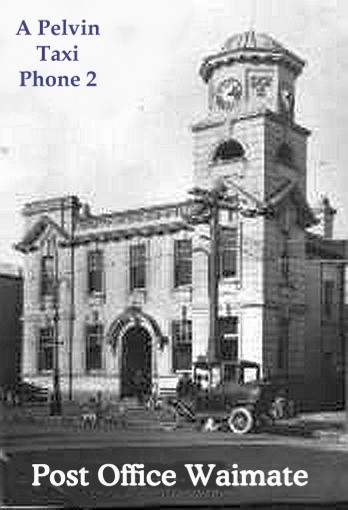 1918 - Alfred Pelvin owned the first taxi in Waimate and in April, the Waimate Council granted him permission to stand with his taxi cab in front of the Post Office, and to connect a telephone to the box already there.
1921 - Was killed when he fell off a roof while working in Timaru Road, Waimate.
7 Apr 1921: Newspaper report 3rd Apr 1921; WAIMATE; Yesterday Alfred Pelvin, formerly a blacksmith, a married man, aged 58, with a grown-up family, fell from the top of a ladder and became impaled on a crowbar stuck in the ground, the point entering the lower abdomen. He died at the hospital this morning. Bur: 9 April at Waimate Cem.
The late Mr Alfred Pelvin, who met his death in a shocking manner by falling from a building and being impaled upon a crowbar, was well known in Oamaru, where he worked for Mr T Drennan, Steward Street. Later he was engaged in blacksmithing at Glenavy, giving up this employment to run a taxi, and subsequently removing to Waimate. It will be recalled in 1915, Mr Pelvin suffered a very painful accident. While riding a motorcycle near Waitaki South, the petrol tank exploded, saturating his trousers with burning petrol. He made for the nearest water-race, but on the way was so severely burned that he was an inmate of Oamaru Hospital for over a year and had to return for subsequent treatment.
Will of Alfred Pelvin
(Dated 28th July, 1914) Executors - brother Arthur Ernest Pelvin (Retired Farmer of Timaru) ) and son Henry Pelvin (Labourer, Waimate) All moneys to be left to his wife Mary Robertson Pelvin - Probate sought May 6th 1921 for £650; Death 1921; Age 61 Bur: 09 Apr 1921, Waimate Old Cemetery Plot 330 ROW G
Alfred and Mary's children were:
Henry William (Harry) Pelvin; Nellie Pelvin
;
Bruce Fawthrope Pelvin
; Elizabeth Pelvin;
Richard (Dick) Pelvin
; Alfred Pelvin;
William George (Bill) Pelvin
; David P Pelvin
Music on this page - "Rustle of Spring".







Images and data used in this site copyright - ©

Please

and replace # with @ in my address. All pages have Sound