Elizabeth (Dollie) Pelvin
Elizabeth Pelvin was b: 1st Nov 1872 in Timaru and d: 17 Jun 1961 in Timaru Public Hospital and was bur: Monday 19 Jun 1961 Timaru lawn Cemetery. Her headstone reads: "In Loving memory of Charles beloved husband of Elizabeth Harrison Timaru 1863 - 1953, also Elizabeth Harrison"
The Pelvins were living at Claremont and the children first attended a private school conducted by Mrs Radford of Pages Road, Gleniti. Because of the number of settlers now in the district the residents recognised the urgent need for a school and met with the South Canterbury Education Board in 1877. Building commenced and the Claremont School was opened on 16th Jul 1878 with a roll of 22 and father Richard Pelvin enrolled Elizabeth and brothers Fred and Arthur.(School notes - Elizabeth passed Std 2 in Sep 1881)
1928 First Decade celebrations: Centre back: Arthur Pelvin

Seated Front- (2 & 3) Elizabeth and Fred Pelvin
Richard Pelvin bought his first land in the Redcliff district (the area became known later as Ikawai) in the mid-1870's and 30th May 1881 householders met at the house of Robert Stewart and with others Richard was delegated to request a school to be built at Redcliff.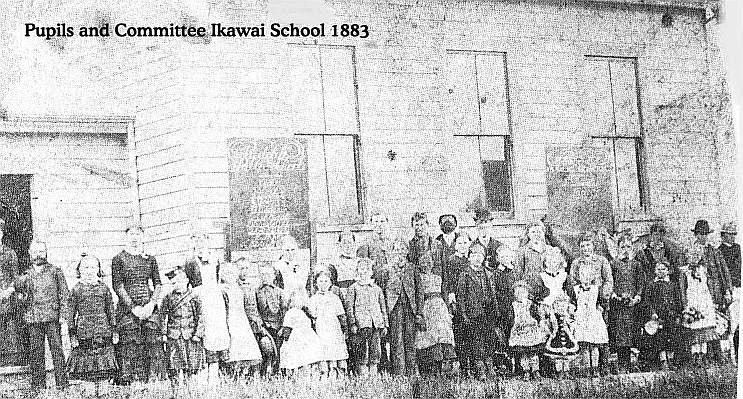 The school opened in July 5th 1882 with 34 first day pupils among them Arthur, Fred and Elizabeth - father Richard Pelvin served on the school committee. The school was the social centre of the district community - dances and balls were held - fund raising ventures were well supported to raise funds for the school. The first teacher popular Robert Agnew was forced to resign after 9 months when the Education department found a discrepancy in his certification and replacements applicants were sought. Teacher Alex McClintock was selected July 1883. He blotted his copybook when he allowed religion to be tutored and the pupils to be examined without the consent of the committee. In Jan. 1884 was Richard was elected chairman - he supported the teacher and wrote to the board stating the committee had closed the school to a minister of religion. Richard resigned in April and now the committee wanted the teacher replaced stating unsatisfactory exam results. A feud raged and the end of year prizegiving was not held until the beginning of 1885. Richard Pelvin's daughter, Elizabeth was McClintock's staunchest supporter and after receiving her prize from a committee member, threw it out of the window - an action viewed by the committee as contemptuous and disobedient but it went unchecked by the teacher... There existed continuing bitterness between committee and teacher - he remained until his contract ended in April and the pupil attendance then dropped to 7. A temporary replacement was made and after the winter holidays in July Barclay was appointed and harmony was regained. Elizabeth left Redcliff on 18 Dec 1885 now 13 yrs and was enrolled 14th June 1886 at the Claremont School where her last day off education was on 16 September 1887 - her destination home. After her father Richard's death, a dutiful daughter, she cared for her mother until she passed away in 1914.
CHARLES HARRISON was the son of William and Charlotte Sarah Harrison and was born 4 Mar 1863 in Timaru where he died 29 Oct 1953 aged 90 yrs. He was 54yrs when he married ELIZABETH PELVIN 17th July 1917 in St Mary's Church, Timaru - she was 45.
A sports man his speciality was cycling and he is recorded winning both the 3 mile and five mile amateur Bicycle race at the St Andrews Caledonuan Society meet in 1889
He was an enthusiastic member of the Timaru Municipal Band and played the "BFlat" Bass - he was known as "Muncher"
Charles and Elizabeth Harrison, known as Dolly, lived at 131 Church St, Timaru where he was by trade a carpenter and builder.