Henry Wm & Mary Ann Pelvin
HENRY WILLIAM PELVIN, the eldest son of Richard and Elizabeth Pelvin was b: 2nd Aug 1857 in Dublin, Ireland where father Richard was stationed with the Army - he named after both their parents - Henry Pelvin and William Beake.
Census 1861 - Kent; he was recorded aged 3 yrs as a scholar.
Henry was 5 yrs when the Pelvins left Kent on 4 Jul 1863 for New Zealand on the "Lancashire Witch" and arrived 13 Oct 1863 at Timaru. His father Richard was appointed by Woolcombe as Barrack master in charge of the Immigration Barracks which were erected for incoming new residents and for some months the family continued living there. During this time their house was built on their farm at Claremont. The Pelvin children initially received private schooling and later attended the newly built Claremont school - Richard chaired the school commttee and meetings were held at his home. As a young lad, Henry would have assisted in breaking in the land for early crops of wheat and oats and milking the cows for income.
In the Waitaki area, large blocks were being subdivided allowing individual sections to be sold in 1882 and Richard purchased 595 acres which he named "Sabroan Farm" - it was 16 miles from Waimate and 10 miles from Glenavy, in close proximity on Redcliff Road and either side of Thorntons Road, and the Pelvin family moved there - the properties owned at Claremont were leased.
Henry aged 24 yrs mar: MARY ANN (ANNIE) WATERLOW aged 19, on 27 May 1882 at the residence of Rev. James Clover, Rea St. Oamaru. Marriage witnesses were John T Jardine, Shoemaker, Oamaru and Ann Wilson, Domestic servant of Oamaru.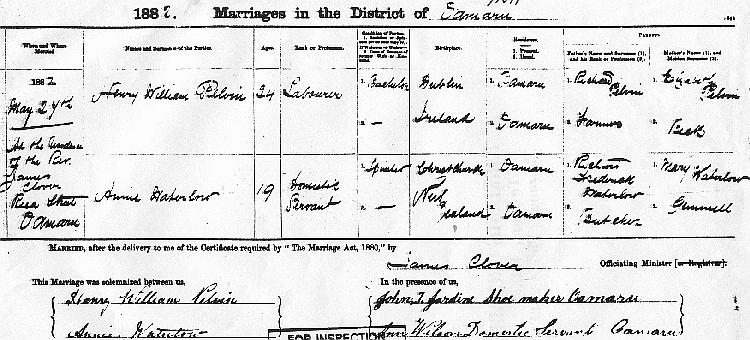 CALEDONIAN BURSARY CONCERT; (Abridged to reflect Henry's input)The concert that was given last night in the Public Hall, in aid of the Caledonian bursary fund, was an unqualified success. The hall was filled to overflowing in every part, and during the last quarter of an hour previous to the commencement of the concert numbers had to be refused seats. The programme was exceedingly attractive, no less from its completeness than from its novelty ; and it is questionable whether an amateur entertainment comprising so many attractive variations has over been put before an Oamaru public. The programme was, in most cases, essentially Calidonian, and its carrying out was a practical exposition ot Caledonian capacity. The appreciation of the audience was a sufficient expression of public enjoyment ; and in some instances this rose to such a height as to pass into a perfect furore, This was specially the case with regard to some of the dancing, in which the "kiltie lads " showed themselves to be no mean experts. The programme was as follows : Overture, bagpipes, song (in costume), " Our Kiltie Lads," High School pupils ; dance, highland fling, Mr Pelvin ; highland reel (in costume), Messrs Murray, Pelvin, Watson, Cameron, Munro, McDonald, Burt, and Sinclair; dance, Reel of Tulloch (iv cobuildo), Mdßra Murray, Pelvin, Watson, Munro, Saieron, M'Donald, Burt, and Sinclair. At the conclusion of the programme Mr Neil Fleming came forward and thanked the audience, on behalf of the Caledonian Society, for their substantial appreciation of the object for which the concert was given ; and an enjoyable evening's entertainment was brought to a close by the singing, in full choral force, "Auld Land Syne."
14 July 1883" The Oamaru Mail comments! "Of the dancing we cannot be too complimentary. All nationalities can admire a cleverly-executod Highland dance, and Messrs Murray, Pelvin, Watson, Cameron, Monro, M'Donald, Burt, and Sinclair afforded them an opportunity of doing ao last night. As for the bagpipes, they were as self-assertive as ever, but none the worse for that, we suppose and of the several pipers, all of whom were, we are given to understand, excellent performers."
Tragedy struck and Harry succumbed after an illness of 6 days to influenza at his home, Trent St. Oamaru on the 6th March 1885 leaving his wife a widow at age 22yrs and 2 small children 2 and 7 mths. William Henry PELVIN, aged 27yrs was bur: 8 Mar 1885 at Oamaru, Old Cem: Anglican S01.15

North Otago Times Mar. 1885: Death Notice: On the 6th inst. at his residence, Trent Street, William Henry, eldest son of Richard Pelvin of Redcliff, aged 27 years. The funeral will leave his late residence at 2.30 p.m. on Sunday, the 8th instant. Friends are invited to attend. G L Grenfell, Undertaker
COURT PRIDE OF OAMARU, A.O.F, THE Brethren of the above Court are requested to meet at the Court-room (St. Andrew's Hall) on SUNDAY, at 1 p.m. sharp, to follow the remains of the late Brother Henry Pelvin to its last resting place. By order of the C.R. W. CAIRNS, 676 Secretary.
1885 North Otago Times, 4 Aug: This evening the concert in aid of the family of the late Mr Pelvin takes place in the Public Hall. The committee have provided a capital programme, and the concert should be an enjoyable one. The public were under many obligations to the late Mr Pelvin for the ready assistance he always rendered at all entertainments in aid of public objects, and the public can, inadequately it may be, repay this by making the concert this evening a financial success.
1885 North Otago Times; 5 Aug: There was a fair attendance at the entertainment given in tho Public Hall last night in aid of the widow and family of the late Mr H. W. Pelvin. Many who had bought tickets did not attend, the streets being rather uninviting after the recent snow and rain; and therefore the financial result will be more satisfactory than the dimensions of last night's audience may have seemed to indicate. The programme had been prepared with excellent taste and discernment. The sympathies and services of ladies and gentlemen particularly well qualified to entertain audience had been enlisted, and as each performer gave something that was really good, and made a point of doing his or her best in giving it, it followed that the entertainment was from beginning to end one of more than ordinary interest and excellence.
Children of William Henry and Annie Pelvin:
1 Clara Blanche Woodward Pelvin (b: 16 Aug 1882 in Oamaru; d: 27 Feb 1940 in Christchurch Bur: 29 Feb 1940 Bromley Cem.) mar: 21 Sep 1905 in St Lukes Church, Christchurch to Charles Frederick Binns Isaacs Occ: Blacksmith. Marriage witnesses were Clara's brother Robert Bruce Pelvin, contractor of Glenavy and Stanley Smith, Labourer, Power House, Christchurch. Charles was b: 01 Jul 1884 in Hobart, Tasmania, son of HARRIS ISAACS occ: boot finisher, and AMELIA BINNS; he d: 05 Apr 1933 in Palmerston North, Manawatu)
Time Line:

1905-Christchurch North, Blacksmith,139 Kilmore St,also listed in the 1905 Christchurch South, blacksmith 65 Durham St.
1908-Christchurch South,blacksmith,65 Durham St.
1908-Avon Supplementry-Blacksmith, 34 Matheson`s Rd
1911-Central Ward, blacksmith,14 Fyfe St
1911- Park St, Linwood-Blacksmith
Their family;
a Oswald Nutre Isaacs (b: 30 Apr 1907 in Christchurch d: 21 May 1974 in Princess Margaret Hospital, Christchurch Bur: 30 May 1974 Ruru Lawn Cemetery

b Rose Georgina Ruth Isaacs (b: 03 Nov 1909 in Christchurch d: 26 Nov 1970 in Princess Margaret Hospital, Christchurch Bur: 28 Nov 1970 Crem. Bromley, Christchurch) mar: 23 Jul 1931 in St Andrew`s Church, Christchurch to Albert Edward Chammen (b: 20 Jun 1904 in Christchurch Occ: French Polisher d: 06 Nov 1970 in 296 Fitzgerald Avenue, Christchurch Crem: 10 Nov 1970 Bromley, Christchurch) Their family:

i Ronald Victor Gordon Chammen (b: 10 Oct 1932 in Christchurch Occ: Letterpress operator for Whitcoulls; d: 01 May 1977 at Christchurch. Crem. 03 May 1977 Christchurch) He mar: 01 Sep 1956 in Edgeware Rd Methodist Church to Natalie Edna Flint Their family:

[a] Michelle Cherie Chammen (b: Christchurch) mar: Donald John Cook (b: 06 Jun 1940 in Brisbane, Australia; d: 30 May 1997 in Christchurch)

Their son Gary John Cook b: Christchurch Womens Hospital

*2nd Husband of Michelle Cherie Chammen: to Colin Albert Francis Cook. Their daus:

a Leanne Marie Cook mar: Daniel Appleton They have a son Benjamin Luke Appleton

b Melody Anne Cook mar Matthew Stalker Their son Brandon James Stalker

[b] Joanne Rosalind Chammen b: Christchurch mar: Brent David Tunnage b: in Greymouth Their two sons are Regan Mitchell Tunnage and Stacy Ronald Tunnage

[c] Gail Alison Chammen b: Christchurch mar: Christopher James Carney. Their sons are Jacob Anthony Carneyand Ethan James Carney

ii Cherie Hazel Ruth Chammen (b: 30 Dec 1933 in Christchurch d: 22 Dec 1996 in Tauranga) mar: St Andrews Church Christchurch to Harold Desmond Strong b: Te Aroha. Their daughter Cheryn Linda Strong

STRONG, Cherie Hazel Ruth. On Dec 22, 1996 (suddenly) at home aged 63 years, dearly loved wife of Harold. Much loved mother and mother-in-law of Bruce and Kathy. Cherie`s funeral service will be held at Elliotts Rosebank Chapel, 25 Nineth Avenue, Tauranga on Tuesday December 24th at 2.p.m. followed by private cremation.

iii Bruce Albert Chammen (b: 25 Feb 1935 in Christchurch d: 02 Jun 1957 in Christchurch; Crem. Linwood)

iv Marita Rose Chammen b: Christchurch; mar: Registry Office, Napier to Bernard Terrance Joseph Courtney (b: 25 Sep 1927 d: 25 Oct 2001 in Christchurch)

Their Christchurch born family: Alaister Courtney; Marita Belinda Courtney; Bruce Bernard Courtney (b: 27 Apr 1959 in Christchurch d: 1980 in Christchurch) Carolyn Lee Courtney; Raewyn Donna Courtney; Craig Brendon Courtney; Grant Brent Courtney and Sharon Vicki Courtney
2 Robert Bruce* Pelvin (b: 28 Aug 1884 in Oamaru d: 25 Jul 1950 in Celta Street, Redcliffs Bur: Ruru Cemetery) mar: 07 Apr 1912 in Christchurch to Ivy Mary Davis (b: 17 Dec 1891 in Christchurch; d: 07 Apr 1913 in Hawarden Bur: Waikari Cemetery)
1891 Bruce Pelvin admitted to Timaru Main School 11 Nov 1891 - from his last school, Redcliff; Parent Annie Pelvin, William Street .

1898 North Otago Times, , 6 January 1898: Redcliff school - prize at breakup for composition

1911 Electorate: Hurunui; Robert Bruce Pelvin ; Residence: Springfield; Occ: shepherd. Extract from "The Big Country of the South island" by Peter Newton: 1912 - "W K McAlpine who owned Mt White was a pretty fiery sort of gentlemen and one day at the lower Pakety hut, he and Bruce fell out. They eventually came to blows, and although W K was pretty good with the knuckle, Bruce got the best of it. Far from taking offence, McAlphine gave him the head shepherd's job at the first opportunity. He reckoned that a man who could hammer him was worth a good job".

Ivy died in childbirth the following year while Bruce was away working and was buried in Waipawa Cem. Aea 1, Row B, Plot 37. Her headstone reads: "In Loving memory of Ivy Mary beloved wife of Robert Bruce Pelvin. Died April 7, 1913. Aged 21 years. "Thy Purpose Lord we cannot see, But all is well if done by Thee"
*2nd Wife of Robert Bruce* Pelvin: He mar: 19 May 1915 in St Pauls Presbyterian Church, Christchurch to Sarah Hannah* Eset Davidson (b: 1884 in St Albans, Christchurch to parents John Johnston Davidson and mother Eset Foster; d: 05 Apr 1967 in Christchurch) This was a 2nd marriage for Sarah - she had prviously been mar: to Thomas Richard Sutcliffe but they divorced in 1914. Their children:
i Thomas (Tom) Sutcliffe - Pelvin (b: 12 Apr 1904 in Christchurch; Bapt: 10 Jul 1904 Waitaki Presbyterian Church, Waihao; Occ: Plasterer d: 19 Jun 1964 in Christchurch) mar: 31 Jan 1929 in Wellington to Irene Mary Price (b: 03 May 1902; d: 25 Jan 2000 in George Manning House, Christchurch) Their Christchurch born children:

a June Valerie Pelvin( b: 1934; d: 09 Jun 1935 in ChCh Hospital; Bur: June 10, 1935 Linwood Cem.)

b SBC Pelvin (b: 08 Jul 1938; d: 09 Jul 1938 in Christchurch)

c Patricia Joyce (Joy) Pelvin

ii John (Jack) William (Sutcliffe) Pelvin: He changed his name to Pelvin by common usuage (b: 27 Jun 1906 in Christchurch; Occ: Panelbeater; lived at Amberley; d: 30 Oct 1975 in Christchurch; Crem: Salisbury Park) mar: 1928 to Stephanie Hyatha Ngaire Adeline Benzoni (b: 1908 in Fielding (Div: 1946 at Auckland);

Their daughter: Fay Adelaide Pelvin

*2nd Wife of John (Jack) William Pelvin: mar: 21 May 1949 in Wesley Church, Fitzgerald Avenue, Christchurch to Florence Ena* Shave (b: 1906 in Christchurch; d: 1971)

Their daughter: Johanne Pelvin

iii Henry Bruce* Pelvin (b: 16 Jan 1917 in Christchurch d: 08 Jul 2002 in Monticello Veterans Home, Dunedin; Bur: 11 Jul 2002 Lawrence Cem.) mar: 26 Mar 1938 in Presbyterian Church, Linwood, Christchurch to Athol Maud (Sue) Crichton (b: 31 Dec 1914 in 56 Essex St , Christchurch from Rangiora; d: 07 Jun 2007 in Ashlea Grove Resthome, Lawrence; Bur:: 11 Jun 2007 Lawrence Cem)

Bruce was station manager at `Overleigh` Port Levy, Banks Peninsula. Bruce and Sue eloped to a Presbyterian Church in Linwood where Bruce had a bouquet of red roses waiting for his bride to be.

His War Service was in RNZ Artillery & Airforce and he was invalided out after 2 years. Occupations: Building Trade; Senior telegraphist at Motueka (9 years) and Whakatane (5 years) and with the Bay of Plenty Power Board (15 years). He and Sue retired to Ohiwa Beach in 1976, R.D 2, Opotiki. He moved to the Lawrence Hospital Rest Home (in Care) to be near his daughter Sarah and passed away at thhe Monticello Veterans Home & Hospital.

Death: Athol Maude Pelvin (nee Crichton): On Saturday, July 7, 2007, peacefully at Ashlea Grove Rest Home, Milton, aged 92 years, beloved wife of the late Bruce, loved mother and mother-in-law of Bruce and Sarah and Paul Brown, dearly loved Gran to Jimmy and Rebekah, Jocelyn, Janice and Peter, and a loving heart to many others. Special thanks to the wonderful staff of Ashlea Grove for the love and care shown to Sue. A service to celebrate Sue, a life well loved and lived, will be held at Lawrence Waitahuna Worship Centre, corner Peel and Colinsay Streets, Lawrence, on Wednesday, July 11, at 1.30pm., the Funeral then leaving for the Lawrence Cemetery.

Their family;

a Donald Bruce* Pelvin b: Port Levy, Canterbury mar: Margaret Denise Robertson in Sydney

b Sarahanne Elizabeth Pelvin (b: Auckland Occ: Teacher) mar:at parents residence, Ohiwa Beach, Opotiki to Paul Brown (b: Gisborne Occ: Gov. Service) Their children:

a James Bruce Pelvin/Brown b: Blenheim mar: Rebekah with 2 children - Indica (Indy) Brown and Isabella (Bella) Brown; Jocelyn Elaine Brown; Janice Anne Brown; Peter Ernest Brown b: Tauranga
Annie became a widow at the death of her husband Henry William Pelvin in 1885.
Electoral Roll (1893) - Women; Name PELVIN Annie; Electorate City of Christchurch; Residence 187 Armagh Street; Occupation Housekeeper;
Annie married 2nd August 1899 at Ashburton tp Hugh Sutherland (b 13 Jul 1856 at Thrumster, Wick, Caithness, Scotland, son of Angus Sutherland and Catherine nee Steven; occ: Tobacconist/Hairdresser; d: 24 Jul 1920 at 16 Percy St. Christchurch) Annie died 26th.October 1941 and was buried at Bromley Cemetery Plot: Block 33, Plot. 43, with her second husband, Hugh.  
Annie's son was Henry Oswald Pelvin (b; 26 Apr 1892 at Amagh St, Christchurch; d; 20 Oct 1955 at the Public Hospital, Christchurch Crem. Bromley Cem.) He changed his name at the time of his mother's marriage and was known as Harry Sutherland. He was a hairdresser and served in World War 1 with the Canterbury Infantry Battalion (at call-up he named Hugh Sutherland of 396 Amagh St, Christchurch, his next of kin - WWI 6/2287, WWII 3/17/553 - Army; WWII 412387 - Air) A Gallipoli Veteran He was severely wounded and returned home with a bullet lodged between two vertabrae. Because of the danger it was decided not to operate and he would get staggers. One day while walking down the street in Christchurch one of his Gallipoli mates spotted him and gave him a pat on the back, He went down like a "Pole-axed bullock" and was taken to hospital - the bullet had jolted out and he never had another seizure.
Henry Oswald SUTHERLAND aged 26, occ: hairdresser, mar: Cathleen Agnes Rowe aged 26 occ: nurse, on 30 May 1918 at Methodist Parsonage, Fitzgerald Ave, Christchurch. Cathleen's parents were Walter William occ; cook, and Margaret Katron Rowe, nee Pollock. Cathleen was b: 1892 at Kirwee - they later .


Images and data used in this site copyright - ©


Please

and replace # with @ in my address. All pages have Sound