Henry William Pelvin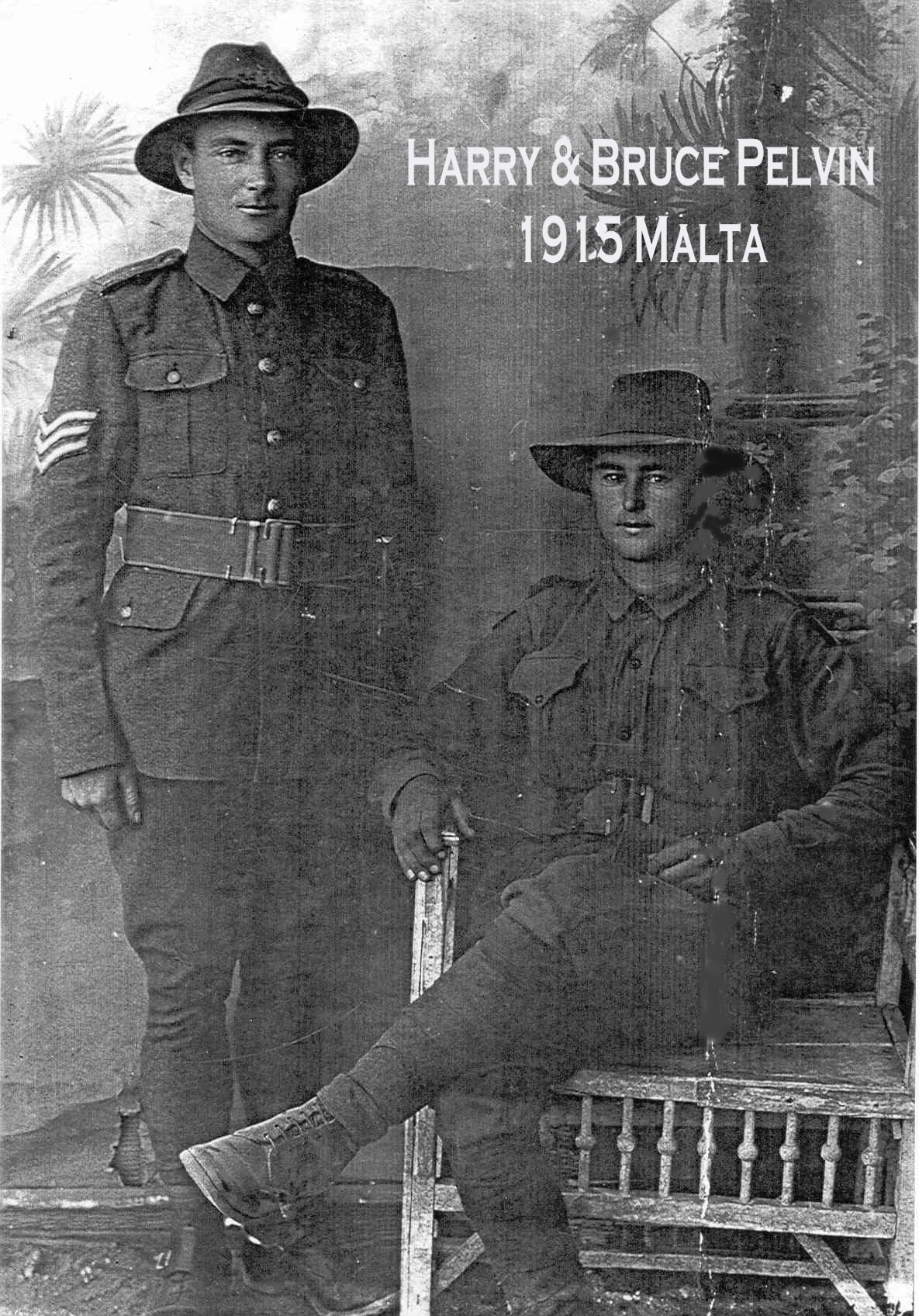 Henry Pelvin (left) and brother Bruce photographed at Malta 1915
H
ENRY WILLIAM (HARRY) PELVIN, (b. 23 Jul 1888, Waimate; d. 11 Nov 1923, Rannadale Soldiers Hospital, Christchurch). Harry Pelvin was the eldest son of Alfred Pelvin and was a blacksmith by trade. He had worked as a ploughman, harvester mill hand, and farm hand .
Henry was an excellent cyclist and competed in sports events over the years throughout the area. His athletic ability was particularly recognised and featured regulary being given the highest scratching when handicap lists given prior to racing eg: Waimate Caledonian Society: 20 Dec 1906 Handicaps for the Boxing Day Sports Cycling Events - Two Miles - H. Pelvin 175 yds; One Mile Handicap - H. Pelvin 110yds; One Mile and a-Half - H. Pelvin 145 yds; Tliree Miles - H. Pelvin 240 yds;
Local sports events were a popular entertainment, drawing large crowds from the wider community and the various diverse events held catered for all interests. A typical listing was the 1906 Waihao District Sports, awarding monetory prices and was well organised. It featured trotting and hack races, horse-jumping competitions (all on which there was a considerable amount of speculation with bookies apparently doing good business); three-legged, sack and foot races for varied ages and distances, high, hop, step and jump and long jump events; putting 161b Shot, Irish jigs and Scottich dancing; wrestling, Bagpipe competitions and some like the Oamaru Caledonian Society 1902 had tossing the cabar, throwing the hammer and at night had firoworks - rockets, bombs, and Catherine. His father Alfred Pelvin was chairman of the Glenavy School committee and would often call Henry for his assistance for entertainment at concerts for a recitation - he was a popular dance musician.
1911 Electorate: Waitaki; Henry Pelvin; Residence: Glenavy; Occ: ploughman
1914 - WW1: Surname: Pelvin Given Name: Henry; Category: Nominal Roll Vol. 1; Regimental Number: 7/1882; Rank: Sergeant; Last Address: Mill Rd Waimate; Next of Kin Title: A Next of Kin Surname: PELVIN; Next of Kin Relationship: Father; Next of Kin Address: Mill Rd Waimate
Evening Post, 22 Oct 1915: TRAINING CAMPS - TAUHERENIKAU NOTES: LATEST APPOINTMENTS: The 8th Mounteds, encamped at Tauherenikau, drew their horses on the16th and 17th instant. Temporary appointments of n.c.o.'s have been approved by the Camp Commandant (Major N P, Adams) as follows : To be farrier-corporal, Pte H. Pelvin ;
First Known Rank Sergeant; Next of Kin A. Pelvin (father), Mill Road, Waimate, New Zealand; Marital Status Single; Enlistment Address Mill Road, Waimate, New Zealand; Military - Canterbury Mounted Rifles; Body on Embarkation 8th Reinforcements from Wellington Date 13 Nov. 1915 for Suez, Egypt. (WWI, 1914-1918: Serial No.7/1882 Farrier PELVIN Henry NZFA Cross 7/1852 Field Artillery)
Timaru Herald, 3 Aug 1917: The following South Canterbury names appear in the official hospital progress report:— Removed from dangerously ill list.— Private H. Pelvin (Waimate).
d: 11 Nov 1923 aged 35yrs at Rannadale Soldiers Hospital, Christchurch after discharge from the NZEF from the effects of mustard gas contracted while on active service Bur: 13 Nov 1923, Waimate Old Cemetery Plot 331RO
NZ Probates N0 2172- Name HENRY PELVIN; Place Waimate; Occ: Labourer Probate Filed Date 19 Nov 1923 Type Will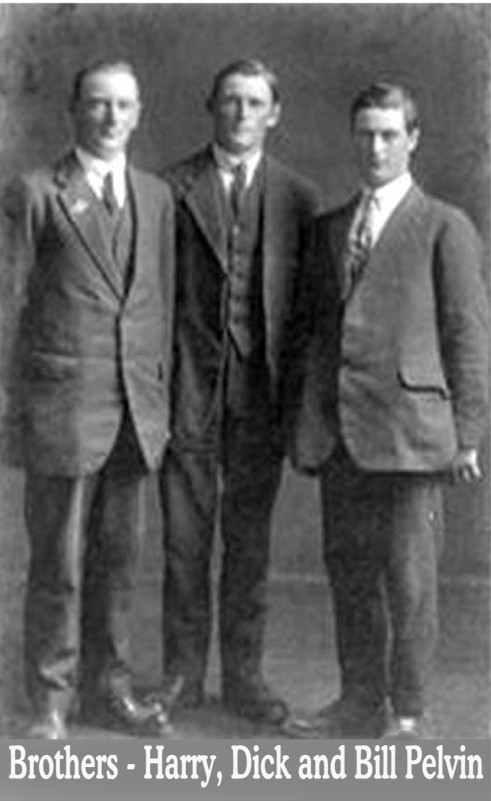 Images and data used in this site copyright - ©

Please

and replace # with @ in my address. All pages have Sound