Pelvin Annie 13 Dau. S Birth est Jul 1897
Pelvin Gladys 11 Dau. S Birth est Dec 1899
Pelvin Grace 4 Dau. S Birth est Dec 1906
Pelvin James 38 Head M Birth est Feb 1873

Pelvin Lydia 37 Wife M Birth est Jul 1873

Pelvin Winnifred 7 Dau. Birth est May 1904

1918 The family lived at 75 O'Hara Avenue, Toronto

1931 now recorded at 263 Lakeshore Rd, Mimico

1955 Toronto Star: July 22: Funeral service for Mr James H Pelvin 84, who died Thursday at the Toronto General Hospital will be held at Yorke Bros Funeral Chapel, Boor St W; at 11 am Sat. Internment will be at Prospect Cemetery.

Mr Pelvin retired 8 years ago after 20 years as a chef at Queen Elizabeth Hospital. Born in London, He came to Parkdale Ontario 50 years ago and lived there until his death. During WW1 he served as a cook in the Army. Mr Pelvin's hobby was breeding canaries and he had over 100 of them. He is survived by his widow, the late Kathleen Chesson, four sons, James H, Joseph, Albert L and Vernon and three daughters Mrs Gladys Trotter, Mrs Grace Davey and Mrs Winnie Johnston all of Toronto

1955 On Thurs Jul 21 at Toronto General Hospital, Janes Pelvin in his 83rd year of 1585 Bloor St Toronto W, dearly beloved husband of Kathleen Chesson dearly loved father of Gladys (Mrs M Trotter) Grace (Mrs N Davey) Winnie (Mrs W Johnston) James, Joe, Albert and Vernon Pelvin. Resting at Yorke Bros Chapel 2357 Bloor St (at Willard Av) Funeral service at the Chapel on Sat morning 11 o'clock Internment Prospect Cemetery

July 4, 1957 : Death Kate Pelvin at Lambert Lodge on Thurs Jul 4 1957 wife of the late James Pelvin dear mother of Violet of Detroit, Dawn of Devonshire England, Mrs Grace Davey and Mrs Glad Trotter both of Toronto sister of Mrs Ruth Rance, Mrs Doll Fry of England and Harold Chesson of Guilph. Resting at Jerret Funeral Chapel St Clair Avenue. Internment at Mt Pleasant Cemetery

Children of J

AMES PELVIN and LYDIA FORDHAM: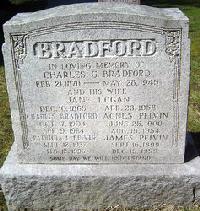 1 AMY (Annie) LYDIA PELVIN ( b: 27 Jul;1898 Father: James Pelvin and Mother: Lydia Fordham; Bapt: 16 Oct 1898, Walthamstow, Essex; England; School admissions 9 Mar 1903 Globe Road School Tower Hamlets - Parent - Jas of 28 Old Ford Road. Immig: 1910; d: 20 Jul 1922 at Toronto, York, Ontario aged 24yrs; bur: 22 Jul 1922 - Prospect Cem)
2. JAMES HENRY PELVIN was b: 12 Aug 1899 in 58 Nth Westv St, Marleybone Engand, Bapt: 16 Sep 1899, London; School Admissions 23 Mar 1903 Globe Road School, Tower Hamlets; Parent: Jas Pelvin on 28 Old Ford Road; Immig: PELVIN James M 1910 Liverpool Canada Quebec; and d: 15 Dec 1959 in St Josph's Hospital, Toronto, Ontario, Canada. He mar: 06 Jan 1932 in Toronto, Ontario, Canada to AGNES (NESSIE) FINDLAY BRADFORD, daughter of CHARLES BRADFORD and JANE LOGAN. She was b: 25 Jun 1900 in Scotland, and died 19 Aug 1954 in Toronto, Ontario, Canada. Burial:Park Lawn Cemetery Toronto,
Census, 1901"Name: James H Pelvin Gender: Male; Age: 1;Relationship to Head of Household: Son; Birthplace: New Cross, London Schedule Type: Household Registration District: Bethnal Green South London, Middlesex

WW1 Living in Toronto, Canada agreed to join the Canadian Overseas Expeditionary Force Sep. 28 1917; Canada, Soldiers of the First World War, 1914-1918; Regimental number 2590945 Name: James Pelvin b: London, England Residence: Toronto, Canada

Engagements: Thurs, December 24, 1931: Mr and Mrs C G Bradford announce the engagement of their daughter Agnes Finlay to James H Pelvin son of Mr and Mrs J Pelvin 263 Lakeshore Road, Mimico Marriage to take place quietly January 6th

Marriage: Fri, January 8, 1932: The home of Mr and Mrs C G Bradford, 26 McKenzie Cresc was the scene of the wedding of their daughter Agnes Findlay was married to Mr James H Pelvin of Toronto with Rev R E Johnston of West United Church officiating. The bride who was given away by her father was gowned in orchid silk net over pink satin with shoes to match and carried a bridal bouquet of Ophelia roses and lily of the Valley. The bridesmaid was Miss Kathleen Monohan who wore turquoise flat crepe trimmed with rhinesones and carried American beauty roses and babys breath, The best man was Mr Joseph Pelvin brother of the groom. The reception was held after the ceromony the brides mother receiving in a gown of plum lace and crepe. The groom's mother received with her dressed in brown crepe and gerorgette. After the reception Mr and Mrs Pelvin left for Buffolo and Detroit One their return they will live at Howard Park Avenue

Funeral service: Thurs, Dec 17, 1959 will be held at 3 pm Friday atYorke Chapel of Turner and Porter, Bloor St for James Henry Pelvin of Beresford Av who died 15th Tuesday at St Josph's Hospital. Born in London England, Mr Pelvin joined Sparton of Canada 25 years ago and became accountant then branch manager. He was a member of the Creditmans Union and Windermere United Church. His wife the former Agnes Finlay predeceased him several years ago. Surviving him are a daughter Patricia Louise and Son Donald M Pelvin
Children of JAMES PELVIN and AGNES BRADFORD are:
i. PATRICIA LOUISE PELVIN (b. 12 Sep 1937, St Joseph's Hospital, Toronto, Ontario, Canada; d. 12 Feb 1995, Toronto, Ontario, Canada)

ii. DONALD MURRAY PELVIN, b. Toronto, Ontario, Canada; m. (1) PATRICIA (1 son);

m. (2) DONALD & LOIS (their children David, Jennifer & Andrew)

These images above were shared with NZ cousins in 1989
3. GEORGE PELVIN, b. 1900.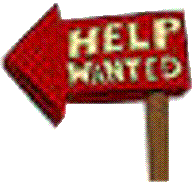 4. GLADYS PELVIN (b: 08 Dec 1901 in West Ham England; School admissions 16 Mar 1908 Langford Road School Hammersmith & Fulhamd: 09 Feb 1991 in St. Petersburg, Florida, USA)
1st mar: on 28 Feb 1923 in York, Ontario to Mervyn Trotter (b: 16 Jun 1900 in York, Ontario, his parents Mervyn Armstrong Trotter (1876-1928) and mother Annie Crawford (1877-1910); moved 1924 to Detroit, Michigan.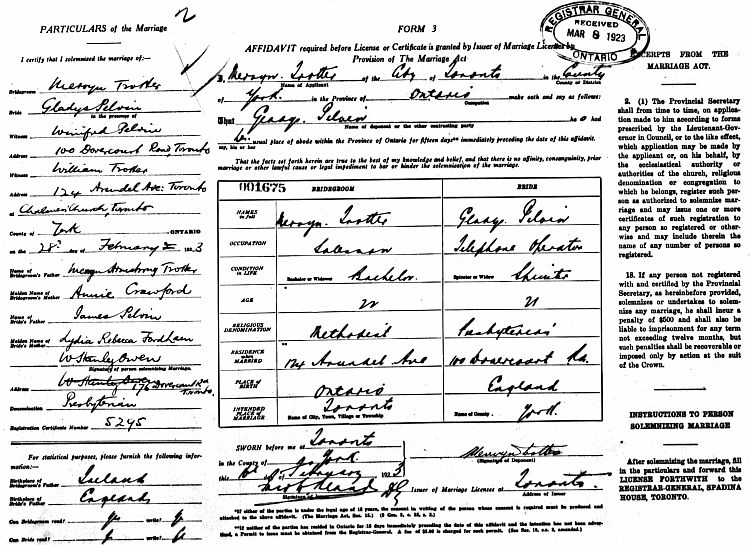 *2nd Husband of Gladys Guthrie Pelvin: m: 19 Aug 1967 to Alexander Eugene John Ermatinger (b: 05 Mar 1897 in Chippewa Falls, Chippewa, Wisconsin; his parents were Angus Ermatinger (1844-1918) and his mother Laura Mae Williams (1856-1946); d: 18 Dec 1985 in St. Petersburg, Florida); d. 1959, Florida USA;
Notes about Alexander Eugene John Ermatinger:
1st mar: 24 Apr 1923 to Shirley Marie Brassington (b: 06 Sep 1900 at Conneaut, OH; her father - Elmore Elsworth Brassington (1864- ) and mother Emma Sophia Benjamin (1866-1947) she d: 03 Jul 1980 Sandusty, OH)
Residence 1930 Jefferson, Ashtabula, Ohio where he was employed as an electrician.
Their Children:
I Donald Angus William Ermatinger 1924 - 2003
ii Alexander Eugene Ermatinger 1925-2009
iii Shirley Marie Ermatinger 1927-2011
iv James Gilbert Ermatinger 1929-2009
v William Clair Ermatinger
vi Marion Kathleen Ermatinger
*2nd Wife of Alexander Eugene John Ermatinger was Iris Marie Jane Miller whom he mar: 28 Mar 1953
*3rd Wife: was Gladys Guthrie Pelvin. Her death was recorded in the Obituary Index of the St. Petersburg Times "ERMATINGER, Gladys Pelvin Guthrie Trotter died St. Petersburg 2 Sep 1991; bur: Ashes 2 Nov 1991 PINELL County
5. TERRANCE PELVIN b: 1903
6. WINIFRED (WINNIE) ETHEL PELVIN, 9 May1904 West Ham; School Admissons 7 Sept 1908 Langford Road School, Hammersmith & Fulham , Father James of 13 Genrosa. mar: William (Bill) Johnston Their children;
a Toronto Star Monday, April 19, 1943 To Bill and Winnie Johnston (nee Pelvin) 115 Springhurst Avenue a baby boy at Oakwood Clinic Hospital on Sun Apr 18 1943. Both doing well. Son Ronnie (ie Ronald Johnston) died as Teenager

b Glenn Johnston
7. GRACE DORIS PELVIN, b. 1907, Hackney, England mar: Norman Davey (formerly of the Irish Regiment) at Doctors Hospital on Sun Oct 9th 1966
Their son: Jim Pelvin mar. <UNNAMED>

Norm Davey late of 241 Dunn Avenue Toronto beloved husband of Grace dear father of James brother of Chuck and Ken Davey, dear grandfather of Debbie. Resting at Earle Elliot Funeral Home Internment Prospect Cemetery. Donation Cancer Society
8. CECIL HORACE (JOE) PELVIN, b. Abt. Sep 1909, Fulham, England; d. 1995, Toronto, Ontario, Canada.
Immigration: PELVIN Cecil 1909 M 1910 Liverpool Canada Quebec

Wednesday, August 23, 1933 The wedding takes place next month in Toronto of Miss Ruth Schwartz daughter of Mrs L Schwartz of Parkdale Toronto to Mr Cecil H Pelvin of Mimico

Wed, Nov 1, 1950; appears to run a letting agency in King Simcoe area Joe Pelvin secretary of the Lansing Ratepayers association. Bought a house a 90 Burndale avenue - it was the oldest surviving house in North York dating back to 1812 and was a hideout for the rebels in the 1837 uprising (Toronto Star Wed, Feb 14, 1979 abt history of area)

Their family:

i. STUART (JOEY) PELVIN, b. 28 Sep 1943, Womens College Hospital, Toronto; d. 24 May 2009, Southlake Regional Health Centre, Newmarket.

PELVIN, Stuart (Joe) - Sadly we lost our brother, Joe, May 24th, 2009, at Southlake Regional Health Centre, Newmarket. Son of the late Joe and Ruth and brother to Carol (Bob), Dianne (late Ted) and Lynn (Larry). Cremation has taken place. At Joe's request there will be no funeral and his ashes will be spread over the lookout in Haliburton where he spent many summers at our late parents' cottage.

ii. DIANNE RUTH PELVIN, m. EDWARD (TED) DOUGLAS COYLE, Oct 1956, Lansing United Church, Toronto; d. Bef. 2009 (his father: F J Coyle)

iii CAROL PELVIN Pelvin b: in Womens College Hospital, Toronto Mar: to Robert (Bob) Gilligan in Lansing United Church, Toronto Father: Gordon Gilligan

iv Lynn Louise Pelvin mar: Ollie O'Brien - their dau. Amy Irene O'Brien
9. Herbert Oswald Pelvin b: 24 Jan 1913 in York Ontario Canada; d: 04 Aug 1913 in Toronto, York, Ontario. Age 7 months
10. Vernon R Pelvin - Mar: lived Maynard Avenue, his wife was in tram accident and died 1951
11. Albert Pelvin b: 1921 in Toronto, Ontario, Canada; d: 1951 in Toronto, Ontario, Canada
Images and data used in this site copyright - ©

Please

and replace # with @ in my address. All pages have Sound