Madeline Crawford Pelvin (nee Ravenwood)
On February 13th, 2010, the family again meet again at Lower Hutt - this time to celebrate the life of Madeline who passed away just 6 months after her husband Les Pelvin.
Our thoughts were with her sons Alan and Neil, her grand-children Tui, Brooke, Dylan, Melanie and Nicola and her great-grandchildren Zac, Daniel, Ryley, Jessica and Liana.
Madeline's surviving brother Bill travelled from Christchurch to share in the farewell cememony along with extended family,
Russell and Christine from Adelaide; Kay from Christchurch and daughter Michelle and Madeline's many friends.
Madeline had been in hospital making good progress after a stroke but sadly she passed away in the early hours of Wednesday morning after a full and memorable life of 92 years.

Madeline was born in Dunedin on the 28th Dec 1917, one of four children of William and Anne Ravenwood. Sister Marjorie died as an infant before Madeline was born. Her parents managed a fish shop at Waimate which was where she began her schooling before a move to Christchurch where she attended the Shirley School. For five years the Ravenwoods lived at Loburn and Madeline worked on the family farm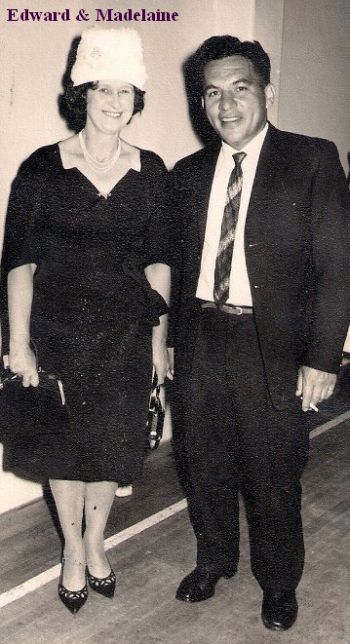 They moved back to Chrischurch in the 30's and she found employment at the hospital before going flatting with friend Joyce and working for Lichfield Shirts. She met Thomas Leonard (Len) Jones and they married in 1941 and she became a mother with the birth of daughter Pauline. The marriage ended. Pauline was looked after by Madeline's mother and Madeline and Joyce moved to Wellington where they worked for a time before returning to Christchurch in 1950.
She met Edward Cornelius (Ted) Rees who had transferred there with the railways. They shared a common interest in motorbikes and enjoyed some competitive riding! They married in Taurmarunui and then moved to Auckland where son Alan was born followed five years later by Neil. The move was made to Lower Hutt and Madeline worked in various jobs - all involved cooking - the Fire Station, Odlin's Timber and for St Peters and Paul Catholic Church providing numerous feasts for their staff. Pauline had moved to Australia and she visited her and daughter Tui - her daughter sadly died there in 2004. In time her two boys married, their partners making Madeline a most proud grandmother.
She became solo in 1975. The Russell Street home saw many gambling activities - namely cards and regular Housie evenings. Family friends - the Hacketts, the Cherries and Cuttriss's featured prominently as regular contributers - nights filled with laughter, fun and food were commonplace. The TAB was frequently the target of verbal abuse for their lack of performance and payouts. It was at an Odlin's New Year's party where she worked that Madeline first met "the gentleman from over the hill" - Ronald Leslie Pelvin. The outcome was their marriage April 4, 1985 at Carterton and the happy couple settled at Carterton in the Wairarapa.
Maddy (as Les affectionately called her) and Les made the decision to move to Naenae some 15 years later where they were closer to the boys and their families and then to Lower Hutt. Thursday nights and weekends saw regular contact with family -
Nana's cooking delights enjoyed by an enlarging brood of children around her feet and some gambling activities and together they enjoyed trips to Australia and around New Zealand to visit family members.
The years upon them both brought frustrations with
deteriorating health. They went to Riverleigh Home in 2008 but their need for personal independance saw them move to their own unit opposite the hospital.
Madeline made a personal contribution to so many - and she was admired, respected and loved by all who knew her. We honour her life and cherish her memory.
So Special
There is so much in my heart
That I'd really like to say
Yet, no matter how I've tried
I just haven't found a way.
The kindness in your heart
Words never could convey
For you made the world so beautiful
Images and data used in this site copyright - �

Please

and replace # with @ in my address. All pages have Sound