Sarah Pelvin & Richard Ferebee
Sarah Pelvin b: Abt. 1789 in Boxley, Kent - her parents Peter Pelvin and mother, Lydia Latter; Bapt: 20 Dec 1789 Boxley, Kent d: 13 Jan 1854 in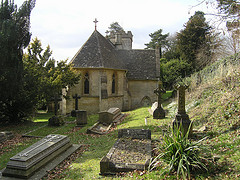 "Holy Cross" Church in the small
village of Olpen in Gloucesterahire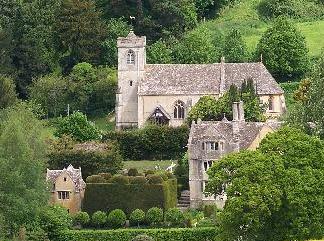 Luton St, Paddington Green, where she was Bur: 15 Jan 1854 at St. Marys, Paddington Green, Westminster, London
Sarah Pelvin mar: 01 Nov 1812 in St. James, Picadilly, Westminster, London to Richard Ferebee; Witness -Mary Connor
Richard was b: 1779 in Owlpen, Gloucester, England where he was bapt: 26 Sept 1779 at the Owlpen Church. His mother was Hester Ferebee (b: 1738 at Owlpen, dau. of Thomas and Sarah Ferebee) In 1824 he was employed as a Coachman. In 1851 the family were at Marlybone.
After Sarah's death, in 1861, Richard, a widower and aged 83 yrs, is living with married daughter Caroline and her husband Nathaniel Arthur (and servant) at 26 Queens Gardens, Kensington St Mary Abbott, Middlesex, England.
Their children:
1 Annie Ferebee b: 1811 may have Mar: 1860 to ........................
2 Sarah Esther Ferebee b: 04 May 1814 in Marylebone, London Mar: Abt. Jun 1844 in Marlebone, London to ..............................
3 Lucy Ferebee b: 26 Dec 1815 in London; Mar: 03 Jul 1836 in Paddington, St James, London to John Thorp
4 Caroline Ferebee b: 10 Nov 1822 in London d: 1876 in Poplar, Bethnal Green) she mar: 28 Mar 1858 in Marylebone, Middlesex to Nathaniel Arthur (b: 1828 - his Father: Henry Arthur; Mother - Sarah; he d: Abt. Sep 1892 in Bradfield)
5 Louisa Ferebee (b: Abt. Oct 1824 in London) Mar: 28 May 1855 in St. Marlebone Parish Church, London to William Masters (b: 1837 in Axbridge, Somerset - his father: James Masters ; d: Abt. Mar 1887)
6 Richard Ferebee (b: 1829 in St James, London; d: Abt. Mar 1886 in Pancras London) Mar: Abt. Dec 1855 in Marylebone, Middlesex to Diana Hewett (b: 1829 in Marylebone, Middlesex; d: Abt. Dec 1890 in Marylebone, Middlesex) Their family:
i Richard William Ferebee (b: 31 Aug 1856 in Marylebone, Middlesex; d: abt Dec. 1856

ii Sarah Elizabeth Ferebee (b: 17 Mar 1858 in Marylebone, Middlesex) mar: 24 Jan 1883 in Trinity Church, Paddington to William Nudds (b: 08 May 1861 in Marylebone, Middlesex - his Father: William Nudds) Ther family;

a William Richard Ferebee Nudds b: 30 Jun 1884 in Marylebone

b Elsie Minne Nudds b: Abt. Sep 1886 in Marylebone

c Louisa Elizabeth Nudds b: 1895
7 Fanny Ferebee b: 1833 in London; d: 1900 in Kensington, London) Mar: 25 Dec 1858 in St. Marylebone Parish Church to Frederick Samuel Lee (b: 1833 in City Road, St Lukes, Middlesex - his father: Richard Lee; d: 1873 in London) Their family:
i Caroline Sarah Lee b: 17 Feb 1860 in Paddington London

ii Richard Lee (b: 1863 in Brompton Kensington d: 1903 in London) Mar: 1892 to Martha Gray (b: 1868 Died: 1897)

a Frank Lee b: 1896

b Margaret Lee b: 1897

*2nd Wife of Richard Lee: Mar: 1900 in St Giles, London to Charlotte Elizabeth Draper (b: 1868 in St Dunstan in the West, London, her father: William Draper and mother: Rebecca) Their children:

a Charles Richard Lee (b: 1901; d: 1936 in Lewisham, London) Mar: 1920 in Southwark, Surrey to Mabel Frances Gardiner b: 1902 d: in New Zealand)

b Thomas A T Lee b: 1903 in Clerkinville, London

iii Arthur Lee b: 1866 in Kensington

iv Samuel Lee b: 1869 in Kensington

v William Lee b: 1872
Images and data used in this site copyright - ©
Please
and replace # with @ in my address. All pages have Sound