ALFRED PELVIN was Richard and Elizabeth's 3rd son. He was born 21 Apr 1863 in Maidstone, Kent, England where his father was employed by the West Kent Militia at Tunbridge Wells. His baptism was solemnised 31 May 1863 in the Tunbridge Road Maidstone Wesleyan Methodist Chapel by the Rev. Joshua Priestly (if you click the church image - it will enlarge).
Alf was 2 months old when his family sailed - his name is not recorded among the 420 immigrants with his parents and two brothers Henry and Richard and sister Rose on board the sailing ship "Lancashire Witch" that left London for Lyttelton on 4th July 1863. Shortly after departure, scarlet fever broke out causing the deaths of three adults and 23 children who were buried at sea. That Alf stayed safe speaks volumes for the care Elizabeth, his mother exercised - she and father Richard assisted the doctor. The commander Captain West, called at Capetown for fresh provisions but disease on board prevented any passengers being permitted to land. Despite the diversion, the ship made the passage to Timaru in 93 days arriving at Timaru 10/10/1863 where the Pelvins and some other passengers were landed. The ship then proceeded to Lyttelton where on arrival, it was immediately placed in quarantine.
While their house was being built, the Pelvin family were housed at the Timaru Immigration Barracks where Richard was appointed Barrack master. They settled on their farm at Claremont - here the Pelvin children first received private schooling and later were educated at the newly built Claremont school built in 1878.
1881 Wright's Australian and American Commercial Directory and Gazetteer, Makikihi, Canterbury, 18 miles S. from Timaru, Waimate County. The population is 320. There are 3 Blacksmiths - W. Gleich; Alfred Pelvin (18Y); George Vale
In 1882, Richard Pelvin purchased Sections in close proximity to Redcliff Road, an area totalling 595 acres - his farm was known as "Sabroan Farm". (16 miles from Waimate and 10 miles from Glenavy.)
Alf Pelvin worked at Oamaru - this excellent reference was received in Dec. 1886 from his employer John Jack - this business later moved to Thames Street, Oamaru and known as the North Otago Foundry. (shared by Gt-grandaughter Rose Pelvin)

join and participate fully in their proceedings.
The Ancient Order of Foresters was a friendly society that promised mutual aid and well-being of its members (it was first formed in 1834 in England)
MARRIAGE: On the 8th Dec 1886, Alfred mar: MARY ROBERTSON BRUCE at the home of her parents at Mill Road, Waimate - witnesses were Alf's brother Richard Charles Pelvin of Waitaki North and Margaret Werges of Waimate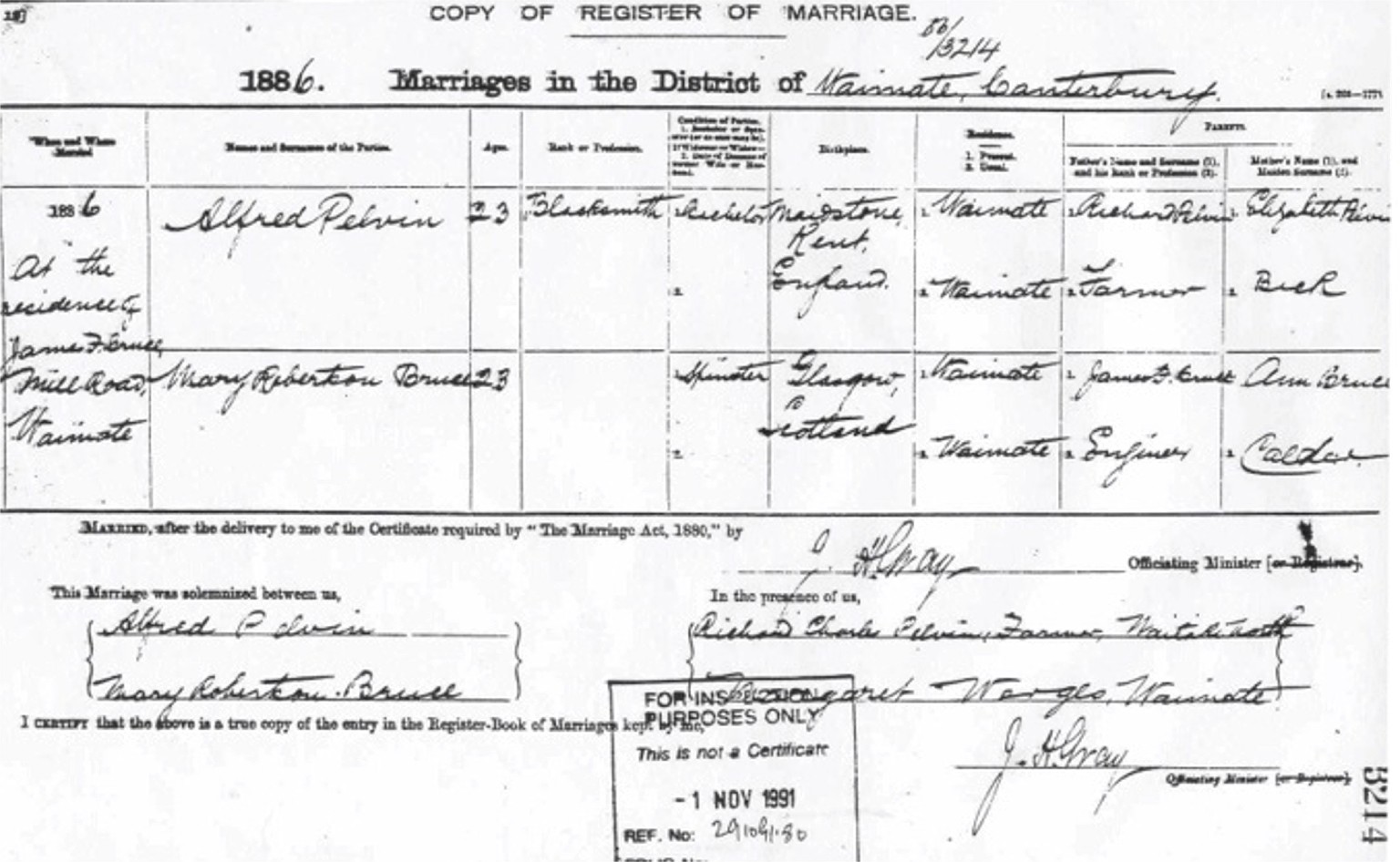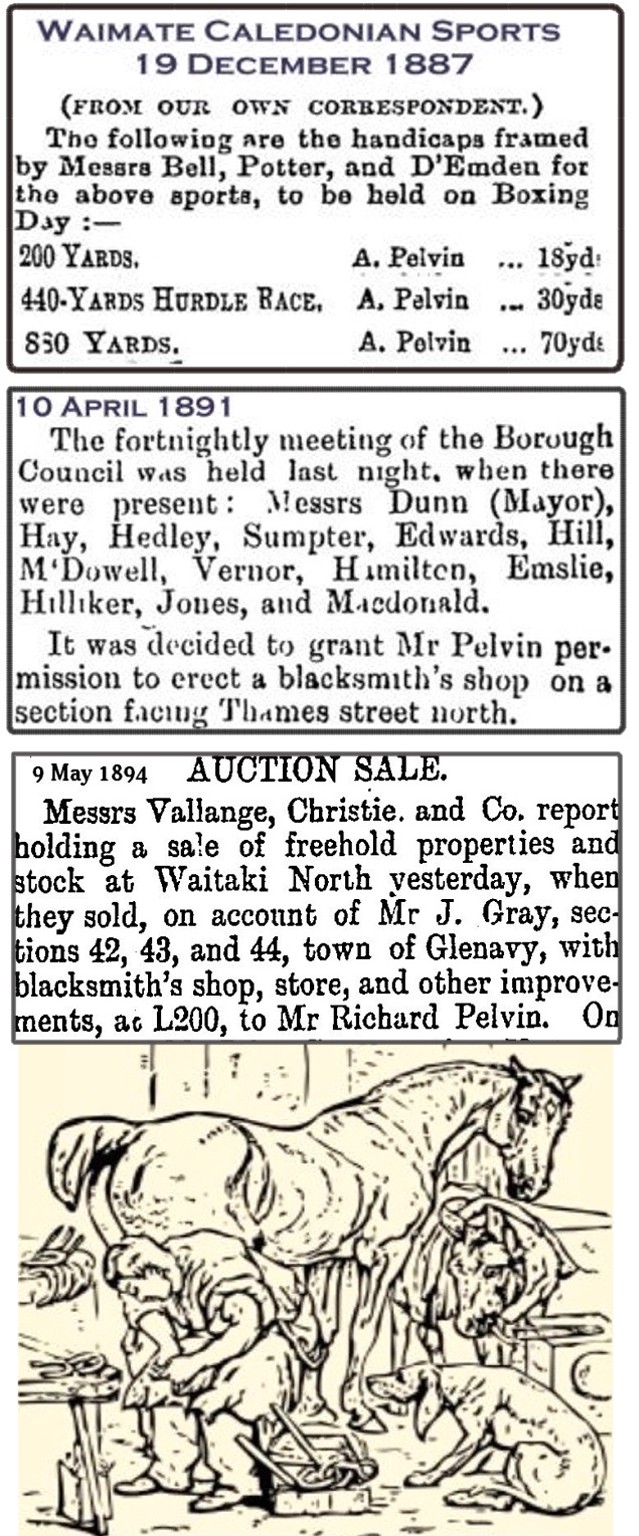 Mary was the daughter of JAMES BRUCE and ANN CALDER (b: 29 Nov 1863 in Springburn, Glasgow, Lanark, Scotland, she arrived 6th Feb 1878 at Port Chalmers, Otago in New Zealand on the ship "Wellington". She d: 24 May 1926 aged 62 years in Waimate Hospital; bur: 26 May 1926, Waimate Old Cem. Plot 329) Click here for Alfred and Mary Pelvin's 8 children
1887: Alfred competed in the Waimate Caledonian Sports on Boxing day, 26th December
10 Apr 1891; Alf Pelvin applied to the Oamaru Council to erect a blacksmith's shop on a section facing Thames St. North.
15 June 1891: Oamaru Mail: A. PELVIN Begs to Announce that he has COMMENCED BUSINESS as Horse-Shoer, GENERAL BLACKSMITH, Wheelwright, and Machinest, Next Door to Shamrock Hotel, Thames Street. All kinds of Implements Made and Repaired. Horses Carefully Shod.
1892 NEW ZEALAND DIRECTORY. Pelvin Alfred, blacksmith, Thames St. Oamaru; Pelvin Alfred, residence Exe street, Oamaru
1893 Mary Pelvin's registered her vote in the womans first electoral roll for the Oamaru Electorate - residence living at Exe Street, Occ: wife.
By 1893 Alf Pelvin was finding difficulty in meeting the financial committments of his outlay and costs of running his business several creditors resorted to court action for payment of goods supplied.
In MAY 1894, Alf's father Richard purchased sections and buildings at Glenavy and Alf moved from Exe Street Oamaru with his family to take up residence and run his blacksmith business at Glenavy
Over many years Alf was a popular MC for well attended Glenavy evening events and both he and his wife assisted entertainment with songs and recitations He was valued for his support of community affairs - appointed on committees of the Waitaki North Domain Board; Trustee of Waitaki Nth Cemetery Board serving 1897 until 1906; elected on committee of Waitaki North (Glenavy) school 1894; The Glenavy Mutual Improvement Society; trustee for the Glenavy library etc
11 NOV 1897: STAR; Sale of Township Crown Lands; At an auction sale of sections in the Glenavy township, Waitaki survey district at the Board-room of the District Land and Survey Office, Christchurch. Sold : Section 27, one rood to Alfred Pelvin, £10;
29 Sept 1899; Timaru Herald: "WE, the Undersigned Blacksmiths, have agreed, owing to the large increase in the Price of Bar-iron, to RAISE the Price of SHOEING from the present rate, 5s, 6s, and 7s, to 6s, 7s, and 8s per set. Steeling Toes is extra per set, and also strictly adhere to catalogue prices for all parts and fittings. Freight added as enumerated in the respective Catalogues, to take effect from Oct. 2 1899: A. Pelvin and J. Thompson, Glenavy.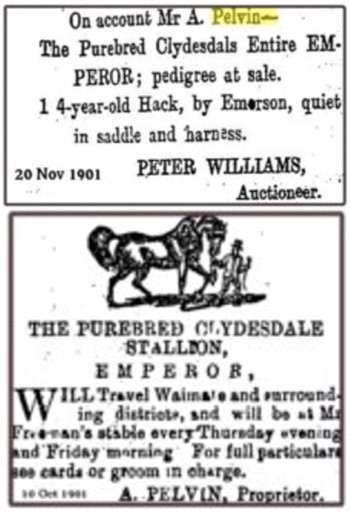 Alf was interested in owning and the breeding of
Clydesdale
horses, a heavy draught horse that originated from Scotland that were
imported to New Zealand
for farm use and valued for their pulling power and endurance.
Canterbury Cyclopedia - Glenavy, formerly known as Waitaki, is situated in the Waihao riding of the Waimate county, about a mile to the northward of the fine bridge over the Waitaki river. This bridge is three-quarters of a mile in length. It is used for road traffic, and has a gate at each end, under the control of a caretaker. The township consists of a fine hotel, two stores, a blacksmith's shop, saddler's shop, a railway station and post office combined, a church and hall combined, a public school, and a police station. A monthly sale of stock is held at the sale-yards attached to the Glencoe Hotel, and is largely attended by settlers from the surrounding districts. The railway station, stands at an elevation of seventy-four feet above sea level, and is ninety-three miles from Dunedin and 138 from Christchurch. At the census of 1901 the population of the village was set down at ninety-eight. The flat land in the neighbourhood yields excellent pasturage, though it is covered somewhat thickly with large water-worn pebbles. Glenavy is a convenient resort for anglers, who visit the Waitaki river, which abounds in fine trout.
12 May 1903: NTH OTAGO TIMES: Auction: Messrs Guinness and LeCren (Limited) report sale of town properties at Waimate - Lot 1, three sections at Glenavy, on account of Mr A. Pelvin, to Mr M'Innerny, together, with blacksmith's shop, etc., and house, at £285; (the same buyer purchased lot 2, a ¼ acre section adjoining, for £l8.)
20 MAY 1903: NTH OTAGO TIMES, Our Glenavy correspondent writes: At a public meeting, held in the schoolhouse, on Saturday night last, a strong committee was formed with a view of working up a farewell social to Mr A. E. Pelvin, who is about to leave Glenavy.. With the forces available, l venture to predict a great-turnout of the folks in the district, who will not lose this opportunity of farewelling one who always gave his services fully and freely for everything, ungrudgingly.
16 Sept 1903: Otago Witness: WEEKLY LIVE STOCK AND PRODUCE REPORT. Mr A. Pelvin bought a three-year-old gelding for £17
30 Sep 1904: THE COURTS -TO-DAY. MAGISTRATES COURT: (Before G. Crookshank, Esq., SJM.) Thomson, Bridger, and Co. v. Alfred Pelvin (Glenavy).—Claim, £lO 19s 3d, goods supplied. Mr Moore for plaintiffs.— Judgment, with 40s 6d costs
This photo was not correctly dated - Employer -John Cunningham (b: 1851 Fife Scotland; d: 1959 bur: Oamaru Cem)

John previously owned Cunningham's Coach Factory situated in Tyne Street. After a clearing sale April 1908, he took possession of the Sinclair building and in 1911 he again moved the firm's operation to Coquet Street

This staff photo which included Alf Pelvin was likely taken shortly after the Cunningham purchase in 1908.
15 JUNE 1914: OAMARU MAIL, An exceedingly painful accident occurred to Mr Alfred Pelvin, who is employed in Mr T Drennan's coachbuilder's shop in Steward street. He was motor-cycling to Glenavy, and had just remounted his machine after crossing a creek near Waitaki South when the petrol tank became ignited. He does not know how the accident happened but the petrol tank exploded and in a second his trousers were saturated with blazing petrol. Fortunately he had not got up speed, and was able to fall off instantly, but before he could extinguish the flames he was badly burned about the thighs.

He made for the nearest water-race, but on the way was so severely burned Although in great pain he managed to walk to the house of Mr David Williams, J.P. a distance of about, a mile and a-half. where he was treated with every kindness until the arrival of the Ambulance brougham. In addition to the burns, Mr Pelvin's face was considerably cut bv the fall. The latest news from the hospital was that Mr Pelvin spent a good night, and is getting on very well. The sufferer was attended by Dr Scott.
Alf spent nearly 12 months in the Timaru Hospital and after a long period recuperating he was for a time engaged in blacksmithing at Glenavy, and subsequently removed to Waimate, purchased a vehicle and became the first taxi operator in Waimate

TIMARU HERALD, 24 APR 1918 WAIMATE BOROUGH COUNCIL. Alfred Pelvin was granted permission to stand with his taxi cab in front of the Post Office, and to connect a telephone to the box already there.

WAIMATE DAILY ADVERTISER, 27 APRIL 1918 FOR PROMPT AND DEPENDABLE Service Ring 73 or come to P.O. Stand. A. PELVIN ... .... Proprietor

7th Apr 1921 - Alf Pelvin was killed when he fell off a roof while working in Timaru Road, Waimate.


Ashburton Guardian: 7th Apr 1921: WAIMATE; Alfred Pelvin, formerly a blacksmith, a married man, aged 58, with a grown-up family, fell from the top of a ladder and became impaled on a crowbar stuck in the ground, the point entering the lower abdomen. He died at the hospital this morning.

The late Mr Alfred Pelvin, was well known in Oamaru, where he worked for Mr T Drennan, Steward Street. Later he was engaged in blacksmithing at Glenavy, giving up this employment to run a taxi, and subsequently removing to Waimate. It will be recalled in 1915, Mr Pelvin suffered a very painful accident and was so severely burned that he was an inmate of Oamaru Hospital for over a year and had to return for subsequent treatment.

Alfred Pelvin's will

(Dated 28th July, 1914,named his Executors - brother Arthur Ernest Pelvin (Retired Farmer of Timaru) ) and son Henry Pelvin (Labourer, Waimate) All moneys to be left to his wife Mary Robertson Pelvin - Probate May 6th 1921 for £650

Click here for Alfred and Mary's children
Click on any words underlined - they have a link. I have endeavoured to put correct spelling of names - please help! BIRTHDATES are not included for family members who are living for their privacy - if required by close family, please request this. Should you prefer not to have your name added, ask and it will be removed. Can you assist with single portraits or family groups which could be placed with names to expand this research?
Images and data used in this site are copyright.