Henry and Sarah Stone

| | |
| --- | --- |
| Henry Pelvin | St Mary Abbot, Kensington |
Henry Pelvin was b: 1780 in Boxley, Kent England Bapt: 05 Mar 1780 All Saints, Maidstone, Kent son of Peter and Lydia Pelvin; Occ. Gardener; he d: 12 Oct 1845 at his home 5 Uxbridge St, in Kensington aged 65yrs; Bur: St Mary's Abbots, Kensington, Middlesex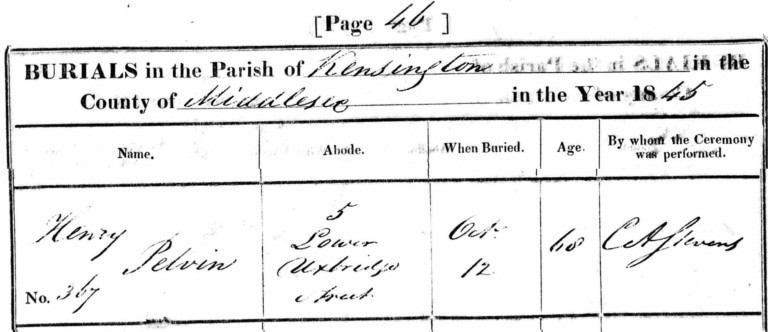 Henry mar: 13 Oct 1799 in All Saints Church, Maidstone, Kent to Sarah Stone (b: 1779 to parents John Stone and mother Elizabeth nee Weekings; she d: 23 Feb 1857 in Kensington, London; Bur: St Mary's Abbots, Kensington)
Henry and brother Stephen with their families moved to live in Kensington, London in 1818 and lived at Uxbridge St finding work as gardeners

About 1825 Henry joined a business partnership with 3 others as rubbish collection - this initiative was to fail.

1827: THE COURT FOR RELIEF OF INSOLVENT DEBTORS;
The Matters of the PETITIONS and SCHEDULES of the PRISONERS hereinafter named (the same having been filed in the Court) are appointed to be heard at the Court-House, in Portugal Street - Lincoln's-Inn-Fields, on Friday the 25th day of May 1827, at Nine o'clock in the Forenoon.
Pelvin, Henry - late of Uxbridge-Street, Gravel Pits, Kensington, Middlesex, Labourer and Dustman (carrying on business as a Dustman in Partnership with John Hange, William Scott, and Richard Beven).

Henry and Sarah's children;

i John Stephen Pelvin (b: Abt. 1800 in Maidstone, Kent; Bapt: 23 Jul 1800 All Saints, Maidstone, Kent; d: not yet known - thought to be at sea either going or returning from Crimea)

ii Ann Pelvin (b: 11 Jul 1802 in Boxley, Kent Bapt: 11 Jul 1802 BoxleyChurch, Kent d: 1819)
iii Mary Elizabeth Pelvin (b: 24 May 1806 in Cuxton Kent Bapt: 22 Jun 1806 Cuxton C.of E. Church, Kent d: Abt. Sep 1877 in Kensington, London)
Src: IGI; Baptism - Date 22 Jun 1806; Place PARISH CHURCH, CUXTON,KENT,ENGLAND; Father's Name Henry Pelvin Mother's Name Sarah; Index: (Batch) Number C13518-2; Film No 992537

1861 census (Household Name Relationship to Head of Household Condition Gender Age Occupation Birth Place) John Parry Head Mar: M 35 City Missionary Newington, Surrey; Emma Parry Wife Mar: F 36 St Austell, Cornwall; Christopher John Parry M 7 Islington, Middlesex; Edwin Parry M 2 Islington, Middlesex; Mary Elizabeth Pelvin Visitor Unmar: F 55 Dressmaker Cuxton, Kent; Lydia Sarah Leach (Mary's niece) Visitor Unmar: F 23 Servant Kensington, Middlesex
iv James Pelvin (b: 1815 Occ: Soldier, Pvt. H.M. 3rd Light Dragoons. d: 18 Sep 1849 aged 34 years. He was bur: the following day 19 Sep 1849 at Umballa, Bengal, India (200 kms North of Delhi.) Brother Richard in his diary refers to action at Umballa and endeavouring to change to James's regiment.
iv Martha Pelvin (b: 1817 in Gravel Pits, Middlesex, England Bapt: 06 Jul 1817 Gravel Pits, Middlesex, England; d: Abt. 11 Jun 1834 in St Mary Abbots Church, Kensington)
v Richard Pelvin (b: 28 Apr 1821 in Gravel Pits, Kensington, Mdx, Kent; Bapt: 7 Nov 1821 Maidstone, Kent; d: 3 May 1902 in Timaru Bur: 6 May 1902 Timaru Cem.)
Richard mar 18 Aug 1856 in St Mary's, Curragh Camp, Donnybrook, Dublin, Ireland to Elizabeth Beake (b: 01 Dec 1828 in Western Zoyland, Somersetshire her father: William Beake, mother: Elizabeth Salter; Bapt: 23 Sep 1829; d: 15 Oct 1914 in Timaru; Bur: 17 Oct 1914, Timaru Cemetery)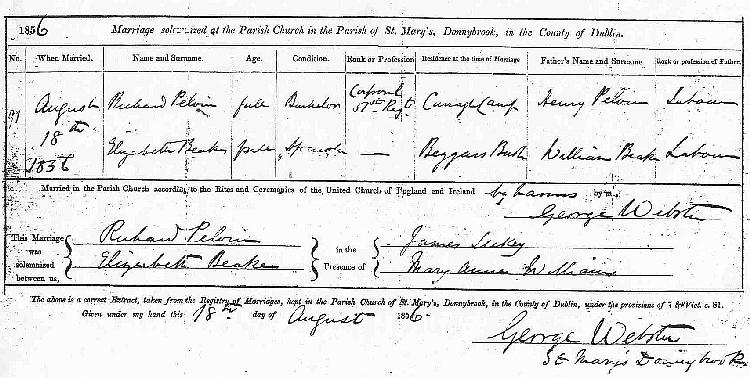 Images and data used in this site copyright - �

Please

and replace # with @ in my address. All pages have Sound