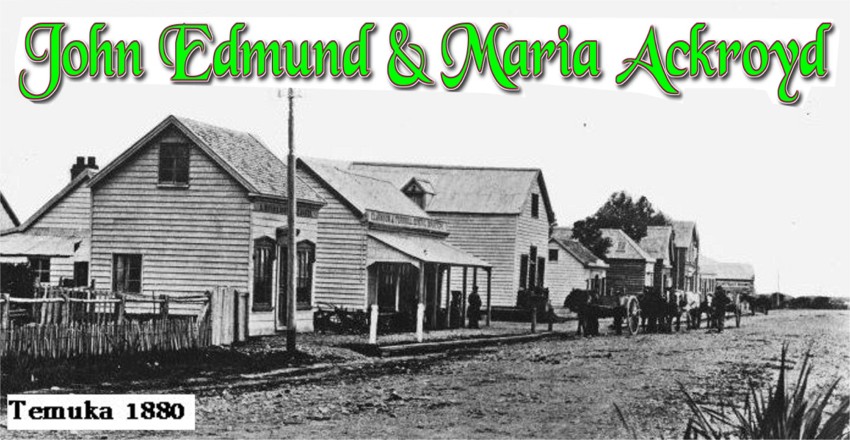 JOHN EDMUND ACKROYD was the son of Jonathan Ackroyd (1813-1890) a carpet weaver, and mother Hannah Eastwood (1818 - 1860) John was b: 16 Feb 1839 in Halifax, Yorkshire, England; bapt 20 Sep 1840 Sowerby Bridge, Christ Church, Yorkshire - he d: 10 Nov 1921 aged 82Y at Temuka, New Zealand.
In 1851 at the age of 12Y, John was employed as a spinner living with his parents, sisters Martha (incorrect name - she was Mary Ann) (25Y); Betty (15Y); Zilpha (9Y); and brother James(20)

Feb 16 1859, John Ackroyd immigrated to New Zealand in the ship Clontarf
landing at Lyttelton on the 6th Jan, 1859
Lyttelton Times: The arrival of the Clontarf on Thursday has filled our town with the bustle and crowd which we now look for regularly once a month. This ship brings in a larger number than usual of regular country-bred agricultural labourers, just in time, after the period required for settling down into their places, to lend their aid in the approaching harvest; which we wish, by-the-bye, was likely to show as great an increase over former years in abundance, as would be proportionate to the advance of the province in other respects. Though not a few of the arrivals by the are "to order", or in other words, coming to friends already in the province, the number in all is so large, that not fewer than usual will be open for engagement generally.
John first worked for Major Hornbrook on the Port Hills, Christchurch, then spent a time at the diggings. He next purchased a team of bullocks with which he carted wool and produce to and from the Mackenzie Country - not an easy task then as there were no roads or bridges, and it was necessary sometimes to swim flooded rivers. A humane driver, John took with him a supply of hay for the purpose of feeding his bullocks when they were out spanned, whereas the general practice of some carters to allow the animals to find their own fodder in the tussocks and other herbage. After a time, with the advent of roads, bullocks gave place to horses which were iron-shod, and John then used horses. His mates were John Martin and Michael Gaffaney.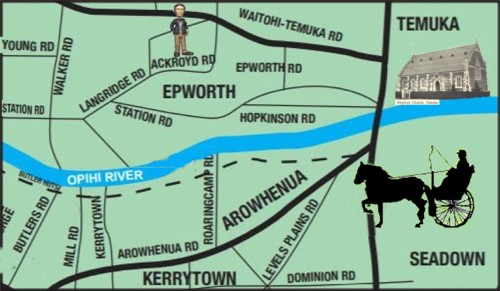 In 1862 John bought a farm at Waitohi Flat in conjunction with another farmer Henry Roland Goodeve, called "Dairy Green", which they later sold. This gave him the residential qualification to be eligible to vote and in 23 Apr 1864 he applied to be put on the electoral Roll of the district of Timaru - John Edmond Ackroyd; Place of abode - Arowhenua; Qualification - Freehold; 156 acres property situated on Rhodes island, Section back of Arowhenua Bush, Geraldine district; (Attested by T R Raynor)
On the 24th Mar 1862, John Ackroyd aged 23Y, mar: at the house of William Hornbrook, Arowhenua Bush, Temuka to MARIA TAYLOR, the daughter of Robert and Mary Taylor of Timaru.
Robert Taylor was better known to old residents of South Canterbury as Bobby Taylor, died at the Timaru Hospital 3 Mar 1898, at the ripe age of 85. He was one of the pioneers of the colony in a wider sense than usual, as he took part in the establishment of three centres of settlement - born Bermondsey, London, he arrived at NSW Nov 18 1834. At Tasmania he mar: widow Mary McMemonie nee Howman on Dec 6 1843.( her 1st mar: 23 Apr 1838 was to Robert Mcmemonie on Apr 23 1838 and they had 2 sons at Campbell Town - Robert (b: 1839 Ross, Tasmania; d: 1908 Tasmania) and James (b:1842 d: 1844 Ross, Tasmania) .

Robert and Mary Taylor had 6 daughters - Mary Ann Taylor (b: 23 Oct 23 1843 at Fingal, Tasmania; d: 1893 ChCh); Maria Taylor (b: 31 Jul 1845; d: 16 Jul 1910 Waitohi) and Phoebe Taylor (b: 17 Mar 1848; d; 9 Jan 1927 Timaru) were both born at Campbell Town, Tasmania. At Wellington, daughter Sarah Taylor was born (b: 11 Oct 1850; d: 11 May 1919 at ChCh) - here as a builder and joiner by trade, Robert helped to build up the first wooden Wellington. Their next 2 daughers Hester (Esther) Taylor (b; 11 Jan 1853; d; 24 Mar 1929 Temuka) and Selina Amelia Taylor (b: 2 Nov 1855; d: 26 Feb 1915 Timaru) where born at Lyttelton where their father Robert found a ready need of his work to assist in preparing housing for the arrival of the flood of pioneer immigrants to Canterbury. Robert is documented on the electoral roll 1854 as living at Oxford St, Lyttelton Qualification - leaseholder and house holder - his trade to build the first township on Port Cooper. A good and ingenious tradesman, Robert's abilities were eagerly sought in those days as a general adviser or amateur practical architect. Wife Mary died 08 Mar 1857 at Lyttelton where she is buried.

The following year, Robert remarried on 8 Feb 1858 to Jane Snelling (b: 1812 - she arrived 1857 on the Glentanner aged 41Y - d: 1887 at Timaru). After the arrival of the Strathallan in 1859, Robert moved south to Timaru where he commenced business as builder, contractor, and undertaker - many of the old structures in Timaru bear the marks of his tools. After some years he tried hotel keeping, in a small house in Beawick Street called the Square and Compass (Mr Taylor was a Mason), but he was burned out of this in a fire which destroyed the original Ship Hotel and South Canterbury Times office. Robert Taylors building used as a workshop, was in in Beswick Street . It was scorched by the fire but escaped destruction, and this the deceased converted into a general dealer's shop. He next transferred his business to a shop in Grey Road, where he carried it on until increasing infirmity compelled him to relinquish it. He was known to everybody in the early days - respected for his uprightness, and extremely popular for his quaint humour and like Yorick, a fellow of infinite jest. He was one of the oldest Masons and Foresters in Canterbury, and the father of the Foresters Lodge in Timaru, and both of these orders did their duty by him in his declining years. His daughters, all married, left many grand-children and some great-grand-children, most of them in South Canterbury, others at Christchurch and Lyttelton.
John Ackroyd's next farm was "Mile Thorn," at Waitohi and here he and Maria brought up their large family of 13 children. (2 are not know and likely died at birth) John Ackroyd took no part in public affairs, was a church warden of the Church of England, and a member of the first water race committee of Waitohi - known as a man of integrity he earned the goodwill and respect of all who knew him. Among his old friends, he was at first known as Halifax Jack, and as he became better known, this was changed to Honest Jack.
Friday June 21 1889: Arowhenua Town Board: Advice from Mr W. Ackroyd and Mr Nicholas re the bad state of road between Tavender's bridge and Mackenzie corner

1899 John Edmund Ackroyd wrote: I paid £l8 to come to the country 41 years ago, I have been settled on the Waitohi Flat, alongside of the Arowhenua Estate, for 39 years. I have done half share of the fencing where my land joins the estate. I have had fifteen of a family born on the place. Click years: 1897

; 1898 and 1899

Timaru Herald: Death: On Friday last, 16 Jul 1910 there , Mrs J. E. Ackroyd, (Maria) aged 60y died at Temuka

Timaru Herald: 16 Jul 1910: Funeral Notice: Friends of Mr J. E. Ackroyd are respectfully informed that the funeral of his late Wife will leave his residence, Mile Thorn Farm, on MONDAY July 18th, at 2 o'clock, for the Timaru Cemetery.

Temuka Leader: 19 Jul 1910: The late Mrs Arkroyd was the daughter of Mr R. Taylor, one of first settlers in Timaru. She was of a kind and generous disposition, and was well liked, and highly esteemed by her neighbours. She leaves a husband and a family of ten - eight daughters and two sons Arthur and Herbert at Waitohi to mourn their loss. Her, daughters are all married and most of them settled in this district - Mrs Leonard Rooke, Arowhenua; Mrs Joseph Lee, Queensland; Mrs Sydney Morris, Ngaruawahia; Mrs Geo. McCullough and Mrs William Lyon, Waitohi; Mrs Arthur Logan, Studholme, Mrs Mitten, Temuka; Mrs Joseph Barrv, Clandeboye. The funeral took place yesterday, and was largely attended. Mr Ackroyd and family have the sympathy of a large number of friends in their sad bereavement.

John Edmund Ackroyd retired from farming. For years his eyesight had been failing, and age took it's toll on his health. His death was not unexpected when on 10 Nov 1921, at the age of 81 years he passed away at his residence "Mile End Farm", Waitohi, Temuka.

His Will stated: "I desire that my trustees shall expend the sum of £50 in the purchase and erection of a suitable tablet or momento to be placed in St Peter's Church of England at Temuka with the permission of the authories of the said Church" (LCHR: to my wife £3000, all household furniture, motor car and cows, and income from trusts)

Below, are John Ackroyd's (JEA) bequests to his individual children - Click each name to view their page.
i. EDMUND JONATHAN ACKROYD (b: 31 Dec 1862; Temuka; d: 9 Dec 1903) Farmer; He did not marry.

ii Mary Hannah Ackroyd (b: 18 Aug 1864 in Arowhenua d: 26 Aug 1949) (JEA: I bequeath Mary my gold presentation watch and sum of £600) She mar: 1893 to Leonard Charles Home Rooke

iii. ANNIS ELIZABETH ACKROYD (b: 03 May 1866; d: 09 Jul 1936) (JEA: I bequeath £1100) She mar: 1895 to JOSEPH LEE b: 1870 in Temuka; d: 16 Apr 1947 Occ: farmer of Brookstead, Queensland
iv. ROBERT ACKROYD (b: 04 Jan 1868; d: Mar 1868; bur: Geraldine aged 2 months)
v. LOUISA ACKROYD (b: 17 May 1869; d: 1949) (JEA: I bequeath £1100) she mar. 1888. to SYDNEY JOLIFFE MORRIS, Occ: Farmer Ngaruawahia (1861-1914)
vii. JANE ACKROYD (b: 30 Jun 1890; d: 08 Jan 1946) (JEA: I bequeath £600) She mar:1892 to Arthur Irwin Logan (1860-1933) Occ: farmer of Studholme
viii.

ADA ACKROYD

(b: 28 Jun 1874; d: 12 Nov 1954) (JEA: I bequeath £600) She mar: 1897 GEORGE MCCULLOUGH (1874-1943) Occ: Farmer of Temuka
ix. HARRIET ACKROYD (b: 6 May 1876; d: 3 Oct 1949) (JEA: I bequeath £600) She mar: 1902 to William James Lyon (1872 - 1946) Farmer of Temuka

x. ALICE AMELIA (Millie) ACKROYD (b: 18 Nov 1878; d; 5 Mar 1890)

xi. MABEL THERESA ACKROYD (b: 2 Sep 1880; d: 8 Aug 1933) (JEA: I bequeath £500) She mar. 1900 to PATRICK MITTEN (1871-1946) occ: farmer of Temuka
xii.

ARTHUR ACKROYD

(b: 25 Sep 1882; d. 20 Jan 1929) (JEA: I bequeath my freehold farm 181 acres 2 roods 14 perches known as Mile Thorn Farm where my son now resides plus the sum of £500) ) He mar. 1907 to EMILY MAUD BENBOW, (1887 - 1967)

xiii.

BERTHA ACKROYD

(b: 3 Aug 1885; d: 14 Jul 1950) (JEA: I bequeath £850) She mar: 1908 Joseph Garrett Barry (1879-1937) farmer of Clandeboye.

iv.

HERBERT ACKROYD

(b. 12 Jul 1887; d: 14 Jun 1938) (JEA: I bequeath all furniture and household effects in my house at the time of my death after each of my children shall have the right to select one article as a momento provided such article value does not exceed £5) He mar: EDITH EMILY THOMAS (1898-1963)
Under construction...can you help?
To conform to the Data Protection Act all pages have been altered to exclude details for living people other than the name. Images and data used in this site copyright - ?

If you can help, have comments, alterations, corrections, amendments etc. please