GEORGE HERBERT CONE
was born September 06, 1880 in Waitohi. and died October 30, 1956 at Orbell St, Timaru. Burial: Timaru Cemetery. He married EVANGALINE (EVA) ELIZABETH HAYMAN 1907, daughter of
THOMAS HAYMAN
and ANN KINGSBURY. Eva was born March 10, 1885 in Willowby, Ashburton, and died June 1980 in Timaru. Burial: Ruru Lawn Cemetery, Christchurch Their children:
1. PEARL EVANGALINE CONE was born April 01, 1909 in Auckland, and died April 30, 1953 in Dargaville where she is buried. She married JOHN EDGAR (JACK) ROBERTS in 1934. He died October 02, 1957 in Palmerston North. Burial: Dargaville Cemetery.
Roberts family: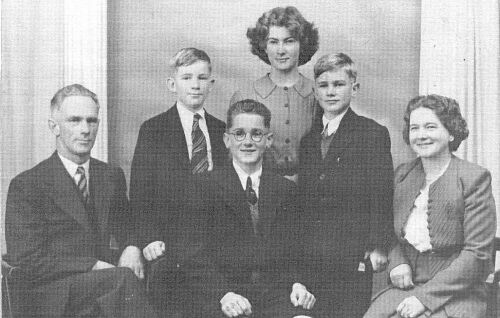 (a) BERYL JEAN ROBERTS b. Whangarei; married BARRY ALEXANDER LITTLE, son of ALEXANDER LITTLE and FRANCES OLLERENSHAW. Their children:

i. KEVIN JOHN ALEXANDER LITTLE, b. New Plymouth m. DEBORAH PATTERSON - 5 children
ii. WAYNE BARRY LITTLE, b. New Plymouth.
iii. BRENT TIMONTHY LITTLE, b. Auckland m. SHARON ELIZABETH HALL - 1 son
iv. ANTONY CHRISTOPHER LITTLE, b. Howick.

(b) JOHN WARREN* ROBERTS, b. April 21, 1937, Temuka; d. February 10, 1967, Te Puke. Burial: Te Puke Old Cemetery. He married SHIRLEY MARGARET MAYHEW at the Te Puke Methodist Church, daughter of HERBERT MAYHEW and LUCY BARNET. Their children:

i. GAVIN JAMES ROBERTS
ii. TREVOR LLOYD ROBERTS m. PATRICIA MARIE LIESHOUT - 3 children

(c) TREVOR GEORGE ROBERTS, b. March 10, 1939, Temuka; d. May 21, 1963, Timaru where he is buried.
(d) DESMOND MURRAY ROBERTS born at Fairlie. He married VALERIE RUTH FRANCES SNELL at Auckland, daughter of ERNEST SNELL and LENICE MANNING. She was born at Hastings. Their children:

i. PHILIP ANDREW ROBERTS, b. North Shore, Auckland; m. BELINDA KRAMER
ii. LEANNE VALERIE ROBERTS, b. Auckland; m. ANTHONY HUGHES
2. ELMA GEORGINA CONE She was born 1912 in Pleasant Point, and died May 03, 1992. Burial: Fairlie Cemetery She married WALTER THOMAS BESWARICK 1939, son of
JOSEPH Hart BESWARICK and FLORENCE Violet Furby
. He was born January 30, 1910, and died November 23, 1990 in Timaru.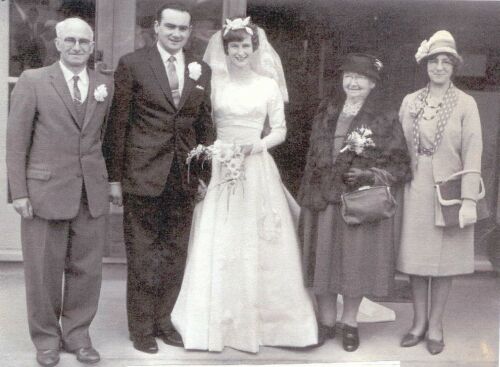 Their son:
(a) IVAN BRUCE BESWARICK married LYNETTE FERNIE MACFADGEN at Timaru, daughter of HAROLD MCFADGEN and IRENE TAYLOR. She was born at Oamaru. Their children:

i. KERRY BRUCE BESWARICK, b. Timaru m. TERESA MARIE LOW - 2 children: Kyle Bruce and Taylor Marie
ii. SHARON FAY BESWARICK, b. Timaru m. ANTONI PETER FACEY - 3 children: Tessa, Jayden and Mariah Sharon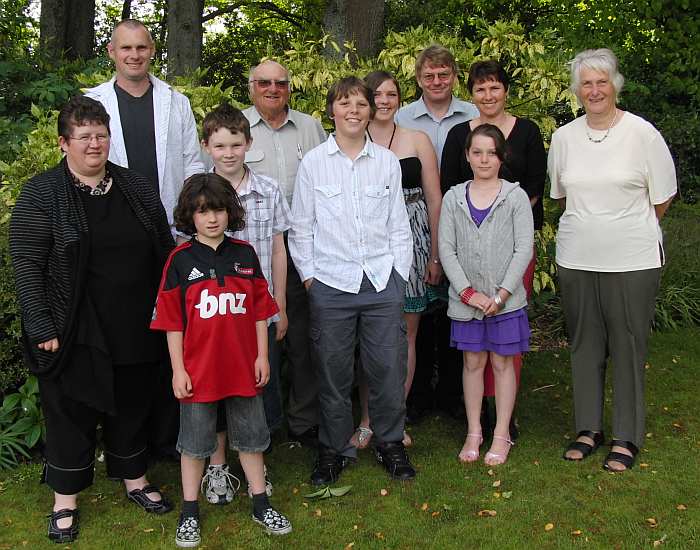 7 Nov 2010 : Back row: L to R) Kerry, Ivan, Mariah, Antoni and Sharon
Middle Row - Teresa, Kyle, Jayden, Tessa; on right Lyn with Taylor front
3.
REX HERBERT CONE
was born March 01, 1916 in Pleasant Point, and died June 23, 2002 in Christchurch where he was cremated. He married DOREEN MARY PHILP April 11, 1938 in Temuka, daughter of HENRY PHILP and MARY CONWAY. Their children:
(a) DEREK REX CONE born Temuka. He married (1) WENDY. He married (2) URSULA GARVIN 1961 in Timaru. Their children:

i. SANDRA JANE CONE, b. Christchurch.
ii. MARIE JOY CONE, b. Christchurch.

(b) ALAN GEORGE CONE. Was born at Temuka. Partner is JUDY. He married MARGARET ANN KEARNS at Timaru, daughter of IAN KEARNS. She was born U.K.. Their children:

i. MARK ALLAN CONE, b. Timaru.
ii. PAUL JAMES CONE, b. Timaru; m. KORRI.
iii. LISA ANN CONE, b. Timaru; m. EVAN.

(c) MALCOLM HENRY CONE was born Temuka. He married MARIAN CLEMENCE MCKENZIE at Waimate, daughter of JOHN MCKENZIE and CLEMENCE WHITE where she was born. Their children:

i. JULIAN MALCOLM CONE and wife CINDY ROBINSON have two sons - ISAAC REX ROBINSON CONE and ETHAN GEOGE ROBINSON CONE
ii. JARED McKENZIE CONE is married to MICHELLE CAMERON. Their children are JACOB MALCOLM CONE; ELLA LOUISE CONE and WILLIAM JARED CONE
iii. HANNAH CLEMANCE CONE b: Otahuhu
iv. TIFFANY CAROLE CONE b: Timaru

(d) LESTER CONE (SBC) b/d. May 25, 1948, Temuka.

(e) GEOFFREY PETER PHILP CONE) was born Timaru. He married (1) DEBORAH and (2) SUSAN ELIZABETH PERRY Children of GEOFFREY CONE and SUSAN PERRY are:

i. EDMUND (NED) CONE/ALISON
ii. MIRANDA CONE/ALISON









Images and data used in this site copyright - ©

Descendant input to up-date family pages is very welcome - more detailed information available on request