John Shepherd & Sarah Pelvin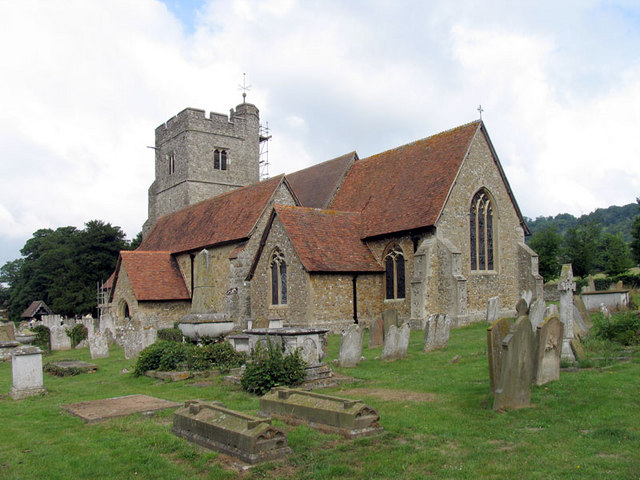 John Shepherd Pelvin was Bapt: 6 Apr 1806 at Boxley All Saints Church, Kent, son of Stephen Pelvin and mother Elizabeth nee Goble; he d: May 26 1874 in Lamberth Kensington (The district Kensington spans the boundaries of the counties of Greater London, London and Middlesex)Bur: May 28, 1874 at Norwood Cem., Norwood Road, Lambeth. John's home address was 10 Alma Place, Lyham Road (many of the family lived in Lyham Road)
John mar: 28 Sep 1829 in Saint James, Paddington, London to Sarah Smith (b: Abt. 1808 in New Cross, Kent, England; she d: Abt. Sep 1885 at Wandsworth, Kensington, London)
1841 Census St Margaret, Middlesex, England - living at 10 Alma Place, labourer aged 34 yrs, with wife Sarah aged 33 and their family - Ann (11), Sarah (7), Elizabeth (5) and John (3).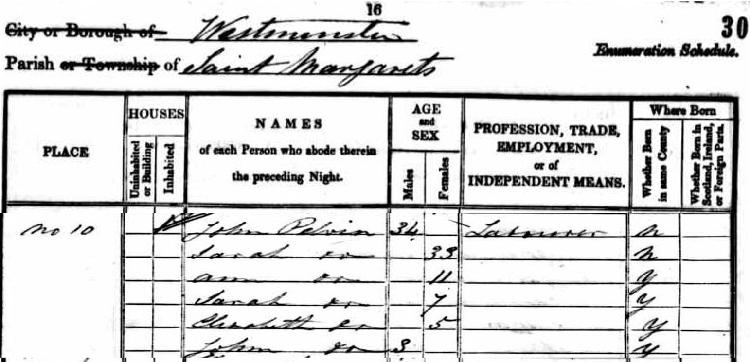 1851 - Census: John (Blain) Pelvin was 44 years old and lived in Pleasant Retreat, 19 Henrys Cottages, Brixton, Lambeth England with his wife, Sarah, 3 sons, and 3 daughters -Elizabeth 15; John 11 Errand boy; Mary 8; James 7; Martha 4; Stephen 1 yr
The early to middle 1800s was a period of rapid and major building expansion in and around London - villages such as Islington which were well outside London at the beginning of the century had become part of a continuous and much larger 'greater' London by the end of the century. Following the great fire of 1666 wood was outlawed for main construction, so the clay from designated building sites all over London was used to make bricks. Kilns were a common sight, with their smoke and pollution dominating in every direction. The painting shows an unnamed kiln works in the area of Islington /

Clerkenwell/Somerstown/St Pancras around 1830.
1861 - Census: John Pelvin, a brickmaker was 55 years old in 1861 and lived at 10 Alma Place, Clapham, England with his wife, Sarah, 2 sons, and 4 daughters - Sarah 27, Elizabeth 25, Mary 18, James 16, Martha 14 & Henry 10
1871 - Census, Name: John Pelvin is now an invalid, aged 64yrs living at 10 Alma Place, Lyham Road, Wandsworth, Clapham; London, Surrey with wife Sarah Pelvin aged 62 yrs and their 2 daughters - Sarah Pelvin aged 37 and Mary Pelvin aged 28yrs. (Wife & Daughters were Laundresses)

1874 John Shepherd Pelvin died May 26 - he was living at 10 Alma Place, Lyshaw Rd, and was bur: 28 May 1874 at the Sth Metropoliton Cemetery, Norwood Rd, London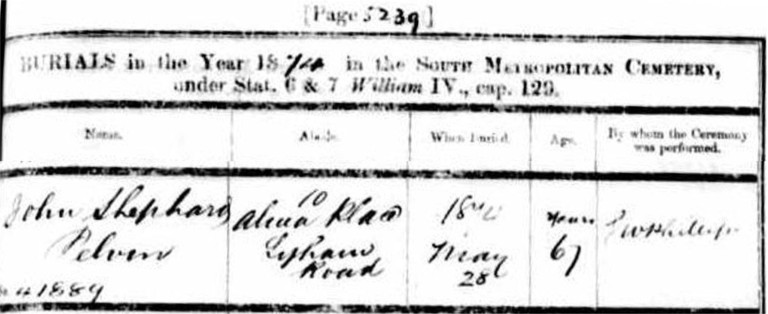 John Shepherd and Sarah Pelvin's children:
i Ann Pelvin b: 1830 at St. Margarets, Kensington - Bapt: 22 Aug. 1830 St. Mary Abbots, Kensington. Father John Occ: Labourer living at Uxbridge Street.
1861 Census - Age 31 - Occupation Cook/Servant for ELDERTON family 3 Brunswick Square, Lambeth




5 Jul 1864 - Age 34 - Mar: William Joseph SMITH at Holy Trinity, Clapham. William Occ; Servant - Both reside in Clapham. Witnesses Edward CLARK & Mary PELVIN (Sister of Ann)
ii Elizabeth Pelvin (bapt: 8 Jan 1832 at St. Mary Abbots Church (living at Uxbridge St.); Bur: 19 Jul.1833 at St. Mary Abbots Church, Kensington, aged 1 year & 6 months - Residing Uxbridge Street, Kensington, Middlesex)

iii Sarah Pelvin (b: 1833 in Uxbridge Street, Kensington, Middlesex; Occ: 1851 Servant at Nottinghill d: abt Sep 1904 aged 70 yrs at Wandsworth)
iv Elizabeth Pelvin (b: 1836 in Kensington, Middlesex d bef 1881)
15 Sep 1861 - Age 25 - Mar; Thomas WHITE in St. Marys, Lambeth. Thomas Occupation Labourer - Both reside in Brixton Hill. Witnesses Charles HODGES.

1871 Census - Age 35 - 7 Alma Place, Lyham Road - Husband Thomas Occ: Bricklayers Labourer - children James 7, Henry 5, Elizabeth 3 & Frederick 1 yr

1881 Census - 7 Alma Place, Lyham Road, Husband Thomas WHITE (Widower) age 46; children - James 17 a Gardener, Henry 15, Elizabeth 13 & Frederick 11
v John Steven Pelvin (b: 1838 in Sy Mrgarets, Kensington, Middlesex; occ: Prison Warder; d: 3 Jun 1878 at Hoxton, Shoreditch aged 40 yrs; Bur: 08.06.1878 Norwood Cem. Norwood Road, Lambeth (same Cem. as his parents). Home address 7 Witchampton Street, Hoxton, Shoreditch)
John mar: 12 Jan 1868 at St James Parish Church, Clerkenwell, Islington to Amelia Smith of Kings Cross Road, Islington, London.
Census 1871; John Pelvin; Age: 33Yrs; Head of Household; Birthplace: Hammersmith, Middlesex; Household, District: Holborn, St James Parish, Clerkenwell, County: London, Middlesex, Wife Amelia Pelvin, 36Yrs; b: Leominster, Herefordshire
In 1891, widow Amelia Pelvin, 56 Yrs; servant at St Peters Parish, Islington, London (bapt: 26 Apr 1835, Hertfordshire - parents: Thomas & Elizabeth Smith; she d: abt 3 Jun 1891; bur: 5 Jun 1891 Islington Cem., London)
vi Jane Pelvin (b: Abt. Dec 1840 in Westminster d: Abt. Jun 1841 in Westminster, St Margaret)
vii Mary Pelvin (b: Abt. Jun 1842 in Hammersmith, Middlesex; Occ: Laundrywork; d: Abt. Jun 1914 in Wandsworth; Kensington )
viii James Pelvin (b: 06 Aug 1844 in 58 Trafalgar St, Hammersmith, Middlesex; Pos. occ. Victualler) He mar: 01 Aug 1870 in Camberwell, Surrey to Annie Rooke (b: 1848 in Ware Hertford England - her parents Edward and Mary Ann Rooke)

James's d: abt. Jun 1876 in Stepney, leaving and his wife Anne nee Rooke a widow at 28 yrs. with 3 small children to support.
1. Annie Florence Pelvin b: 22 Jan 1821 at 3 White Post Lane, Camberwell, London in Peckham, Surrey, England - her father James a Barman; Bapt: 31 Jan 1875 St. Dunstan in the East, London, England ; she d; 1951 age 76 at Barnet, London, England

2. James Pelvin b: 19 Feb 1873 58 Nth St, Marylebone, London; Immig: 1901; Died: 15 Jul 1955 in Toronto General Hospital.

1881 Census: James now 8 years old, lived in London, England with his mother who was employed as a barmaid, and sister Amy.

James lived in London alone in 1891 at 241 Hollydale Rd

James Mar: Lydia Rebecca* Fordham (b: 1874 in Marleybone, Middlesex, England Her father: Henry Fordham. Mar: 21 Nov 1897 in St Michaels and All Angels, Walthanstow, Essex she d: 1938 in Toronto, Ontario, Canada.

London and South Western: Description:Register of wages staff: James Pelvin born 19th February 1876; Form with Police Supt; Date of appointment 3 Dec 1909 at Nine Elms; Grade: Policeman; Wages 2/- a week. Resigned - 18.12.1909.

(James and Lydia's children)

*2nd Wife of James Pelvin: mar: Kathleen (Kate) Chesson She d: 04 Jul 1957 in Lambert Lodge, Toronto, "wife of the late James Pelvin dear mother of Violet of Detroit, Dawn of Devonshire England, Mrs Grace Davey and Mrs Glad Trotter both of Toronto; sister of Mrs Ruth Rance, Mrs Doll Fry of England and Harold Chesson of Guilph. Service at Jerret Funeral Chapel St Clair Avenue; Internment at Mt Pleasant Cemetery Dec. 17, 1959"

Funeral service will be held at 3 pm Friday 18 July at Yorke Chapel of Turner and Porter, Bloor St for James Henry Pelvin of Beresford Av who died 15 Tuesday at St Joseph's Hospital. Born in London England, Mr Pelvin joined Sparton of Canada 25 years ago and became accountant then branch manager. He was a member of the Creditmans Union and Windermere United Church. His wife, the former Agnes Finlay, predeceased him several years ago. Surviving him are a daughter Patricia Louise and son Donald M Pelvin

3. Amy Elizabeth Pelvin (b: Abt. Jan 1875 in Old Kent Road, Camberwell, London; d: Abt. Jun 1935 in Chippenham, Wiltshire).

Amy mar: Robert William Horwood (bapt: 6 Dec. 1882 at St Mary's Church Watford; parents were William Horwood and Eliza Treacher; he mar: Abt. Jul 1904 in Watford; d: Abt. Sep 1950 in Watford) Their children were:

a. Amy Elizabeth Horwood (b: 1890; d: Abt. Sep 1890 in Stroud)

b. Amy Elizabeth Horwood (b: 1894 d: 1938 in Watford)

ix. Martha Pelvin (b 7 Dec 1846 in 6 Pleasant Retreat, Brixton, Surrey.(Informant mother Sarah Pelvin formerly Smith signed with a cross, Father occ. labourer) Bapt: 03 Jan 1847, Brixton; Hammersmith.)

1871 Census - Age 24 - Occupation Prison Officer at Wandsworth Prison.

1874 - Age 27 yrs; mar: 18 Oct 1874 at St Mary, Lambeth, Surrey, England to Edward Thomas Thornton Occ. Carpenter (son of Thomas Thornton). At time of marriage both were residing High St. Witnesses Ann MILES & H. ..............FIELD

1881 Census: Age 34 - 26 Charlotte Terrace, Lyham Road

1911 Census: Age 64 - 112 Lyham Road - Husband Edward 64 Carpenter, son Henry 25 is Postman for GPO. All reside in 6 rooms - 5 children born & 3 live.

Their Thornton family born at Wandsworth: Clara Jane (b Sep Q 1875) Edward Sheppard (b: Jun Q 1877- d: Sep Q 1898 age 21) Alice Amelia (b: Dec 1878) Rose (b: Dec Q 1880) James Henry THORNTON (b: Dec Q 1885)

x Stephen Pelvin (b: 1850 in Brixton, Surrey; d: abt Jun 1851 Lambeth, Surrey)

xi. HENRY PELVIN (b: 28 Oct 1851 in Clapham, Surrey.Bapt; 28 Nov 1851 Holy Trinity, Clapham, Surrey; 1851 is a labourer lodging at 5 Goldie St; Camperwell; 1881 Henry Pelvin Age: 29 Occ: Printer Compositor; d: Apr 27 1892 at 104 Lyham Road, Clapham

1871 Census - Age 20 - Streatham Common Occupation Printer Compositor. A visitor with George FOWLER 31 a Groom & Mary Ann FOWLER 34.

1891 Census - Age 40 - 104 Lyham Road, Wandsworth - Single & Unemployed with Sisters Sarah 57 & Mary 48 Laundresses.

1892 - Henry is living alone in a rented furnished room at 104 Lyham Road, Clapham.